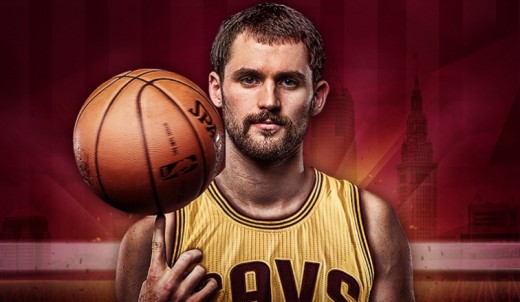 It seemed like so much longer than just 30 days, but August 23, 2014 did eventually come and, with it, the deal that delivers Kevin Love to the Cleveland Cavaliers became official.
Now, even though everyone has been talking about this trade for weeks like it had already occurred, this trade has now occurred. The Cavaliers get the 6-10, 260 pound, three-time all star, sending the Minnesota Timberwolves the spoils of their last two years of lottery luck in Andrew Wiggins and Anthony Bennett. The Philadelphia 76ers steps in to facilitate the trade/the continued gutting of their roster sending Thaddeus Young to the Wolves and getting back guard Alexey Shved and forward Luc Mbah a Moute from Minnesota and the Miami Heat's 2015 first round pick from Cleveland.
Wiggins is only the second number one pick in NBA history to be traded before playing his first professional game. He joins Chris Webber who was traded from the Magic to Golden State on a draft day trade in 1993. Wiggins's post-draft summer was a little less comfortable than Webber's, though, as he had to deal with trade rumors basically from the moment LeBron James re-signed with the team in mid-July.
Love is coming off a season where he averaged 26.1 points and 12.5 rebounds a game and his ability to stretch the floor (37.6% shooting from three) makes him the perfect compliment to James.
Because the trade has been a veritable lock for several weeks now, you know what most everyone here at Cavs: The Blog thinks, hopes, eats, prays and loves about Love. But now, at least, we can talk about an Irving-Love-James core (even thinking "Big Three" makes me throw up a little in my mouth) as a real, actual thing and look forward to watching arguably the most talented team in Cavaliers history.
You can read the team's official release here.