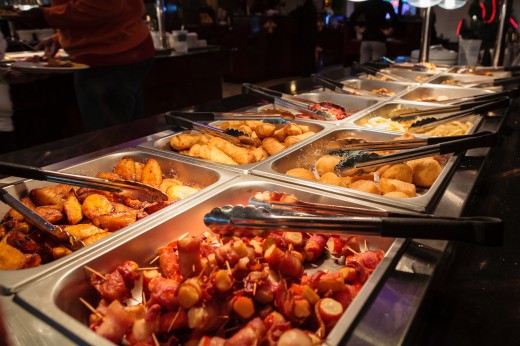 Four points I'm thinking about the Cleveland Cavaliers…
1.) The Cavaliers recent signing of Shawn Marion continues an off-season theme for the team. No, it's not "sign guys nearly as old as Robert," though I do appreciate David Griffin's signings allowing me to talk knowledgeably about the late-90s with some degree of relevance for a change. It's this: from LeBron James to Kevin Love to Mike Miller and rookies Joe Harris and Dwight Powell, Griffin has been limbering up his roster to give head coach David Blatt lineup flexibility that could, Griffin hopes, put your bikram yoga instructor to shame.
While Blatt may tinker a little in training camp, the bulk of the regular season will probably feature some pretty conventional lineups and there's no telling at this point what this team's most successful version of itself will be. Still, it's difficult to look up and down this roster of players who can play multiple positions and not see some fun potential five-man units. Here are some of my favorite combos:
Kyrie Irving-Dion Waiters-James-Kevin Love-Anderson Varejao
This is the Cavs' presumptive "best" lineup should you happen to fall on the positive side of the Waiters conversation. This is the line-up that, if it does not start games, will likely finish them. What it lacks in paint-bullying rim protecting it more than makes up for with a.) well-documented chronicling of how this team lacks a rim protector and b.) an offensive unit that features five outstanding passers, enough shooting (probably), four guys who can create their own shot and pick-and-roll pairings galore.
Even on defense, this group should be good enough. If Irving's shockingly engaged defense currently on display for Team USA migrates into the regular season, it basically forces Waiters to step up his consistency on the defensive end. Regardless of how well Irving and Waiters "get along," Waiters's alpha-aspirations bristle when Irving's effort shows up his own. Let me be clear: this is not a bad thing. The Cavs just want to turn the negative effects of that competition into something positive and Irving's own transformation from revolving door to, at least, a wood-framed screen should nudge Waiters toward realizing his potential on the defensive end.
2.) Waiters-Miller-Marion-James-Love
There will be plenty of times this year when the Cavs shift James to the four and Love to the "small ball" five (even though, at 6-10, 260, the Cavs aren't really that small with Love in the post). While the Cavs went small plenty under Mike Brown last year, the addition of James (obviously) and now Marion allow them to have this option without the drawback of Waiters guarding the opposing team's three.
As Nate deftly detailed earlier this week, Marion's not going to be (or, at least, should not be) looking for his shot much beyond tips, oops and corner threes. The same can be said for Miller, but this lineup should be a space creating machine. Every player in this lineup needs to be respected beyond the arc. This should open up room for James and Waiters to explode to the hoop and either finish there or dish back out for a good look at a three-pointer. This lineup also allows Coach Blatt to go to James in the post where he has become incredibly effective or down low to Love where he has become incredibly under-appreciated.
And, yes, clearly Irving could be used at the point here, as well.
3.) Matthew Dellavedova-Iriving-Waiters-Marion-James
Also known as the "crossing the streams" lineup, this collection of players is the lineup of last resort… or on the off-chance that Joakim Noah and Pau Gasol ever begin resembling skyscraping monsters made of sugar and puffed (puft) air drawn forth from our collective imagination bent on destroying the world.
Coach Blatt, known for his offensive innovation, couldn't possibly resist a couple of minutes of James at the five a handful of times during the season, could he? This would have been a safer bet before James slimmed down over the summer, but even a slimmed down James could defend a player like Love, even if he winds up giving up a couple of inches. So, if you can choose to play Love at center, you could also choose to explode the basketball universe by using James at center, letting Marion man the four and rolling out three guards. Dogs and cats living together, people…
Can I give you a basketball situation where this would be the smart lineup to use? Absolutely not. But that hasn't stopped me from thinking about it.
Ten minutes. All season long. That's all I'm asking for.
4.) Irving-Andrew Wiggins-James-Anthony Bennett-Tristan Thomspon
[record scra-a-a-a-tch]
Wait, what??
Lost in the pro-Love din that followed the report that the Cavs agreed to send Wiggins, Bennett and a future first round pick to Minnesota for the forward with his bags already packed, was this: the report that, if the Cavs received any assurance from Love that he would re-sign with the team as a free agent at the end of next year, the league could block the trade.
Once upon a not-too-long-ago time, then-Commissioner David Stern blocked a trade that would have sent Chris Paul from New Orleans to the Los Angeles Lakers. Stern's objection was that the Lakers didn't offer a good enough deal (despite the fact that all of the management involved were ready to sign-off on the trade). Blocking the Cavs-Wolves trade would be even murkier, though, since the league would have to prove a series of (no doubt) verbal agreements.
By all accounts, the front offices in both Cleveland and Minnesota have been careful to do things the right way, saying only what league rules permit them to say, and there have been no further reports indicating that the league is checking into things.
Still, take a look at that lineup.
Just in case. Take a good, long look…