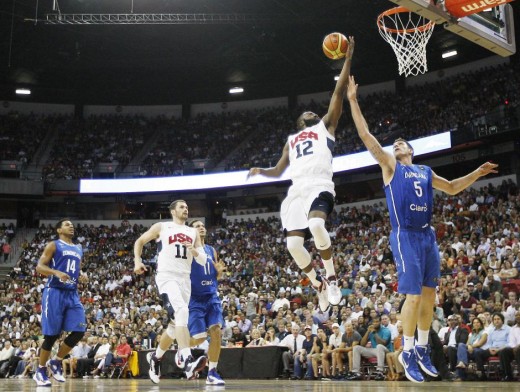 Last night, Team USA put on their most dominating performance of the summer so far.  The American team led by 22 points after the first half and 35 points after three quarters.  They were an unstoppable machine.  The Dominican Republic only has one NBA player on their squad, Francisco Garcia (Al Horford is still injured), but that doesn't explain all of this rout. Team USA is just starting to mesh perfectly, and the effects are awesome.  When you check out the highlights from last night, full court passes are being flung behind the Republic's defense, and alley-oops are prevalent enough you could actually get sick of them.  It'll take a while, but this team may wear out the alley-oop.
Team USA had six players score in double digits.  DeMar DeRozan scored 13 points on 6-9 shots.  He also showed off his point guard skills getting six assists during his 23 minutes of play.  The Cavs own Kyrie Irving was the star of the evening after getting the start because Derrick Rose had to sit out the game to rest his knee.  Irving shot an incredible 5-5 for 12 points to go with five assists, four rebounds, and no turnovers in 16 minutes.  Kyrie even earned the right to go do the post-game press conference with Mike Krzyzewski.  He gave a very professional answer when asked to just talk about the game.
I just think we came out really aggressive. Wanted to set a standard tonight, follow our absolutes that we've been having throughout the week. I feel like we've had a lot of great days. (We) just wanted to come out here and execute on both end of the floor, and I think we did that tonight.
Kyrie's play should help him land a spot on Team USA after the final cut.  Damian Lillard's seven points on 3-8 shooting to go along with four turnovers in 24 minutes should also help Kyrie out.
It seems like Kyrie plays really well with really good players. If last year's All-Star game where he won MVP wasn't enough evidence to prove that, this game should be more than enough.  Kyrie is going to have an amazing season playing alongside LeBron James and Kevin Love.  It'll be a treat for Cavs fans.
Tags: Team USA