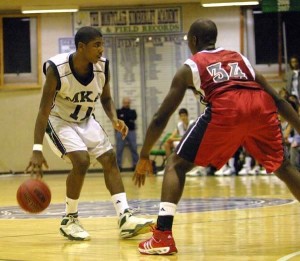 Kyrie Irving had a candid chat with RealGM.  He admitted that he has not been a leader for this Cavs team.  This isn't a surprise for Cavs fans who have witnessed Irving pout, freeze out Dion Waiters, and mentally check out. LeBron James and fellow veterans, Mike Miller and Shawn Marion, will fix Irving's leadership issues this season, and having Irving already cognizant of them will make the process that much easier.  Here's what Irving told RealGM:
"Everybody asks me if this is my year to be a leader … I haven't been so far though, not at all. I've just been a kid trying to figure it out. There's no perfect way to be a leader, and coming in as a 19-year-old kid and having everything bearing on your shoulders, there are a lot of ups and downs. Now it's about being the best every single day and not being afraid.

"I'm more than excited with our new veterans. I'm really excited just from the standpoint of how the locker room is going to go and how to really be a professional. I'm not saying that the veterans that we had weren't professionals themselves, but we didn't have enough. Given the right and wrong things to do in the league, I've had to learn on my own and that's what some of us been doing.

"Now, we have guys who've been in the league for years, guys who've won championships and have had to give a piece of their game for the greater good of the team. It's something I admire and something I'm going to learn from."
While some fans have faulted Kyrie for how he hasn't shown the ability to lead, I find it hard to fault him.  He's 22.  He should just be graduating college now.  His previous years in the league he should have been in college.  I graduated two year ago, so I still remember being a student. I was going out nearly every night struggling to keep up with my assignments.  I couldn't have  led anybody in anything.  How can anybody have expected Irving to listen to criticism from hundreds of different angles, simply accept blame at press conferences, and then go onto the court to lead a sub par team to victory these past three years?
–
Kelly Dwyer of Ball Don't Lie has a message for people talking about the Cavs signing too many forwards after the acquisition of Shawn Marion.  There simply aren't any available centers.  Marion was the best player available for the Cavs.
Tyson Chandler isn't available until next summer. Roy Hibbert can't be had in return for Dion Waiters. Joakim Noah isn't going anywhere. And capable defensive-minded reserve centers just don't walk the earth anymore. Those guys are called "starting centers."

In lieu of those candidates, you sign a slim but strong hybrid forward on his last legs to the minimum salary, and keep your eye on an ever-churning trade and free agent market. Shawn Marion isn't the answer in Cleveland, but he sure as hell doesn't hurt the Cavaliers' championship chances.
The numbers also back up how helpful Marion is.  The wins he helps the Cavs get are costing the team very little money.  Cory Hughey at GotBuckets.com explains.
Buoyed by the luxury of getting vets to sign for the minimum, APM and RAPM data at gotbuckets.com confirm that Marion should be a strong value to the Cavaliers on his salary of $1.4 million. SWAg considers that Marion was responsible for 8.5 wins over the past two seasons, while SWAgR says he added over 2 wins last season to the Mavericks.  Even with an almost assured minutes drop-off, at $1.4 million, the Matrix provides a nice value acquisition for the Cavs of at least $1 million per win, and also another veteran presence on what was formerly one of the League's youngest teams.
–
If the Cavs really want a rim protector, they should trade for Larry Sanders who held a 99 defensive rating to go with nearly 3 blocks per game in the season before he discovered pot and made some poor decisions.

The Cavs gain two wins from this trade, and the Bucks get rid of the biggest deterrent to Jabari Parker's development.  This trade also eliminates the need to figure out how much Tristan Thompson is worth.