Over this last weekend, "The Matrix" committed to the Cavs. Shawn Dwayne Marion has been an all-star, an NBA champion, and an offensive and defensive Swiss Army knife throughout his career in the NBA. But Marion is also 36 years old, has played 15 seasons, and has just under 39,000 regular season minutes under his belt (eighth among active players). There's no doubt that as a veteran minimum signing, Marion is worth having on the team. He's a bargain at that price, if just for his experience and professionalism alone. But coming off a mediocre season, it's worth exploring whether the Cavs should commit significant minutes to Marion. Is he still a solid performer, or has the game mostly passed him by?
| Rank | Player | Career MP |
| --- | --- | --- |
| 1. | Kevin Garnett | 48910 |
| 2. | Ray Allen | 46344 |
| 3. | Kobe Bryant | 45567 |
| 4. | Tim Duncan | 43605 |
| 5. | Dirk Nowitzki | 42603 |
| 6. | Paul Pierce | 42458 |
| 7. | Vince Carter | 39240 |
| 8. | Shawn Marion | 38996 |
| 9. | Andre Miller | 38554 |
| 10. | Steve Nash | 38069 |
| 11. | Antawn Jamison | 37638 |
| 12. | Jason Terry | 36956 |
| 13. | Joe Johnson | 35692 |
| 14. | Elton Brand | 34199 |
| 15. | Rashard Lewis | 33541 |
| 16. | LeBron James | 33276 |
The Positives
Versatility: I've long been a proponent of bench players who can play multiple positions. Shawn Marion can play wing and forward, and can guard "stretch" players throughout the league. Once able to guard most positions on the floor, Marion does not have that ability any more in a one-on-one situation. However, if the scheme is solid, he could match-up against guards, and would be a good player to put in a zone, as he has the size and instincts to close out well on shooters.  His steal rate has remained steady his last four seasons.  Marion is even versatile enough to guard some of the skinnier centers in the league. Offensively, Marion is more of a complimentary player at this point in his career: getting his points off kickouts, pick and pops, in transition, and cuts to the basket. He'll have no problem playing garbage man and chipping in opportunistic baskets with LeBron, Kyrie, Dion, and Kevin Love. In watching film of him, I discovered that while he does it less frequently, he still has the ability to get his own shot and put the ball on the floor from time to time, using a strong dribble and a quick first step combined with a low center of gravity, array of spin moves and quick release shots. This will bode well for his move to the bench.
Finishing: Marion shot a respectable .537 TS% last year, and had splits of .482/.358/.785 — all fairly solid. Where Marion still shines is as a finisher. He shot .688 at the rim last season: .943 on dunks, .599 on layups, and 9-22 on tips.  He flushed 66 dunks last year, just under one a game. Compare that to Tristan, who shot .580 at the rim last year: .877 on dunks (100-114), a putrid .462 on layups, and an abysmal 7-32 on tips. Thompson actually shot hook shots better than layups.
Three-Point Shooting: On the perimeter, Marion shot a passable .358 last year, which was his best mark since 2003. It makes one wonder if that percentage is repeatable. However, his attempts were way up, too. Marion's 162 attempts were the most since 2008.  It appears Marion is a player who needs to shoot the three fairly regularly to be effective at it. And he should work on that shot from the right wing.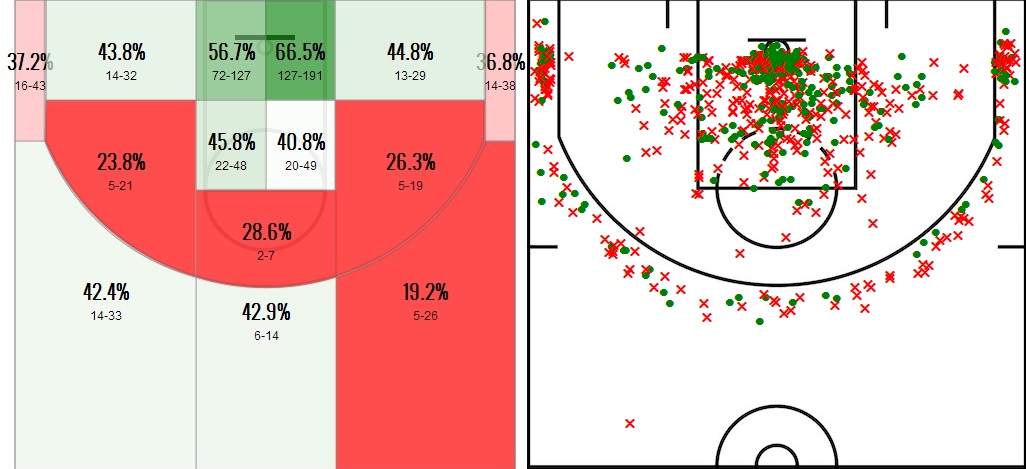 For some clips of Marion at his shooting best, check out his eight made field goals from one of Marion's best games last year, a victory over Oklahoma City on March 16th. Here, Marion gets his points off putbacks, a pick-and-pop three, a couple of nifty cuts to the basket and moves to the open areas where he seals his defender well, a couple of hook shots, a kick-out corner three, and finally, a dunk in transition.
Offensive IQ: Marion has always been a fairly low turnover player, and last year was no exception: posting 1.4 turnovers per 36 minutes, and an 11.4% turnover rate. He also dished 1.9 assists per 36, and is an adequate and willing passer who can play in a tightly scripted offense with many moving parts without forgetting plays. He sets screens without being called for offensive fouls, and he has made up for his declining physical skills with excellent footwork and his ability to get his shot off quickly.
Clutch: It may be an aberration, but Marion was an excellent player in the clutch last year. According to 82games.com, in 129 minutes of clutch play, Marion shot .667 from the field and from three and averaged 16.8 points and 10.8 rebounds per 48 minutes of clutch play. He was also +19 in that 129 minutes. Marion posted pretty pedestrian clutch numbers in the two seasons prior, but in Dallas' championship season in 2011, Marion played 77 minutes of clutch time and was +38 in that time. He strikes me as a guy that can be depended on in a possession game down the stretch.

Consistency: Looking at Marion's game log, one pattern emerges. The dude is pretty consistent. He never averaged more than 12 or less than 9 during any month last year, and there are no wild, C.J. Miles-esque swings of shooting percentages.
Teacher:
Three-point shooting aside, Shawn Marion may be the perfect player for Tristan Thompson to emulate, at least inside the arc. Marion plays on his toes, and is up off his feet quickly with his shot. As described below, Marion rarely takes a traditional jumper inside the three point line, but he's much quicker with his decisions, his spin moves, and his moves to the basket than Tristan is. He doesn't get blocked very often because he is so quick, and emulating that quickness would help Thompson immensely, as would emulating Marion's ability to get a shot up with one hand without having to gather. Defensively, TT will never be able to defend wings and guards the way Marion once did, but studying film of Marion would be invaluable to TT. Once again, playing on his toes, learning how to switch and stay in proper defensive stance and close out shooters would be a boon. Tristan should get a poster of Marion to go above his bunk bed.
The Negatives
Mid-range: Marion doesn't shoot well at the league's most inefficient shot, I mostly attribute this to his decreased quickness and lift with age. The problem is, he shoots it too often. His 141 attempts from 10-23 feet came in at at a poor .354. That's almost 2 attempts per game at that range. As can be seen above, he's especially bad from the elbow and foul line extended area, but that doesn't accurately describe the problem. Marion rarely shoots a traditional jumper inside the arc. Almost everything is a runner-push-hook shot, or a turnaround version of that. It is a nifty shot, and it's been Marion's bread and butter throughout his career, especially with Dallas. He's almost always on the move when he takes it, and similarly to Antawn Jamison, it's hard to guard, and it rarely gets blocked. But Marion gets in trouble when he shoots it too quickly, and really gets in trouble when he ventures out of the key with it. The farther out he gets, the flatter the shots gets, especially when he's at an angle, and the backboard can't help a line-drive shot go in. Even further out,  he has to switch to his very unorthodox jump shot, which is difficult for him from that "in-between" distance.
Lowered Usage: Marion's 15.7 usage last year was the lowest of his career, which isn't a problem in and of itself. One would think that with that lowered usage, Marion would find a way to become a more efficient shot-maker. He didn't. In 31 minutes a game, he averaged 10.6 points per game.
Free Throw Attempts: Speaking of career lows, Marion somehow just stopped drawing fouls last year. He dropped from 1.8 free throw attempts per 36 minutes in 2013 to 1.0 per 36 minutes. Yes, part of this is his lower usage and his higher number of attempts from beyond the arc, but when I watch film of him inside, I see a player who is consistently trying to get up his shot quickly before the defense can get set, and who seems to be shying away from contact the older he gets. He also moves so fast, he seems like he's be unable to stop for a pump fake to get a defender in the air. Regaining some herky-jerky would be good for Marion in the free throw department.
Age Decline: This is the most concerning negative about The Matrix. If you track Marion over the last several years, the decline is easily observable.
| | | | | | | |
| --- | --- | --- | --- | --- | --- | --- |
| Season | Dreb% | Steal% | Block% | PER | RAPM | dRAPM |
| 2009 | 19.7 | 1.9 | 2.1 | 16 | 1.78 | 1.21 |
| 2010 | 15.2 | 1.5 | 1.9 | 14.7 | 2.03 | 1.27 |
| 2011 | 19.2 | 1.6 | 1.7 | 17 | -0.7 | 0.09 |
| 2012 | 18.6 | 1.8 | 1.5 | 15 | -2.83 | -0.62 |
| 2013 | 20.6 | 1.9 | 1.8 | 18 | -2.98 | -0.43 |
| 2014 | 17.4 | 1.9 | 1.3 | 13.7 | -1.77 | -0.51 |
As can be seen, Marion started losing a step in 2012 on the defensive end, and declined significantly on the offensive end.  He went from a positive 1.21 points per hundred possessions to a negative -.51 defensively and swung all most 3.5 points per 100 overall in the last five years. None of this decline is steep, but at age 36, it scares me. Marion is actually older than Battier. As we watched last year, one of the reasons that Miami wasn't able to win a championship was that Battier all-of-the-sudden just didn't have it anymore. In years past he was invaluable checking other teams' better offensive players while still being able to hit open threes. By the time the playoffs rolled around, Shane just couldn't stay with people or do much else. With Marion it's hard to pick out any one thing that is leading to his decline other than the gradual erosion of explosiveness that comes with time. But it can't be argued that Marion was among a group of bad players last year. Of all the players who played over 2400 minutes, Marion is among an inauspicious group of players with a RAPM below -1. (I don't like the fact that three Cavs are on that list).
| | |
| --- | --- |
| Jeff Green | -2.11 |
| Gerald Henderson | -1.96 |
| Tristan Thompson | -2.04 |
| Aaron Afflalo | -2.42 |
| Brandon Jennings | -2.39 |
| Evan Turner | -2.64 |
| Shawn Marion | -1.77 |
| Randy Foye | -1.94 |
| Jonas Valanciunas | -2.09 |
| Norris Cole | -3.53 |
| Brandon Knight | -2.16 |
| Kyrie Irving | -1.39 |
| Jeff Teague | -1.38 |
| Victor Oladio | -1.9 |
But Marion seems to be an ageless wonder. His rediscovery of the three point shot helped push his overall RAPM back up by a full point last year, and his ability to guard multiple positions without posting terrible dRAPM is a valuable bench commodity. One of values of using RAPM is that it susses out the argument that "Marion always guarded the other team's best player" as an excuse for Shawn's declining defense. RAPM adjusts for quality of opponent.
Kevin Hetrick at GotBuckets has done some nice work on aging curves for big men and wings that apply to Marion. As we can see below, we're getting into uncharted territory with Marion. Few combo forwards have played effectively to this age, but for wings and bigs, the experience that comes with age allows them to maintain effectiveness on the defensive end, and the drop off isn't severe. Offensively, the decline is noticeable, and that's where I worry about Shawn most. The fact that he can still quick flush around the bucket bodes well for him, but once that goes, it's going to be hard for him to continue to contribute other than at the three point line. Marion is well past the age when players start to quickly decline, and his gradual descent is a testament to hard work, intelligence, and elite athleticism, but when will the bottom drop out?
Playoff Effectiveness: Shawn had a wretched playoff series against San Antonio last year, shooting .462 TS% and shooting .222 from beyond the arc. But, San Antonio was a bad matchup for Marion all year. Shawn shot .348 from the field against the Spurs in the regular season, scored only seven a game, and had an average plus/minus of -10.7. While one could theorize that Marion was pooped by the end of the year, the answer is probably just that the Spurs owned Shawn last season.
Conclusions
I went into this article fully expecting to see a player whose decline dictated a fairly severe cut of minutes, but in watching film of Marion, I found a player who still has a lot of effective qualities. He can still get his own shot, and his unorthodox offensive game could be very effective off the bench. Marion has declined offensively and defensively, but it's hard to see a it on film in little clips. Some discussion with people who followed the Mavs regularly is warranted.
Marion should have his minutes cut on the Cavs. If he can move from a 30 minute per night player to an 18 minute per night player who can spot start, it could bode well for him. Hopefully, he can regain some effectiveness in this role and get his plus/minus numbers up. Going against bench players should help, too. Key for Marion will be limiting his bad shots. If he can stop taking shots outside of the key — pass out of them or move a foot closer when he shoots that mid-range push shot — that could help the Cavs a lot. Limiting his minutes should help up Marion's intensity as well. Hopefully, he can get back some of his aggressiveness on offense and defense and draw more fouls and cause a little more havoc in a more limited role.
As a veteran minimum player, Shawn is a very low risk, high character guy with a lot of experience. If the Shawn we've seen over the last four seasons can continue, he'll be a very solid bench wing/big. Even if the bottom drops out, and the Cavs have to cut his minutes significantly, he'll still bring value to the team as an elder statesman. Signing grade: moderated enthusiasm.
Tags: Shawn Marion