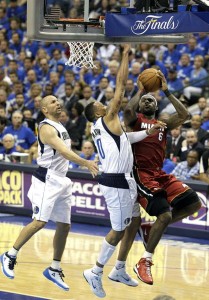 Shawn Marion is going to sign with the Cavs.  The Pacers seemed to be in the running for his services because they could offer more money than the Cavs, but they have lost out.  Marion wants to play for a contender.
Sources told ESPN.com that Marion informed the Cavaliers this weekend that he intends to sign with them this month despite the fact that Cleveland can only offer him a minimum deal.
Marion is known for his goofy shooting stroke and for his ability to defend a variety of positions.  He was a critical piece on the Mavericks team that won the 2011 finals and caused LeBron James to retool his game the following season.
He averaged 10.4 points a game and 6.5 rebounds a game last season.  Marion will be a welcome addition to the Cavaliers offense too;  he doesn't need the ball to make an impact and always seems to get his own points without being the focal point of the offense.  He has just what the Cavs need: defense and the ability to move without the ball effectively.
Tags: Shawn Marion