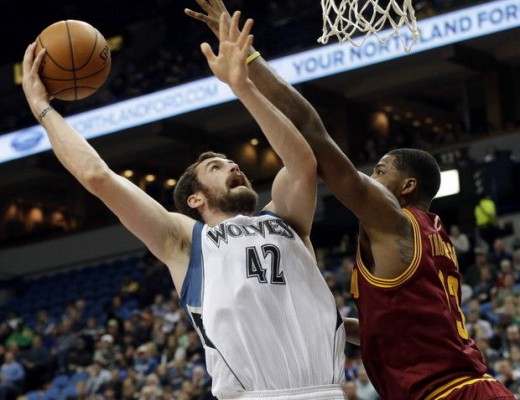 Four points I'm thinking about the Cleveland Cavaliers…
1.) Still finding yourself on the fence about whether or not to embrace Kevin Love? Well, sipping from a frosty, ice-brewed, beachwood-aged mug of Kevin Love highlights should put some flash back in your step, mister. I'd been resisting spending too much time aboard the Love Boat this summer, but since we're in that dangerous stretch between Summer League and Team USA games (where madness truly does lie), I thought I'd spend a minute or twenty with the Cavs presumptive 2014-15 starting power forward. And you know what? Kevin Love does all those Kevin Love things that everyone says he does. But the thing that really stuck out was how much of his 10-minutes plus of highlight footage spanning an 82-game season came on the two occasions where Love was matched up against Tristan Thompson.
I remember that Love had torched the Cavs this past season but, man, Thompson had a serious case of the lead foot blues. Just seeing those two matched up against each other should make Cavs fans happy that Love will likely be the team's power forward very soon. But it also brings up an interesting wrinkle to the coming season: just moving Thompson to a reserve roll where he comes in and rebounds isn't going to really move the needle for this team. What's more, I'm not sure that Thompson finding his jumper is really the answer. David Blatt and his staff — along with Thompson — need to find ways to make him more of a disruptive player. Energy guys (if we're to believe that's what Thompson is) need to change something about the flow of the game with their energy. Thompson, Blatt, et al have to answer the question "rebounding and what else?" about the player or risk the very real chance that one of Rich Paul's clients slides out of the rotation.
2.) Speaking of a players who get torched on defense, I went back and took a look at Ian Levy's great breakdown of Love's defensive tendencies to see if there's any hope that Love's ineffectiveness on the defensive end had more to do with him sulking about being on a bad team (we can work with that) than just not being able to do it (much more troubling). But based on Levy's conclusion – that Love simply avoids contesting shots like the plague – it seems like a case of the former, not the later.
But, make no mistake, it's a very troubling case of the former.
On the one hand, Cavs fans can argue that putting Love on a widely better team next year with a coach who preaches pesky defense and a four-time MVP who will hopefully demand a bit more defensive effort and accountability from his new teammates (even while being okay with the poor defense provided by his old teammates, like James Jones) might coax Love into raising a contesting hand every now and then. Love's lack of aggressiveness, kept the Wolves best player (him) from dealing with foul trouble and for a team that performed so much better with him on the floor as opposed to when he sat, anything Love could do to make sure he was available to do the things he did care about (scoring and rebounding) could be excused since the Wolves, on the whole, were such a mess.
On the other hand, though, he wasn't doing a fairly basic tenant of playing defense and his teams were losing a lot of close games down the stretch. The Wolves, one might argue, would have been less of a mess if Love, as the team's best player and leader (de facto or otherwise), had made contesting shots of even nominal importance.
At least, it will be easy for Cavs fans to take note of if their new big man is defending any differently in the wine and gold. Hands down? Bad. Hands up? Well… it's a start.
3.) There's been some hand wringing among fans who have noticed, as Terry Pluto pointed out over the weekend, that the Cavs have gone from one of the youngest teams in the NBA to one of the league's oldest. Mike Miller is 34 and has had battled injuries in the past. Jones is 33. Brendan Haywood is 34. If the team adds, as is being rumored, Ray Allen (38) and Shawn Marion (36), that is, in fact, a far cry from giving big minutes to the spry legs of Tyler Zeller (24), Andrew Wiggins (19) and Anthony Bennett (21).
But here's why we shouldn't be suddenly calling this team "over the hill": its core is still very young, compared to the cores of other contending teams around the league. An Irving/James/Love foundation averages just 25.3 years old. By the start of this season that will still much younger than San Antonio's (Tim Duncan/Tony Parker/Kawhi Leonard = 31 years old), Chicago's (Derrick Rose/Joakim Noah/Pau Gasol = 29.6 years old) and it's actually the exact same average as the Oklahoma City Thunder's (Kevin Durant/Russell Westbrook/Serge Ibaka).
The Miami Heat didn't look old because their core's average age was passing 30. They looked old because all of their rotation players were old.
Chris Anderson was just shy of 36 during the 2014 Finals. Udonis Haslem and Rashard Lewis were both old 34s. Shane Battier was 35 and Allen was 38. The only two young guys given significant run were Mario Chalmers (28) and Norris Cole (25), but neither was relied on heavily with James and Wade being the team's primary ball handlers.
The Cavs will be looking for significant contributions from Irving (22), Dion Waiters (22), Thompson (23) and Matthew Dellavedova (23) as well as Love (25). The team will also have rookies Joe Harris and Dwight Powell in their system.
So, yes, there will be some older guys playing minutes for the Cavs next year, some even significant minutes. But it's unlikely Jones plays much (though I'm not ruling out Blatt finding some way to hide him on defense in order to use his very strong outside shooting), Haywood may or not play depending on his health. Miller played in all 82 games for the Memphis Grizzlies last year, but averaged only 20.8 minutes per game. Look for him to play the biggest role of all the Cavs' new old guys (followed by Marion, should he sign) but this team still has plenty of young talent on it, it did not sacrifice all of it's first rounders because it signed James as a free agent and, face it, getting some older veterans is what contending teams do.
4.) And speaking of young guys, the Cavs added another this week when they signed undrafted 7-0, 245 pound center, Alex Kirk.
Kirk played well(ish) for the Cavs in the Las Vegas Summer League, where he averaged 5.2 points and 3.4 rebounds in just over 15 minutes a game. Kirk isn't particularly athletic or fast, but he's a big body who gives the Cavs more much needed frontcourt depth. In Vegas, he flashed some ability to stretch the floor with his shooting, some nice toughness and he sports a 7' 3.5" wingspan that helped him average 1.7 blocks per game for the University of New Mexico last year.
Kirk has a real shot of making this roster because the Cavs desperately need the things he does well (i.e. be tall/protect rim). He'll be an end-of-the-bench guy and one who will probably be in the mix with Harris and Powell to get some run in Canton, but with few obviously better options, this is a nice value signing by GM David Griffin.
Tags: Alex Kirk, James Jones, Kevin Love, Tristan Thompson