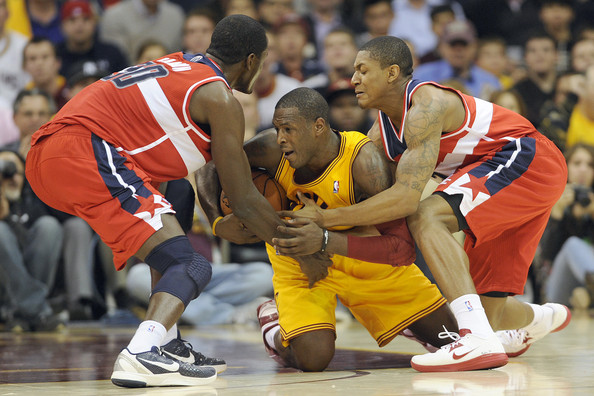 Dion Waiters and Bradley Beal aren't as far apart skill wise as some people assume.  Jermey Conlin penned a piece for Hardwood Paroxysm explaining why this is so.  Of course, he had to mention the Kevin Love trade as the starting point for this discussion.  Would the Cavs trade Waiters for Love?  Yes.  Would the Wizards trade Beal for Love?  No.  The main reason people think Beal is better so far is because of his strong three point shooting and single playoff appearance.  Waiters' stats are similar to Beal's though.
Beal is a better shooter from three than Waiters, but Beal also takes so many more two-point jump shots, and makes fewer of them (Beal shot 37.2 percent on 519 two-point attempts outside the paint – Waiters shot 43.1 percent on 378 attempts) that there's effectively no difference in their scoring efficiencies. In a twist of irony, it's Waiters' superiority on low-efficiency shots that actually offsets Beal's superiority on high-efficiency shots at the rim and beyond the three-point line. Waiters has the reputation of the shameless gunner, but his shot selection is actually much better than Beal's.
Conlin concludes that Waiters should look much better this season by mentioning former LeBron James made All-Star Mo Williams.  Waiters, just like Williams, may improve drastically having the King shine on him.  The Cavs are super lucky to have Lebron.
Kyrie Irving is once again mentioned on Bradford Doolittle's list of NBA players expected to have a breakout season.
Irving made this list last year. We'll be right one of these years. Irving's WARP has increased slightly in each of his three seasons because of minutes increases, but his winning percentage has gone down, from .615 to .606 to .592. SCHOENE sees improved shooting from playing alongside LeBron James as Irving's ticket to a true breakout campaign in 2014.
See a theme?  LeBron makes everyone just a little better.  It makes sense that Shawn Marion is exploring coming to the Cavs on a very tiny contract.  If he does, he'd provide some much needed defense.  Mike Schreiner of King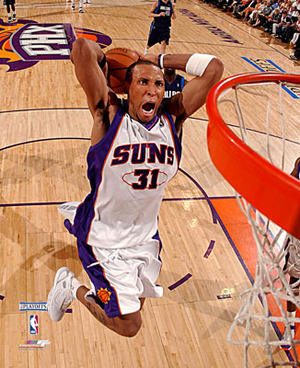 James Gospel makes a great case for Marion by explaining what he could do for the team.
As stated above Marion was the best perimeter defender on a Mavericks team that won a title in 2011 and was the only team to push the San Antonio Spurs to seven games in this year's playoffs. While the Mavericks surprisingly gave up more points per 100 possessions with Marion on the floor than off it last season, that has more to do with who Shawn Marion was guarding than anything else, as he was often tasked with guarding the opposition's best player. The rare tweener forward who can guard both threes and fours, Shawn Marion is also capable of effectively defending many guards and centers due to his combination of length and athleticism.
I won't go as far to say that Marion could guard centers, but he would certainly offer the perfect amount of help defense on centers to help uplift the Cavs bigs' defense.
LeBron is apparently thinner this season than he has been since he was on the Cavs.  However, while his body has changed, Bill Livingston is skeptical that his approach to getting management to bring in players he wants has changed.  Livingston, of the Plain Dealer, doesn't trust LeBron's belief that the Cavs aren't in win now mode.  The addition of Mike Miller, James Jones, and possibly Ray Allen all hint at winning now and LeBron entering GM 2.0 mode.
The way the Cavs are desperately eager to accommodate James is making the new era look more than a little like the old.

While James and the Cavs swear his two-year contract is a formality, tied to the expected big jump in the salary cap after the 2015-16 season, what about its opt-out clause after one year?

Is it a way of saying, "Please Please Me," albeit less melodically than did the Beatles? Does just the threat of the opt-out mean he's dropped the first "please?"
Maybe, LeBron wants to be a future GM and is practicing with the Cavs roster.  I don't mind if he is, as the Cavs do look to be set up well for the coming years.
Tristan Thompson is up for an extension this season and can become a restricted free agent at the end of the season.  No one knows what he is worth, as he is a power forward that doesn't protect the rim and can't shoot the ball.  Zach Lowe has offered some insight on Thompson and other players with similar non elite skill sets.  David Zavac has given a Cavs perspective on Thompson.  He acknowledges Thompson uses Rich Paul for an agent, LeBron's agent too, but believes that Paul wouldn't try to be unprofessional about getting Thompson a deal. If Paul did force a Thompson deal onto the Cavs, however, Zavic backs up Thompson by saying he will grow a little, is good in the locker room, and is not injury prone.
Thompson has shown some ability to protect the rim as a rookie. He has shown that he can guard the pick and roll pretty effectively. We have no idea what to expect from him shooting, but his true shooting improved significantly for the last 2/3 of his age 23 season
Thompson has come back each season adding something to his game, but it always seems to be making a skill subpar instead of terrible.  He should focus on his strengths, which I know is not an original idea among Cavs fans and bloggers.  Let Thompson run and try to play defense only.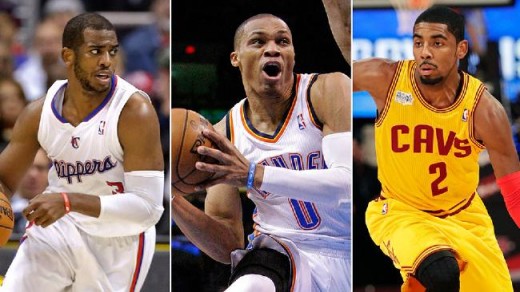 Kyrie Irving still has his doubters, and Ian Flickinger has some stats to shut them down.  He has a piece running at King James Gospel showing that Irving's stats put him among the elite.  All the players currently active to have scored above 19 a game, have six assists, three rebounds, and above a steal a game are awesome.  Kyrie is hanging out with James Harden, LeBron James, Chris Paul, Monta Ellis (ok, not that awesome, but fun to watch),Stephen Curry, Russell Westbrook, and Dwayne Wade if a team is made of active guys that have had those stats.  People are starting to see Kyrie in a better light now though.  He has survived the first team USA cut, which left John Wall out in the cold.  That's nice to see as a Cavs fan.