Cleveland has three of the last four No. 1 draft picks on its roster. The best player in the NBA is putting on a Cavs uniform this fall. The Cavaliers are the most buzzworthy team in the NBA. So what's my problem?
First, let me just get this out there. The "plan" to trade Kevin Love for Andrew Wiggins is the biggest example of groupthink since the invasion of Iraq. My thoughts on the matter are on record. But let me just reiterate the key points.
Kevin Love won't produce the same scoring and rebounding numbers on the Cavs as he did with the Wolves. His rebounding is redundant (Cavs were 10th in rebounding differential last year — without LeBron), and a large amount of his projected wins and PER that everyone is using to argue his effectiveness are based on rebounding that won't be duplicated in Cleveland.
Kevin Love is injury prone, and he's being added to a team with three other injury prone players in Waiters, Irving, and Varejao.
Kevin Love doesn't solve the Cavs biggest weakness, interior defense.
Andrew Wiggins gives the Cavs much more financial stability over the next four seasons, and provides perimeter defense and has the potential to be a star. (70% percent of No. 1 picks develop into stars, and 95% into solid starters according to Nate Silver).
But I'll be honest. There are counterarguments to all those points that are perfectly reasoned, and Love is among the best for his position as a shooter, finisher, and passer. But no one has any counterargument to fact that Kevin Love can opt out of his contract at the end of the season, that it is in his financial interest to do so, and that there is absolutely no guarantee that he or LeBron are coming back in the summer of 2015.
So why the hell would the Cavs entertain this insanely crazy risk? LeBron freaking James. According to the latest Windy/Simmons podcast, "At this point LeBron James is basically a functional co-owner of the Cavs."
LeBron is basically saying, "Listen, we're gonna trade for Kevin Love."

"We're trading for a potential all-star in Wiggins for a guy we only control for one year?"

"OK, well, we're gonna trade for Kevin Love."
Oy. This is the second thing sticking in my craw. After LeBron left in 2010, there were two types of Cleveland Cavaliers fans: people who watched for about 20 games before giving up in 2010 — we'll call them Cleveland fans — and people that suffered through four brutal seasons of rebuilding — we'll call them Cavs fans. Cavs fans formed a new relationship with the a group of young players and lived and mostly died with each game. After probably the roughest season of our fandom — the year the team was finally supposed to be good — the year we had to suffer through Mike Brown again — a miracle happened. The Cavs got the No. 1 pick in the draft. And not just any No. 1 pick: Andrew Wiggins, the most highly anticipated prospect since… LeBron freaking James.
So we lived through the giddiness of draft night, and then we were treated to a free agency period where we waited with baited breath to see if the best basketball player in the world really was "coming home." For me, it was a bittersweet. When the announcement came out, I spent a lot of time thinking about how my life and the lives of die-hard Cavs fans would change. We would no longer have to root for a loser. The Cavs would no longer be provincial — for the good and ill that brings. Most importantly, this thing that we loved that was a badge of knowledge perseverance, would become something everyone would embrace… again. The almond-milk-sipping wannabe hipster in me resented that a little, and also, that we'd have to deal with the circus and the quest for control that is the LeBron James show.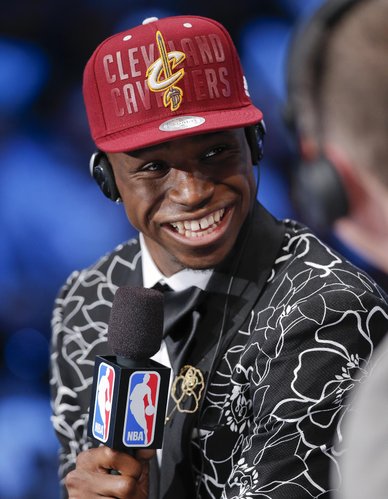 Fast forward to now. Because LeBron wrote a letter to Northeast Ohioans that magically repaired two seasons of quitting in the playoffs, and four years rubbing our noses in the sands of South Beach, we fans who stuck with this team for four years are just supposed to say, "OK, LeBron, you run the team. So what if our team is trading the their ability to compete for a championship for seven straight years, for a one year shot?" There are those of us — myself included — who are emotionally invested in Andrew Wiggins. I was jumping up and down in my living room when Cavs got the number one pick. I barely slept at all that night. Dreams of 'Drew danced in my head. Over the next few weeks, we fell in love with the kid. The pictures of his vertical leap and his mile wide smile were iconic. And then in Summer League, Wiggins flashed jaw dropping potential.
And after sitting through four years and days of speculation about James returning, it's come to this. I just don't know if I have it in me to give LeBron my heart again. I rooted against him for so long. It's completely irrational, but I'd rather root for Andrew Wiggins on the Cavs than LeBron James.
Obviously, I'm in the extreme minority with that opinion. Everybody loves a winner. And now that people who haven't watched a Cavs game in four years are back in the fold, I'm in the minority these days about most of the Cavs' offseason additions. As Simmons said in that podcast, "When players make front office decisions, the history is not good." Mike Miller?  James Jones? They haven't been able to guard anyone in years. Rumored deals with Ray Allen and Shawn Marion? I don't hate the idea of Ray Allen. His influence on LeBron's diet alone can be a benefit (LeBron's lost over 10 pounds already this summer, by cutting the carbs). Allen is possibly the most well trained athlete in the NBA. But Shawn Marion? He's 36, and he's quietly slipped to a below average NBA player, with a combined RAPM of -1.77, including -.51 on defense — his supposed calling card. They say LeBron might have an eidetic memory, but that memory might be a curse when it comes to being a GM. 'Bron probably remembers the Marion that beat him in the Finals, and not the one who posted a sub-14 PER last year, and posted .316/.167/.556 shooting splits in the playoffs.
What did we learn from the Spurs over the last two years? That a team with nine good players can beat a team with three great players, and that you can run to win. This Cavs team is shaping up to be kind of a mess: no defense shooters (Kyrie, Waiters, Jones, Allen, and Miller); average defenders (LeBron, Kevin Love, Dellavedova, and maybe Marion); Andy (a very solid 1.97 dRAPM); and odd duck, Tristan Thompson. Can this team run? You'd think with Kevin Love, LeBron, Waiters, and Delly, they might be able to, and Ray Allen is one of the best shooters in the game on the secondary break. They'll rebound, but are they going to generate enough turnovers and blocks to run? Are they going to break Kyrie of his penchant for walking the ball up the court? I'm skeptical, and I seriously worry about getting past teams with good centers: Charlotte, Chicago, Washington, and San Antonio. Can LeBron and Blatt solve that problem?
Dan Gilbert has said "he'll never allow another player to hold his organization hostage." (Jason Lloyd paraphrased that quote). Technically, I guess Dan's lived up to his word, since it's the same player holding his team hostage that did it before. The madcap pursuit of LeBron's wishes has already cost the Cavs a tragically ill-advised trade to clear cap space for James.
That deal saw Zeller, Karasev, and a first rounder leave town. A two week search for a better partner would have made that trade not nearly so painful. Giving in to 'Bron's petulance cost Cleveland there, and now LeBron the Owner seems to be populating the team with a lot of his buddies who are the losing end of the age battle. It all comes back to the WWPD (What Would Pop Do) principle. Great organizations let people do their jobs and empower them to do them well. They don't fill their ranks with cronies and has-beens. Pop doesn't try to run everything. He's not scouting the summer leagues, Europe, and colleges. He's trusting the judgment of the scouts and front office people whose responsibility it is to gather that information. LeBron should heed that lesson. He can't do everything, and running the team as his own personal party boat isn't going to end well. He should let David Griffin do his job, but it looks like it's too late now.
As Windhorst said at the end of that podcast, LeBron James is the second most powerful person in the NBA right now after Adam Silver. And Windhorst followed that up with LeBron's word on the Wiggins for Love deal: "He says it's done." So there you go. People like myself are going to have to eventually tire of kicking and screaming. We'll warn of our impending I-told-you-sos while secretly hoping we're wrong, but there's not much seemingly that can be done to fight the power on this one. The masses want "a title" and lots of people — seemingly LeBron included — have convinced themselves that this Wiggins & Bennett for Love swap is the way to bring Cleveland its first in over fifty years. I'm not one of those people. Not that I don't think it can work, I just don't want a title more than I want to watch the guys I love grow.
…but…
That's not remotely fair to Cleveland fans. On the Dan Patrick Show, Scott Raab had one sentence to describe what it's like to be a Cleveland fan.
The Sports Teams are only the most visible part of a 50 year downward spiral for that city, and now that, at least potentially, it will turn itself around, people will walk a little taller, and that's a big deal in Cleveland.
I'm not a Clevelander, and I grew up 3000 miles away from here. So I don't know what it's like to feel like it did on the evening of July 8th, 2010 for 50 years straight. In my first blog post, I wrote then what made that moment so bad.
It sucked because it seemed as if the place I lived, the things I loved, the people I knew – they just weren't good enough, and every time I turned on the TV, the radio, the computer… I was reminded of that.
So I get it. LeBron coming back is a big deal. I just want it to be for the right reasons, and want the guy to have a little humility. I don't want to feel used again, and I fear LeBron doesn't know what he's doing as a GM and that he'll stab me in the heart again. But I don't have any control over how James lives his life or runs this team. I've just got to have faith, I guess. People in Cleveland and Northeast Ohio deserve to walk a little taller. Who am I to begrudge them their desire for that? The Wiggins thing sucks. It makes me mad. I don't have to like it, but I'll come to accept it. That's what fandom is: a never-ending playoff game between acceptance and hope.
Tags: Andrew Wiggins, Anthony Bennett, Brian Windhorst, Kevin Love, Lebron James