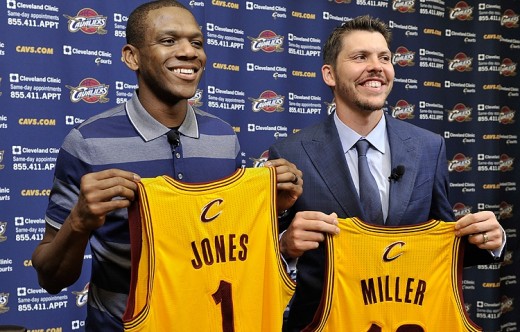 Four points I'm thinking about the Cleveland Cavaliers…
1.) Andrew Wiggins said it several times leading up to and just after the NBA draft: playing basketball for Kansas University was like being a rock star.
When I first heard him say it, he was wading through a torrent of questions at the NBA Draft Media Day which takes place the afternoon before the draft. He was answering a question about how his one season of college ball had prepared him for the rigors of life in the professional game and said that playing at KU — with the media scrutiny and fan mania that such a hoops hotbed brings with it — made him and his fellow teammates feel like "rock stars." He smiled after he said this and everyone chuckled at the thought. But then the reporter asked a follow up: "Is that good?"
Wiggins thought about it for a moment, clearly not expecting to have to think about it for a moment and then said what every one of us probably would have said at 19 years old. He said, "Well, who wouldn't like that?"
That's why watching Wiggins slog through a month plus of professional limbo has seemed so deflating for the teenaged pro with the star-bright smile. In a summer where he should be basking in the glow of being the first overall pick in the NBA Draft, Wiggins is, instead, getting a crash course on what it feels like to be viewed primarily as a commodity which, of course, is exactly what you hear rock stars complain about, as well.
2.) There are some perfectly good reasons for the league's rule that prohibits a team from trading a player until 30 days after a newly drafted rookie signs his contract. The rule was designed to prevent a team from circumventing the salary cap by signing a player and then immediately trading him for other players or assets with the original contract only appearing on Team A's books for a flash. In much the same way as the 72-hour window a restricted free agent's original team has to decide whether or not to match can be a deterrent to a new club signing him to a new offer sheet, the rule basically intends to show that a team really means to sign who they sign or draft who they draft. Originally, rookie contracts were lumped into the rules governing all free agent contracts and they could not be moved for three months or until after Dec. 15 of the following season — whichever is longer. But changes to the CBA in 2005, reduced the moratorium for newly signed rookie contracts to its current 30 days.
But watching Andrew Wiggins have to go through most of this month as a "Cavalier" makes me question if there isn't some way that the rule could be further tweaked that would save both Cavs fans and Wiggins himself from having a summer filled with moments like this… and like this… oh, and like this.
The NBA has reached a point at which its off-season (at least the first month of it) is like a news cycle Mothra, generating hurricane force winds of player movement and fan speculation. But the half-life of stories in this new radioactive off-season often struggle to make it even half as long as Wiggins's mandatory 30-day holding pattern. The result is to drive home just how artificial the fact that fans and players alike still have over two weeks to wait before this situation has any chance of being resolved really is.
More often, though, the result is a hoops nation of glazed-over eyes and summer days full of awkward moments.
Wiggins can't help but have a bad taste in his mouth over what has to be a degree of arms-length-keeping by the Cavs. Once he is moved (we're not still saying "if," are we?) there will be plenty of talk about chips on shoulders and whether he felt disrespected and how much games against the Cavaliers will be circled on Wiggins's calendar, presuming Wiggins even still keeps paper calendars around expressly for such circling. And that narrative is going to be bogus and almost immediately tired because it's a story not about actual slight or disrespect, but about the NBA following its own rules (*snore*).
3.) Speaking of awkward: the Associated Press's Tom Withers sucked the air right out of the room with his first question of the Mike Miller / James Jones press conference on Wednesday. He looked to the stage, where Miller and Jones sat flanking GM David Griffin and asked the players "Have you always wanted to play with Kevin Love?" The players gave polite, if uncomfortable, grins while Griffin could just as easily been sitting up there gagging on his own tongue. Withers let the question hang for just a moment before letting the group off the hook by having the players talk about their connection with LeBron James.
Griffin called Jones and Miller "some of the most mentally tough competitors" he had ever watched or known and said the two wings were "pieces we absolutely needed to have." He continued to stress his five-fingered glove of fit, shooting, IQ, toughness and size when he talked about the (non-LeBron James-related) reasons he brought these players on board. "They are," Griffin said, "what we want northeast Ohio to see in [the Cavs]."
When asked about whether either player had met with new head coach David Blatt and, if so, what his thoughts were, Miller did not shy away. Blatt is, according to Miller, "unbelievably awesome" which, in case you're scoring at home, ranks the Cavs coach just below Jem and the Holograms, who happen to be "truly, truly, truly outrageous."
4.) Missed in all the talk about Miller and Jones's time with James in Miami and how close the three players families are is that Jones and Griffin actually have some history, as well. Originally drafted by the Indiana Pacers, Jones was traded to Phoenix in 2005 where he spent two seasons before moving on, first to the Portland Trailblazers then to the Heat. Griffin referenced their previous relationship and often referred back to Jones's statements during the Q&A, as Jones repeatedly characterized the team as a family. He referred to his teammates as his brothers and later said "our families are family."
This family model is exactly what Griffin has wanted to instill in the Cavaliers. He's talked before about being close enough — to love each other enough — to be able to tell each other even the tough things that maybe a player doesn't want to hear.
It reminds me a little of how former Cav John "Hot Rod" Williams characterized the close-knit nature of those Lenny Wilkens era Cavs teams. He said much of it happened because himself, Mark Price, Brad Daugherty and Larry Nance were all becoming parents or had just started families around the same time. That shift from a young man's navel gazing to a young man's awareness/acceptance with being depended upon trickled down nicely into a team sport environment.
It will be interesting to see if this same sense of in-this-togetherness can be fostered in the team's young players, as well.
But, now, ladies and gentlemen, settle back and enjoy some MR! RICK!! DERRINGER!!!
Tags: Andrew Wiggins, Dan Gilbert, David Griffin, James Jones, Kevin Love, Mike Miller, Tristan Thompson