We're getting into the dog days of summer here. You know, when you're dripping sweat and gasping for breath during that pickup game at the park with nine other crazy souls.  With David Griffin and Co. in an apparent holding pattern until August 23rd, you and your fellow Cavs fans will have just a few subjects to discuss between games. So here's five questions for you, answered by five CtB bloggers. Enjoy the run.
1.) A Kevin Love for Andrew Wiggins+Anthony Bennett trade adds (subtracts?) how many wins to next season's team?  How about the playoff picture?
Tom: Love's SWAgR was about 12, meaning he produced about 12 wins himself.  Anthony Bennett's SWAgR was negative.  I'll assume that Bennett would produce about a win this season and Wiggins about two (grabbing Kawhi Lenoard's rookie season as my comp).  The Cavs go +9 regular season wins with this trade.  Putting them from mid 50s to mid 60s.  Usually I would never assume that things would work out seamlessly for the Cavs, but Love and LeBron are outlandishly better passers than the Cavs have had during the rebuild trade-asset-accumulation-process (or TAAP).  The playoffs are murkier because, as we've seen in the past, PEDs match-ups can be game-changers.  But the talent alone will take them to the Conference Finals.  And if they're healthy and firing on all cylinders, the Finals.  I wouldn't predict that without Love.
Robert: I'm going to use the 2010-11 Miami Heat as my barometer here. They were 58-24 while still figuring out a mess of stuff about how to play together, who's team it was going to be, where Chris Bosh was going to play on the floor and whether LeBron was going to go full Ming the Merciless with his goatee and eyebrows in pursuit of his post-Decision villain role. They won 58 games because they had three of the most talented players in the league on their roster and many nights that was more than enough. I'm going to shoot a bit lower for a Cavs-with-Love team, just because there are more players on the Cavs roster (Love included) whose winning pedigree has yet to be fully determined. 56 wins is realistic. Keeping Wiggins and Bennett? Probably 48-50 wins this year. So, 6-8 win swing. In the playoffs, though, a Cavs team with Love could very realistically make the Finals. Without Love, they cap out in the Conference Finals or sooner, if they have the misfortune of meeting the Bulls in the second round.
Nate: I'm "all in" on bitterness here. Clearly, Andrew Wiggins and Anthony Bennett are destined to be traded to Minnesota. The Cavs and the NBA won't even let us buy "Wiggins 21″ jerseys from the Cavs team shop anymore. (To which I say "why?!") So I'm picking -5 games. Love gets hurt within 10 games, and the Cavs lack of depth hurts them. I'm not hoping this happens, but I'm hunting for a Wiggins jersey on Ebay. I'm going to write "I told you so" on the front, and wear it to the first game Love misses with injury. I will also wear it for the entirety of the 14-15 season when Love is balling in L.A. And yes, I know. I'm a petty, ridiculous grouch.
David: For the Cavs this trade adds two to three wins.  I just think back to those last Cavs teams with LeBron and how he dragged them to 60+ wins.  Last season with the Heat he managed to win above fifty essentially by himself.  The first year on the Heat when the the adjustment period was going on he won 58 games.  He figures out how to win.  Without Love the team should hit 50-53 wins and with Love they could reach 56 wins.  In the playoffs,  Love isn't going to be as big of a deal solely because he hasn't been in the playoffs ever.  No one knows if Love can succeed on a team where he isn't the primary scorer.  LeBron will have the ball more in the playoffs and will take a ton of shots, and Irving will fall in line behind him handling the ball for stretches.  The team is going to win the East if Derrick Rose isn't healthy and will lose it if he is.  Next year once the chemistry is set up, they should have a easy path to the Finals, with or without Love.
Mallory: First, lets preface all this with the fact that this year has essentially unfolded in my dream scenario.  (Nate is vigorously nodding his head while reading this).  I should probably get checked out for clairvoyance or something.  I haven't run the ESPN trade machine on this yet, but really there's no point since Wiggins hasn't played a game.  Realistic expectations are that Wiggins would come in and be a plus defender and break even on offense.  On the Cavs, he'd probably spend most of his time defending a team's second option (there's no way he comes in a better defender than LeBron currently is).  On offense, sure, he can dunk, but he's not a great spot up shooter yet, and that's probably the biggest role he'd need to fill/  Bennett will come into this season a little more refined offensively, but he's still a minus defender and basically does everything Love does but much, much less effectively.  Love, on the other hand, is a great spot up shooter, a fantastic rebounder, and not as big of a hole on defense as he's usually pegged.  Adding all this up, and, as long as Love stays healthy (he will, given the fact that he'll finally be in a winning situation) I see the difference of about 5 wins in the regular season and, more importantly, a real, actual chance at an NBA title.  Remember how good Bosh was as a 3-and-D small baller?  Love can be that x10.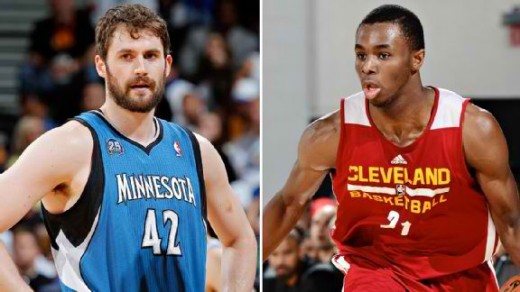 2.) Who is most likely to have a breakout year: Irving, Thompson, or Waiters?  Least likely?
Tom: If the Cavs play an up-tempo game (which they must) then I expect Irving to thrive, operating in the shadow of LeBron-centric defensive schemes.  We've seen it in all-star games and Team USA scrimmages.  When Irving gets to play the role of kid brother staying low to the ground and firing away every time he gets the ball on the wing, he's dangerous.  When he's the head of the snake he sometimes overdribbles and can't pass well out of double teams – this can kill the offensive flow.  I expect his efficiency to rise at the expense of shots (which will be a godsend to all).  I expect Thompson's efficiency to improve but this may be the season where everyone stops projecting and recognizes he's a limited player.  Waiters could become an all-star caliber 6th man or be shipped out for pennies on the dollar.  You never know what's going to come out of the Dion Waiters' Zone.
Robert: I'm going to say Irving, only because he will look more like the player we thought he was in his first two seasons than the inefficient ball-stopper we often saw last year. There will be some ball-handling hiccups and days when his spot-up game is still in progress but, overall, he will excel at not having to be the best player on the team. The opportunities he will have — as well as the other options — should make the game much, much easier for Irving than it was last year. My least likely is probably Tristan Thompson. I keep thinking about how much better playing with LeBron made Anderson Varejao look early in his career, before he developed a reliable shot from the elbow, but it would be shocking (to me, anyway) if Thompson even gets enough opportunities to exceed his career averages.
Nate: There just won't be enough shots to go around for any of these guys to pump up their numbers too much. They'll have to pick it up with defense and scoring efficiency to get much notice. Thompson's going to go to the bench, so that goes double for him. The only "breakouts" possible are better defense and playoff appearances. I'm all for that. I'm picking "None of the Above" and going with Delly, who should thrive as the third guard off the bench, and become a League Pass favorite. That should get him some $$$ when he's a restricted free agent next summer.  Least likely? Waiters, who could go into a funk if he's not getting looks. With a Kyrie, Love, LeBron lineup, Waiters really makes more sense coming off the bench, which won't thrill him.
David: Dion Waiters is going to become an animal this year.  He just keeps saying the right things things to media.  Rick Fox raved about how angry and hardworking he has been during the USA select team practices on the last Hang Time podcast.  Waiters is going to show LeBron he has what it takes to help the team, which is going to be his solid size and defense.  Scoring isn't going to be a problem for the team.  Also, Waiters is probably going to be leading the second unit again this season, and he will find a way to show the league that he is better than the second unit by uplifting the second unit as a whole.  Irving is going to struggle.  This is going to be the first time in his career he isn't the best player on his team, and he is going to have to rework his game to not involve always having the ball and to start playing this thing called defense.  Yuck.  Thompson is Thompson.  Maybe he can push his stats into solid double-double status for the basketball reference page with LeBron giving him easy baskets off of pick and rolls or Dion Waiters bricking layups and giving him easy garbage buckets.
Mallory: The answer here depends on what should be considered "breakout."  Irving is closer to his ceiling than the others, but he'll probably achieve the most this year.  If he learns to move without the ball and shoot efficiently off a pass, watch out.  Waiters has the potential to jump the highest, and has reportedly worked his butt off this off season.  Expect to see greatly improved defense and some great spot up shooting, as well as good off-ball movement.  Still, because of his relegation to the bench, it'll be difficult to see his improvements translated to actuality.  Tristan, while having the lowest ceiling, is the one poised for the biggest jump in statistical (and actual) improvement.  Last year, Tristan was asked to do far more on than he should have on offense while also stuck in a strange rotation of other undersized PFs and centers.  He's not a shooter and can't really do much with the ball in his hands.  However, assuming Love is headed to the Cavs, TT will finally see a floor spaced so widely that he may finally get some easy open shots.  His rebounding stats will drop, but the decrease in offensive touches will, hopefully, see the return of the bouncy defense that was once his calling card.  I still think Tristan is a bit of a dud, given initial expectations, but the new-look Cavs will probably mean the most to him.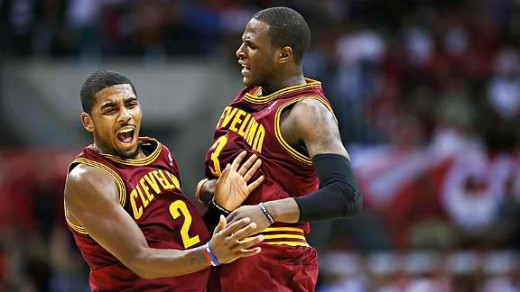 3.) Of other players rumored to be viable Cavalier targets (via FA or trade) which excites you the most?
Tom: Definitely Corey Brewer.  And Gorgui Dieng less so.  Brewer is one of those way over-hyped early, crapped on, and is now actually underrated. We just need to call this being Vince Carter'd.  Brewer probably is more WIGGINS! than Andrew Wiggins is right now.    And he'd certainly produce 75% of what Wiggins gives you in a year or two.
Robert: Outside of Kevin Love? I wouldn't mind Ray Allen on this team. I'm interested in what happens when the pinata of available bigs bursts and we see if there's any rim protection to be had at all. But I'm not crazy about any of them. Ekpe Udoh or Emeka Okafor? Either should come pretty cheap (for an NBA big).
Nate: Can I go with "none of the above" here, too? I guess Ray Allen would be fun to watch. He is the starting two-guard on the all-time "fundamentals" team, but forgive me if I don't want to watch LeBron playing with a bunch of guys my age. The Cavs seem frozen until the apparently inevitable Love trade, so I'll throw out a few names for 20 days from now: Ekpe Udoh, Bernard James (had himself a solid summer league and is a high character guy), Gustavo Ayon (if he's healthy), and if they could find a way to keep from the Spurs from matching, Aaron Baynes. These are all low risk/high upside bigs.
David: None.  Kevin Love doesn't even get me going.  Why can't the Cavs trade for Larry Sanders or Nerlens Noel?  Cleveland doesn't need more scoring on this team.  They should make opposing teams fear the paint without packing the paint and giving up tons of threes like last year.  I wouldn't mind taking a flyer on Ekpe Udoh to try and guard the paint.  He wouldn't have to worry about scoring and could only worry about shot blocking.  He'd probably improve on defense with LeBron directing him.
Mallory: Obviously we know my obsession with Kevin Love, so that's sort of where I begin and end when it comes to this current incarnation.  The Cavs still have a big need at the 5 (note to Griffin and Blatt: take a cue from Pop and rest Andy as much as possible).  Given that, I'd love to see someone like Andray Blatche, who is no longer than locker room cancer he once was, join the Cavs. Elton Brand might be a guy to target as well.  I know Robert and Nate mentioned Udoh, who I love, but I'm just not sure the Cavs have the $ to get it done.  The goal for Cleveland should be to find a either Brandan Wright-type, a young guy with potential that has never been fulfilled, or an Elton Brand-type, a vet who wants to get a ring.  Ray Allen is would be a great addition, too, but only if his heart is fully in it.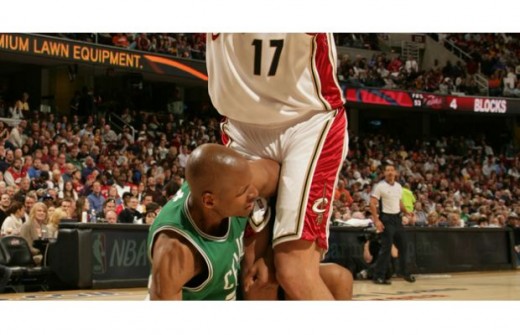 4.) In light of the Paul George injury, which team will be the Cavs' toughest competition for the Eastern Conference crown?
Tom: I'll go with the Raptors because I just don't trust the Bulls' health.  The Raptors are an athletic team with a ton of talent.  They were too inexperienced last season to make a big playoff push.
Robert: The Bulls. No question. I know that the Love trade hasn't officially happened yet, but I feel like it has so this is assuming he's on the roster by the playoffs. The Wizards should be good and might put up a good fight. Charlotte, Miami and Atlanta are both legitimate NBA ball clubs. The Nets? Meh. Pacers? Meh now, unfortunately. But if things break right for the Bulls this year, they could be a monster.
Nate: I feel dirty for even entertaining this question. I would say the Bulls, but Thibs' addiction to burning his teams out before the playoffs hasn't been conquered yet. (I'd actually enjoy seeing  Love go the Bulls, just so I could name their Gasol, Noah, Love big man trio "the Brittle Brothers.") I'm sticking with my contrarian nature and picking Miami. Wade, Deng, and Bosh are all going to want to "stick it" to the Cavs. All three players sublimated their games last year: Deng for the Cavs, and Wade and Bosh for the Heat. Bosh will become the centerpiece of the Heat, now, and will go back to being a 20/10 guy. Deng will be healthy and his two-way play will be a good substitute for LeBron. If Wade's knee is healthy, watch out. And we all know how LeBron can go to a strange psychological space in a weirdly emotional series. A series against the Heat is a hypothetical I don't want to entertain.
David: The Miami Bosh will be so fun to watch this season.  Everyone forgets Bosh was a post player when was on the Raptors, and he was averaging 24 points and 10 rebounds a game without shooting threes.  Bosh shoots the three now, passes better, and is a better defender.  Now, the world will see all of that in action.  Add a pissed off and ready to win Luol Deng and the Heat are formidable.  Dwayne Wade may bounce back after a poor playoffs and if he does that's a beyond formidable team.  Also, add in the fact that Chris Bosh will probably give LeBron some goofy handshake before the Cavs play them that will throw LeBron into an emotional desire to be back on the Heat for a game and you have a team that's just competent enough to beat the Cavs.  The Bulls will be formidable too if Derrick Rose is healthy.  All the teams in the East have big questions about injuries attached to them.  If Al Horford and Al Jefferson come back healthy, the Hawks and Bobcats could bulldoze any Eastern team, since no one has bigs that can cover those guys without changing how their teams have to play.
Mallory: First, my thoughts and prayers are with George, whose injury can only be described as horrific.  The truth is that the Pacers were already, to some degree, on a down swing, especially given how ineffective Hibbert was in the latter half of the season and the playoffs.  The bigger contender in the East, beyond Cleveland, is without a doubt the Bulls.  This off-season they managed to dump their biggest cap-sucker (Boozer), add an underrated big (Gasol), grab a good shooter (Dougie McBuckets) and get back their best player (Rose), who will spend the next month+ working his way back into shape in high level competition – note: do NOT underrated how important and useful the FIBA tourny will be to Rose.  He'll have almost two months of serious basketball to regain confidence in his knees.  Beyond the Bull the other popular choices are probably the Heat and the Wiz, but I don't buy the the Heat as a real contender (sorry, but Wade/Bosh/Deng and a bunch of minor contributors don't scream "WOW") and the Wiz lost an important role player in Trevor Ariza.  If I'd have to pick another team, it's easily the Bobcats.  They've got a lot of young piece who should get better (Zeller, MKG, Kemba, Bismack, Vonleh), added a near-all star in Lance Stephenson (who will alleviate some of the distribution duties that Kemba had to take, freeing him up for shooting) and a smart minor FA signing grabbing Marvin Williams.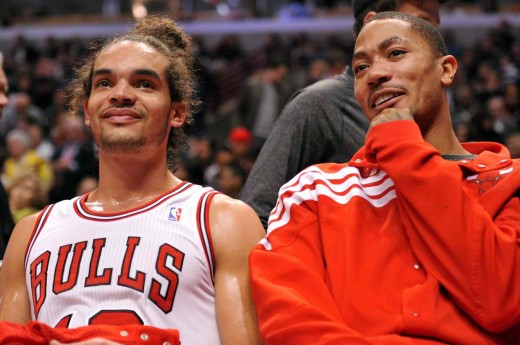 5.) Do you anticipate the Cavs will explode out of the gate (the way the Celtics did in 2008) or will they struggle with a new coach and a completely overhauled roster?
Tom: No.  Even with LeBron in tow, I expect there to be growing pains.  It happened for the Heatles, it's definitely going to happen to this Cavalier roster.  Fortunately, LeBron won't have to wrestle with playing the bad guy role or whether he's "Robin" or whatever.  It's his team, everyone else is going to fall in line or be benched (or shipped out).
Robert: I don't think they will be playing too many games where they just look like a mess, but there's still enough youth on this roster that it's unlikely the Cavs will be a juggernaut early. David Blatt should have them playing a much more tuned-in brand of basketball which alone would do wonders over last season's team. Combine that with LeBron and possibly Love and you have enough talent and experience in place to keep everyone's feet planted firmly on the bridge (as opposed to jumping from it) as this team finds its way. 13-7 through 20, though, seems right.
Nate: They could struggle. Dion and Kyrie are going to have to learn how to match intensity when they're getting the opponent's best game every night. As evidenced by the pivotal Atlanta game last spring, this is still an issue for Kyrie. Offensively, Love, LeBron, and Andy will keep the ball moving, but Kyrie and Dion are going to have to adjust to playing off the ball more. It's going to frustrate them at times. And defense..? They're still going to give up a lot of points. Blatt was really aggressive going after the perimeter defensively in summer league, and I expect to see that continue, but in the NBA where teams will easily make the extra pass, good passing teams will eat them up inside and out.
David: The Cavs will be a slow moving train that eventually loses their brakes and makes it the final destination in a terrifying but refreshing way since they'll make up extra time by going crazy fast at the end of their journey.  David Blatt is going to have to coach offense and defense with this team.  That's kind of an obvious statement, but last year it wasn't.  Mike Brown believed if the Cavs just played defense they would be a playoff caliber team as Kyrie and Dion took care of the offense.  Adding LeBron James and possibly Kevin Love to the team complicates the offense to the point of needing to instill something that will keep the ball moving.  Once Blatt gets a motion offense in place Kyrie and Dion, will click because it won't be their decision to pass the ball, it will be the offense's decision as whole.  Defensively, the struggle continues.  Blatt will try a different system to limit the amount of threes opponents get and that change is going to be hard on the young players.  They'll figure it out more quickly than last season since LeBron is a talker on defense and will guide the young ones.  At the end of the season, they'll crash and burn like a runaway train; but at the beginning of next season, that cashed in train insurance money will have them looking beautiful.
Mallory: The team is too well built to struggle as much as the Heat did at times, with guys who play distinct positions and have defined roles.  The amazing thing about this Cavs roster, save for Kyrie and Dion, is that each player possesses some pretty distinct talents:  Kyrie is a great ball handler who can shoot outside and and attack the rim, and, when he trusts his teammates, distribute the ball well.  Love is a great spot up shooter who can also post up in a flash and will rebound well from anywhere on the floor, Andy is the energy guy who excels at the pick and roll and the pick and pop and makes a ton of ugly but effective baskets off offensive rebounds.  Dion is the bench ignition who, when hot, can pretty much do anything.  Lebron is clearly the focal point and can play any role asked.  That may not be the 2008 Celtics, but it's not too shabby.  I doubt the Cavs will come out firing on all cylinders, but I don't foresee the Hindenburg either.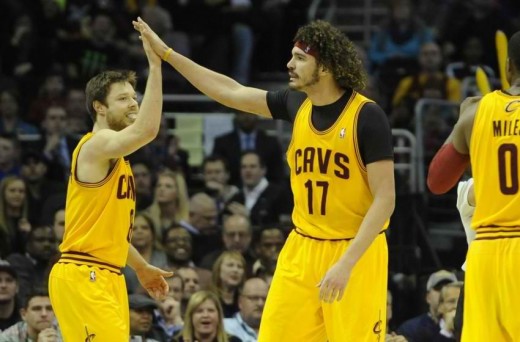 Commentariat, give us your takes.