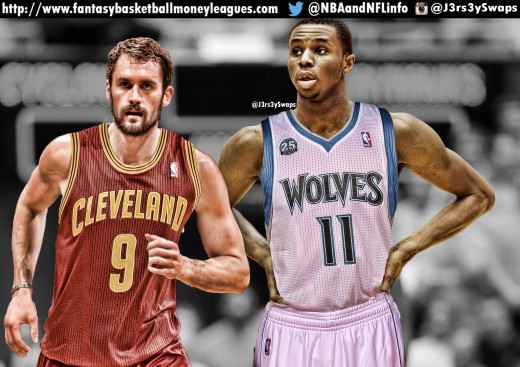 The Kevin Love trade has seemed inevitable for the past two weeks now.  ESPN has reported that it is now even more inevitable, as no other teams are involved in talks about obtaining Love.  The Bulls don't have a young cheap possible superstar to offer, and the Warriors still don't want to give up Klay Thompson in a trade for Love.
Last week, ESPN.com reported that the Bulls had re-emerged as a serious suitor for Love, despite the fact they had a few more trade assets to offer Minnesota before last month's NBA draft. But sources said this week that Chicago essentially has conceded to the Cavs, knowing it can't furnish a player with both Wiggins' superstar potential and his favorable rookie-scale contract.
Fear The Sword writer Mike Mayer took the time to discuss the possible Kevin Love trade with a blogger for the Timberwolves.  There were no surprises about how the Wolves blogger felt about losing Love.  Here are his thoughts on a Andrew Wiggins and Anthony Bennett trade for Love.
Look, it sucks to lose a superstar, as you know. It's painful and it just feels like the cycle won't ever end. The Wolves have been crap for a decade, and ever since Love has emerged, they have failed to build around him properly. They also failed to give him a five year deal, which means he is gone even earlier. The deal for Wiggins and Bennett (which I actually think is going to happen) is not a bad one as these things go, though obviously it pretty much depends on how you feel about Wiggins.
The whole conversation is intriguing because as a Cavs fan you really want to sympathize with the Wolves fan about to lose a superstar.  However, if you're like me, you also want to gloat about having the best player in the game on your team and about looking to add another lovely player in Love.  It's a conflicting time to interact with fans of crappy basketball teams if you're a Clevelander.
If you believe what the public thinks about the Cavs doing a Kevin Love trade, it's a great time to be a Cavs fan.  In the polls asking about where Kevin Love will play and who benefits from a Love trade the most, the Cavs are the dominant answer.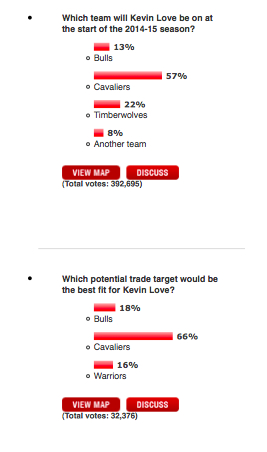 Brendan Bowers of Stepien Rules has detailed all of the Cavs' transactions this summer.  It's a handy reference guide for fans, and he has some great commentary.  My favorite part is about Alonzo Gee.
I'm not quite sure how the Cavs traded Alonzo Gee on draft night only to trade him again during the second week of July. I'm also not sure how the Cavaliers were able to keep the assets they acquired in the first trade (Dwight Powell and Brendan Haywood from Charlotte) before dealing Gee later to New Orleans.

But truthfully I don't want to know. I would prefer to believe that David Griffin managed to trade Alonzo Gee twice without anyone else in the league noticing because it's just better to remember it all that way.
I'm glad to know I'm not the only one super confused about the Gee Man trade.  I also am horrified that Gee, who has been traded to the Rockets as part of the deal for Omer Asik with the Pelicans, is going to become an extremely serviceable player.  They made Omri Casspi work.  They're a magical team.
Hopefully, the coaching staff of the Cavs is magical in regards to creating enough shots to go around for the team.  Even without the addition of Kevin Love, there are adjustments to be made by Kyrie Irving and Dion Waiters in order to play with just LeBron James.
With that in mind, realize that Irving averaged 17.4 shots a game for the Cavs last season and Waiters averaged 14.2 and probably would have preferred more.
LeBron took the lowest amount of shots in his career last season, but he still was taking 17.6 a game.  While Luol Deng was on the Cavs, he only took 12.7 shots a game.  This won't be a simple swapping out of shots for the Cavs, and some players will need to change.  Dion Waiters, who seems to be more and more reflective on his basketball career, is ready.
"I have to make adjustments," Waiters said. "I like to have the ball, and we have Kyrie, and he likes to have the ball. So I have to find ways to impact the game without having the ball. I'm planning to go watch tape to see what D-Wade did when he played with LeBron. I need to learn how to be effective out there with him."

"[Wade] is a ball-dominant guard, too, and when LeBron came over, he had to change his game, too," Waiters said. "He was so efficient, though, and that really helped their game. I think I can learn a lot from what he did."
It's quotes like this from Waiters that make me think he is going to be really good at basketball in the coming years.  His office is a hardwood floor, and he's ready to use the ball on it to do work.  He isn't going to be at the podium complaining about touches and seems like he wants to make his role the one the team needs, not what he wants.  Could he be the Dion Wade? Let's hope so.
Tags: dion waiters, Dwayne Wade, Kevin Love, Lebron James