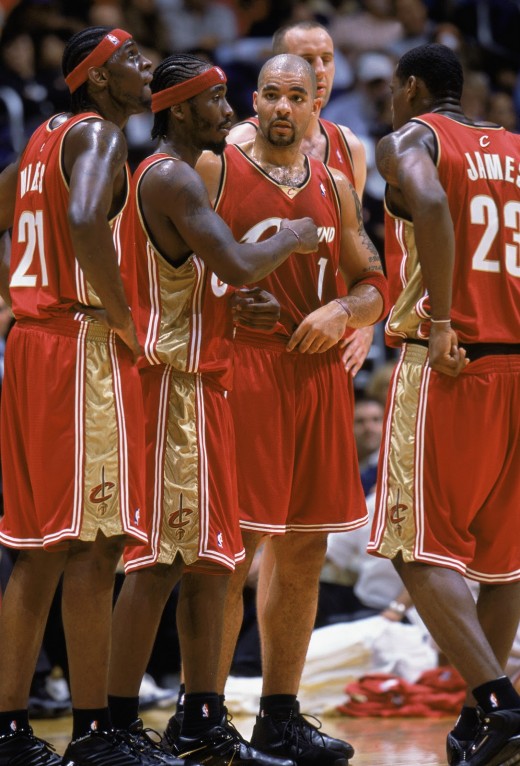 The Cavaliers organization is preparing to fold up the paint-splatted tarps, take down the scaffolding and scrub everyone from finger nails to elbows with Lava soap, signaling an end to one of the wildest rebuilds in league history. But, this October will not the first time LeBron James has tightened the draw-string on a pair of wine and gold shorts. So, it seems fitting to take this mid-summer's time when the NBA news cycle has finally (finally!) receded to its yearly low tide to take a look back on some of the other Cavs teams LeBron James has led and where the starters on those clubs, those not-quite-ready-for-championship players, are now.
Let's start at the very beginning… with your 2003-04 Cleveland Cavaliers.
On October 29, 2003 at 10:30 EST, head coach Paul Silas unleashed the teen phenom, James, on the league as his team's point guard, joined by swingmen Ricky Davis and Darius Miles, Carlos Boozer at the four, and the man in the middle, Big Z, Zydrunas Ilgauskas. In what would end up a 106-92 loss to the Sacramento Kings, James scored 25 points, dished out nine assists and grabbed six rebounds and an immediate clash with Davis who would later be quoted as saying, "I thought LeBron James was just another addition to help me score."
So, unlike the Cavs team that year, we'll be going to Ricky Davis… early and often.
Davis, one of the league's all-time quite-possibly-out-of-his-mind-all-the-time players, was coming off a 2002-03 season that, while dismal in terms of overall team success and basketball watchability, would end up as his high watermark statistically. That season proved Davis a scorer capable of 20 points per game (20.6, actually), though each flash of brilliance was off-set by a barn fire of curious, often selfish behavior (see: own basket, shot at).
Ultimately, though, Davis's above quote, along with repeated head-butting (not literally, of course, but it's Ricky Davis, hence the need to clarify) with Silas, scrawled the writing all over Gund Arena's walls: these Cavs would become James's team, not Davis's. Davis, in fact, would only have his one season as The Man on a team, though his unwillingness to concede that title, forced GM Jim Paxson's hand and Davis was traded on December 15, 2003, along with Chris Mihm, Michael Stewart, and a future second round pick (that would become Ryan Gomes), for more fitting role-player stock in Tony Battie, Kedrick Brown and Eric Williams. Just 22 games into James's career and he lost arguably the most versatile scorer he would ever play with in his first turn as a Cavalier.
Later in Davis's career, that would go on to include a total of seven NBA teams, with overseas stops in Turkey, China, France and Puerto Rico and two stints in the D-League, his sister provided this insight into Davis's jagged career arc: "When Ricky first came into the League, he really didn't know anyone… The one person that really showed him everything, took him under his wing, showed him love, was Bobby Phills. He really misses him."
Not long before being cut by the D-League Erie Bayhawks, Davis, still just 34, had this to say about his career regrets: "I did some bad things, but the only thing I regret is my triple-double. But everything else comes with experience. People forget I got drafted when I was 17, so I had a lot of young 'myself-myself' attitude, and now it's more about being part of a team, and more of what I can do to help the team."
Davis was released by the BayHawks on March 18, 2014.
Favorite Memory: Now, I know a lot of people will say the "Wrong Rim" game, in which Davis shot at his own rim in the attempt to grab his own rebound and secure a triple-double (link above). Davis's stated favorite is his dunk over Steve Nash. But I always have and always will go with the "Old Guy" TV commercial from the 2002-03 season. In the way my friend, Scott, and I re-tell this it ends with the Old Guy saying "I love you, Ricky…" which actual archival footage disproves. But, man, the agency who came up with this one must have had Don Draper running the pitch session to get this thing on the air. Whew. For all of you not from Cleveland who wonder what Cleveland is, it's apparently at least partly about octogenarians who feel up professional athletes whenever said athlete makes the curious decision to ride public transportation. Apparently.
But Davis's mix of crazy lore and his … well, mostly just for the crazy lore has caused history to smile on Number 31. If these five players where to walk into a room right now, the line of people who would want to talk to Davis would probably rival the line rolling down James Way. He's just got that egocentric magic, that infectious love for Ricky Davis that most everyone — and not just old guys on buses — just can't quit.
Hindsight, on the other hand, has been less kind to Miles. Having had to watch Miles season and a half in Cleveland where he put up a modest nine points and five rebounds a game — and where his Cavs highlights are limited to about 15 seconds of this package — that he was once touted as a cross between Tracy McGrady and Kevin Garnett. Miles was traded to Portland for Jeff McInnis on January 21, 2004, signaling the end of several eras: LeBron as point guard and the hope that any vestige of the young talent on Cleveland's roster prior to the 2003 draft (Ilgauskas excluded) would be able to work on a team now committed to building a winner (lower case), if not ultimately a Winner.
Miles would see his best statistical year in 2005-06 with Portland where he would average 14 points and 4.6 rebounds, but was never able to shake questions about his attitude and his work ethic and ultimately suffered what amounted to a career-ending knee injury later that season. He would have micro-fracture knee surgery that year and miss all of the next two seasons. Subsequent return attempts were marred by league suspensions for marijuana use and the fact that his quickness and explosiveness were long gone.
In 2011, Miles was arrested for trying to bring a loaded handgun onto an airplane.
On a more positive note, though, he also had a commercial with an Old Guy.
Carlos Boozer is continuing his NBA career with the Los Angeles Lakers after stops in Utah and Chicago.
And Ilgauskas…? Well, Ilgauskas may still be flying around in Dan Gilbert's jet. Or he may not be. Or there may be no jet. Ilgauskas may just be flying.
Why this team didn't work: The Cavs took calculated risks when they brought Ricky Davis and Darius Miles on board. Those are the types of moves that bad teams make, trying to hit a home run by grabbing a player who is just on the cusp of breaking out into someone serviceable or beyond. Had Davis been able to quell his crazy and play as a secondary scorer to James, things could have turned out differently. Likewise, had Miles developed into anything close to the player he was projected to becoming coming out of high school, the Cavs future seasons would have looked much different. Instead, when the bottom drops out on potential and upside, the return a team can get in a trade suffers a similar precipitous drop. For Davis, the Cavs got role players — good pros who improved the team (well, at least, Battie and Williams did) by not thinking they were better than NBA rotation players and, thus, doing the work required of said type of player. But losing Davis meant losing talent and there wasn't anyone else on the roster once Boozer left (and, again, Z excluded) who could move the needle beyond "doing the dirty work."
Likewise, Miles brought McInnis, who allowed LeBron to focus on scoring and who improved the team in the short term, but became a headache in his own right and was never an elite guard.
That was the pattern with the break-up of the 2003-04 team: take high-upside/maintenance players and flip them for guys who wouldn't destroy LeBron James's soul as he learned how to become a pro. But not being able to find guys who both had high-level NBA talent and weren't complete jerks to their budding star set the team on the path of never really having that other elite piece (or pieces) to complement James.
So, Ricky, do you have anything you want to say?
Tags: Carlos Boozer, Darius Miles, Lebron James, Ricky Davis, Zydrunas Ilgauskas