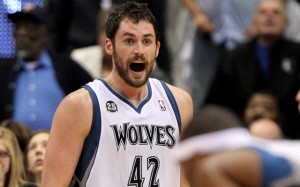 The Cavs inked their number one draft pick, Andrew Wiggins, on Friday.  He can no longer be traded for thirty days.  So the team has until August 23rd to figure out a trade for Love not involving Wiggins.  While this is my hope, it seems unlikely that the Wolves will make any deal with the Cavs that doesn't involve their talented wing prospect.
A little more disturbing about the potential acquisition of Kevin is that his second year on his current contract is a player option.  Most reports are saying he plans on opting out of that second year to become an unrestricted free agent.  Doing that would benefit Love in several ways according to Tom Carpenter of ESPN.
Love would gain some flexibility by having the right to hit the market as a full-fledged unrestricted free agent in the summer of 2015, because he could sign with any team he wishes. That means if things don't work well with the Cavs, or if James opts out next summer, Love wouldn't be stuck there an extra year.
There is a slight chance that the Cavs could lose LeBron, and even Love if they acquire him, to the opt out option next year.  Thankfully, it seems unlikely that LeBron would leave after professing his love of Cleveland.  It even seems unlikely Love would opt out and just not come back given that he is requesting to be traded to Cleveland.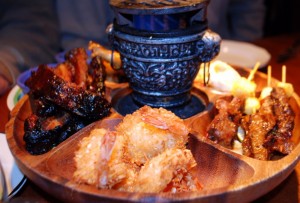 Mike Mayer of Fear The Sword has a piece up breaking down the cost of acquiring a superstar via trade.  It is pretty clear that Wiggins will probably need to be included to make a Love trade happen, as  there is no Pu Pu platter that the Cavs can offer with proper value.
LeBron James is going back to his old number, 23.  This was the number LeBron wore coming into the league, and it's also Michael Jordan's number.  There is also a chance the Cavs will play the Spurs on opening night.  LeBron will have to summon his inner MJ, if this is the case, to beat the team that has now beat him in the finals twice.
Brett Zellman has spoken about the Dion Waiters' Twitter incident with some authority for Waiting For Next Year.  On Twitter, Waiters simply said he wouldn't accept a bench role.  This was actually an honest answer and he should be lauded for it.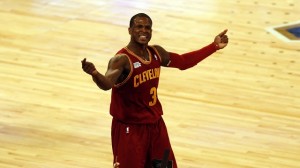 We criticize athletes for their canned, cliched answers but then we get an honest answer and freak out? It's a bit hypocritical. Waiters believes in his abilities and that confidence is clearly visible on the court. Furthermore, are we even sure Dion won't be starting?
Dion isn't going to cause any issues on the court or in the locker room.  Who doesn't want to be in the highest possible position within their organization?
Update —
According to Steve Kyler at Basketsball Insider, the rumors that Love favors Cleveland above all are exaggerated.
Sources close to Love have said they were urging people to dial back the "Cleveland or else" message and that while Love seems open to all three of the situations being seriously considered – Cleveland, Golden State and Chicago, he is not willing to commit long-term to any of them as a first action.