The Cavs amazing off-season continues. To celebrate, we all pitched in and bought a big ole variety pack of Brews and Bruises. We just threw them all in the iced down cooler and the labels fell off, so no one could be quite sure what what beer or player they were going to get. Reach in, pop the top, sit back, and enjoy the 2014 Cavaliers Off-Season Beer Guide, and remember, drink responsibly…
David Wood
Jarrett Jack, Sergey Karasev, Tyler Zeller, Alonzo Gee, and Carrick Felix: These five players deserve a sampler of Leinenkugel's Summer Shandy. This shandy is extremely drinkable and refreshing, as it is essentially beer and lemonade. Each of these players is going to be refreshing their new teams' benches and will be loved in some weird way by their new fan bases. I once bought an Alonzo Gee jersey, and I'm sure there will be new people buying them where ever he ends up. A harsh truth about these players must be realized though. Like this drink that is only half beer, these guys are only half NBA players (the other half being a D-league candidate or geriatric), and you'll grow to be ashamed of your love for them as quickly as you grew ashamed of drinking Summer Shandy.
Dion Waiters is exactly like Anderson Valley's The Kimmie, The Yink, and The Holy Gose. Gose beers are made with wheat, salted water, brewers yeast, and wild yeast. The Anderson Valley take on a gose adds extra salt and lactic acid bacteria during the boiling process to give the beer a very sour finish. This canned delight starts smooth like a typical wheat beer and finishes like you crammed your mouth full with a piece of sourdough bread. It puckers your cheeks. This brew is as confusing to the palette as Dion is to the game of basketball. Dion glides into the paint, down the court, and to his spots with a smooth dribble and an explosive first stem, but then he finishes in the oddest ways: taking off balance shots and circus layups that make you cringe. The shots go in, and, just like this beer, after digesting four or five of them, you can't deny that they get the job done.
Dan Gilbert: Mr. Gilbert would love to sip on a Duvel. This beer costs above $12.00 for a four pack, so it's no wonder he would like it. Dan knows how to spend money and just wants results. Thankfully, this Belgian Strong Ale delivers on every upward tilt of the glass. It has a gigantic head and smells of bananas and fresh rain. It slides down your throat with the carbonation of a champagne and finishes warm. It doesn't taste like booze, but at %8.5 it is sure to sneak up on you and lull you to sleep. This is perfect for an owner that needs to stop pinching himself to make sure he isn't dreaming and actually landed the best player in the league.
Ben Werth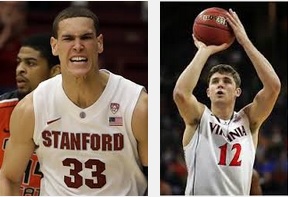 Dwight Powell & Joe Harris: Warsteiner seems like a good idea. The German name gives it credibility. Offering an immediate opportunity to show off your German pronunciation skills (hard V!!!), this German brew has made its way around the globe. Just like Dwight Powell and Joe Harris are likely to do. The problem with Warsteiner is that it is simply not in the same class as other German biers. The oft-exported pilsener understood that its game, though solid, is simply too limited to make it in the German bier big leagues. It takes its limited talents overseas. But, enjoyed with a perfect Bratwurst (Lebron) it still can get the job done.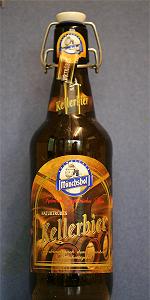 Andrew Wiggins: Some things should be kept simple. That simplicity does not preclude greatness. Like Wiggins, a Kellerbier features aromatic hops. An unfiltered beer with a murky complexion, Bavarian purity laws have kept too much experimentation in check. We are left with true ingredients: water, barley and hops. Wiggins ingredients: fluidity, extreme hops, and something that reminds us of barley. A kellerbier does not offer a huge range of taste, but it is breathtakingly wonderful in its quality — a beer for all occasions.
Anderson Varejao: A beautiful beer that goes down more like wine, Westmalle Tripel should be enjoyed in moderation and saved for special occasions. Capable of matching a variety of foods, its sweetness and delicately strong finish can occasional hide a mighty punch. If you drink too much, a wicked hangover is more than likely. Cherish it's time earned maturity. This finest beer combined with the finest steak (LeBron is moving up in the meat world) and you have a meal of champions.
Nate Smith
Cavs Fans: For sticking with this team over the last four years, you deserve a beer. GLBC has just the thing for you. Their new special release, Spacewalker, celebrates the surprising number of astronauts that hale from the great state of Ohio. Now that LeBron has returned, and Andrew Wiggins looks to suit up in a Cavs uniform, Ohio has two new spacewalkers. Brewed with experimental ADHA 881 hops, the beer is emblematic of the Cavs embrace of the new positionless, fast paced NBA: "bold yet balanced with spicy, fruity flavors."
Anthony Bennett: The temptation here is to just pick, New Belgium's "Fat Tire," and be done with it. Some pieces write themselves. Alas, I can't do that to my beloved, slimmed down, Gumdrop Bear. So choosing another beer from New Belgium's lineup of affordable brews, I'll go with Ranger. The sessionable (6.5%), hoppy, yet balanced and drinkable IPA describes Bennett's "shoot from anywhere" attitude and his new-found confidence. It's not an all-star offering, but it's a decent IPA bomber for a reasonable $2.99. Perhaps by season's end Tony will even upgrade to the status of New Belgium's Imperial IPA, "Rampant." We can only hope.
Matthew Dellavedova: To my favorite player goes my favorite beer: 3 Floyds "Lord Admiral Nelson." Due to trademarks it has recently been renamed to "Lord Rear Admiral," and that awful moniker notwithstanding, the beer is an under-appreciated gem. An ESB — where you're not quite sure if the E stands for English or Extra — this delight is malty with just the right amount of bitter, balanced by subtle fruity hops. You drink one, and you'll miss the taste for days till you have another, much like I now miss watching Delly sprint up and down the court and get into other peoples' heads. This bottle is named after another strategic genius from the Commonwealth, Admiral Lord Horatio Nelson; I don't know who should be more honored, Delly, or this beer.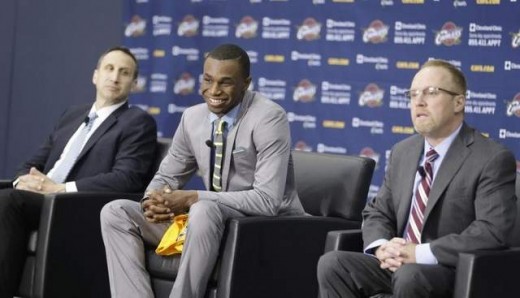 David Griffin and David Blatt  should be introduced to another favorite, Ommegang's Scythe and Sickle, a harvest Bière de Garde with barley, oats, wheat, and rye. This autumnal farmhouse ale describes my best wishes for the dual David era. For what are NBA General Managers and Coaches if not farmers? They chose the seeds, water with instruction and motivation; strategically choose complements; and harvest from the bench just when the time is right to for those seeds to transform into productive masterpieces — like this beer. Just like running and coaching an NBA team, "Farming is about precision, timing and care," Ommegang says. Like them, we should place "the same emphasis a farmer has for his crops into the creation of our beers" and the stewardship of our basketball teams. Now that I've stretched this simile beyond reason, let me just say, don't trade Andrew Wiggins, Mr. Griffin. Let him grow like the seeds of spring grow into beautiful beers and players of "vibrant and flavorful passion." Then, David Blatt and I will be able to savor them on the court and at the Lizard this fall.
Tom Pestak
LeBron James: For the past six years, Pliny the Elder has been voted the Best Beer in the Land. Likewise, LeBron James has been the best player in the NBA for at least the last six years. It's fitting that LeBron's beer personification is Pliny the Elder – a scholar that created the world's first Encyclopedia. Thanks to Brian Windhorst, we now know that LeBron has an encyclopedic memory, and can even remember all the button combinations for Shaq Fu.
Tristan Thompson: Bud Light. Pretty much anywhere there's alcohol, you can count on Bud Light showing up. Likewise, when the Cavs play basketball, Tristan Thompson is most likely there. He's a workhorse, leading the team in minutes last season. He's not setting the world on fire and is prone to getting burned, but he'll stand in, work hard, and make a few people smile now and then. Unfortunately, both Bud Light and Tristan Thompson have forgotten who they are. Tristan is working through growing pains and trying to become an offensive impact player. He needs to get back to blocking shots. Budweiser is no longer an American owned company, after the hostile takeover from InBev in 2008. According to sources I trust, the quality of the beer has been on a downward trajectory since that time.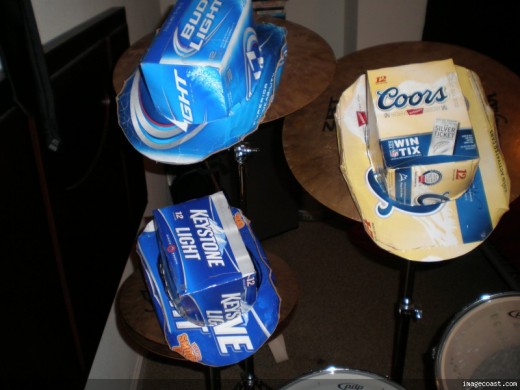 Brendan Haywood's Contract – is obviously Keystone Light. Allow me to explain. Keystone Light is Coors Light that didn't pass quality control. Which sounds exactly like what happened with Brendan Haywood in Dallas – he was amnestied. But that doesn't mean he had to quit basketball. No no… He was repackaged as a Charlotte Bobcat for much less money. Just like failed Coors Light is repackaged as 30 Stones for $9.99. Of course, no one buys Keystone Light to enjoy it, much like the Cavs have no intention of making Brendan Haywood a part of their future. His contract will be used for a very specific purpose, like Stones are used in sludgy beer pong cups. Without an actual cost (Haywood's contract is non-guaranteed next season) the Cavs will be able to use his pre-amnestied salary (over 10 million) in a trade to make salaries match. Smart move, Cavs. And good thinking, Coors – there are uses for watered down beer that didn't pass QC.
John Krolik
An issue I'll bring up here is that I quite enjoy Bud Light. With the Rich Paul connection, Tristan Thompson is more like that weird pumpkin IPA you get in a variety pack of good seasonal beers.
Mallory Factor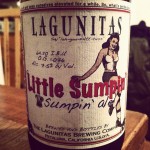 Mike Miller and James Jones: Lagunitas is old school – founded in 1993, the brewery has slowly risen the ranks of the craft world, and, with the opening of their Chicago facilities, will soon become one of the top four craft breweries in the country by production. Think about that for a moment – only Sam Adams, Sierra Nevada, and MAYBE New Belgium will sell more beer than little old Lagunitas. But don't let the size intimidate you – Lagunitas' beers are just as good now as they've ever been. One of the most forward thinking breweries around, Lagunitas is known for hopping the hell outta everything in sight. But then there's their Little Sumpin Sumpin'. Reliable, subtle, and very, very drinkable, Little Sumpin Sumpin' is a little spicy, a little hoppy, a little yeast-y, and oh-so-fantastic. With hops grabbing all the headlines, it's easy to forget about the beer – all it takes is a sip to remember just how good it is. String music maestros, Miller and Jones, can appreciate those sentiments.
Kyrie Irving: Nate tried to get me to pick Pliny the Younger, but I don't think that describes Kyrie as perfectly. The young star of an up-and-coming stalwart team, Irving manages to stand out among a league filled with great point guards by combining steadfast shooting with flashy handle and smarts. Likewise, Gun Hill Brewing company is  by far the steadiest and best of the new-in-2014 NYC breweries. Gun Hill impresses with all around solid renditions of old favorites. Their IPA is hopped to perfection, their stout is roasty and sweet, and their wit is crisp and refreshing. But none of these beers come close to the Gun Hill Gold ale. An oft-overlooked style, gold ales are traditionally drinkable, smooth, and sweet, with very little flash. Gun Hill turns that formula on its head, adding a touch of hop notes to a very sessionable beer. The steady precision with which the Gold delivers makes it a perfect companion to Mr. Irving. In a crowded field of mediocrity, Kyrie, like the gold ale, perfects on all fronts. I can't wait to see how things mature!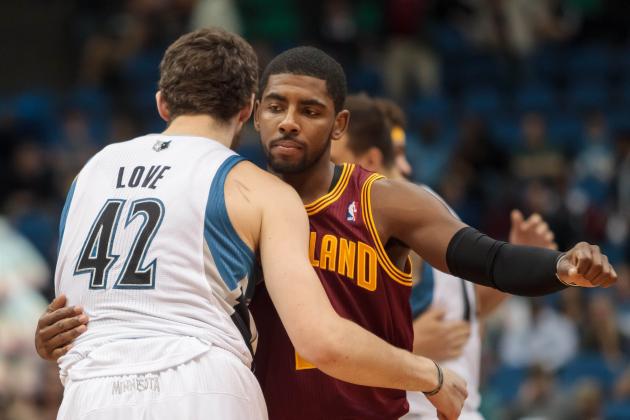 Kevin Love: You know who drops bombs? Kevin Love drops bombs. The big man is a budding star who uses flashy play to load up the stat sheet. NoDa Brewing Company's Hop, Drop 'n Roll, which recently won gold at the World Beer Cup, (that means experts believe this to be the best IPA in the world!) blitzes the senses with dank, sticky hops – a LOT of them. This beer is a hop bomb, with a fantastic aroma and a strong, bitter finish (much like how I foresee Love's exit out of Minny going). Like Love, this IPA has its roots on the West Coast. But, Like Love, it took a totally different region to make it great. Now lets just hope Kevin can take a note from HDnR and bring home the top prize… When he comes to Cleveland.