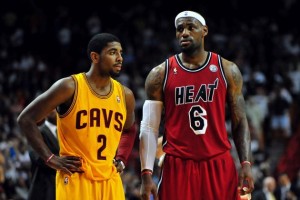 Summer league is over and the Cavs have added some additional players to round out the roster, so it is officially time to start speculating about what the starting lineup may look like.  Mike Mayer of Fear the Sword has kicked off the discussion.  His predicted lineup looks like it would be Kyrie Irving, Dion Waiters, LeBron James, Tristan Thompson, and Andy Varejao.  He argues for Waiters over Wiggins from the standpoint that Wiggins is a rookie.
Defensively, Wiggins projects to be very good, but as a rookie, it's unlikely that he would actually be any better than Waiters. At least not from day one.

So while Wiggins may be a better fit for this spot in theory, I would actually be pretty surprised if he starts over Waiters on opening night.
My guess is that Waiters leads the bench unit, but finishes games while David Blatt continually lets Waiters know he runs that second unit and is a huge part of keeping the team in games.
Mayer had me salivating when he mentioned this small ball four man lineup.
There is also the possibility that the Cavs could start Waiters at the two, Wiggins at the three, and LeBron at the four. I think Blatt will utilize that kind of lineup for stretches most nights, but I can't imagine LeBron starting at power forward
Just add one okay rebounder for instant success and Sports Center "top ten" plays.
While the Cavs haven't had trouble rebounding, they are still in desperate need of a big man.  Haywood is ineffective.  Dwight Powell is a wait and see prospect.  Unfortunately, the list of available free agents that Chris Fedor of the Northeast Ohio Media Group  put together compelled me to throw a fit like a fifteen year old girl.  No, I don't want Emeka Okafor.  No, I don't want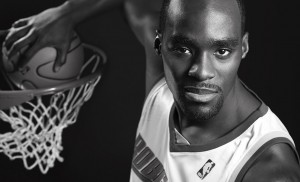 Jermaine O'Neal. No, I don't want Ekpe Udoh.  Why has the world forsaken me?  Each of these centers could bring something to the team, but they would have to have a conference with the Wild Thing to discuss when they get to have their injury and when he gets to have his injury.
Luke Sicari broke down the Cavs' summer league roster player by player for Fear The Sword.  There were no surprises, undrafted players stay unsigned and foreign vets will probably go back to playing overseas.  Terry Pluto of The Plain Dealer, however, had some good insights into the Cavs summer league players.  Andrew Wiggins is very teachable and responded when told not to shoot as many threes.
Wiggins was understandably excited and forced some bad shots. But when the coaches talked to him about it, he adjusted. Thursday, he was 3-of-5 from the field — and 15-of-20 from the foul line. That gave him 21 points. The coaches love how he attacked the rim.
Anthony Bennet is developing in ways not related to increased girth.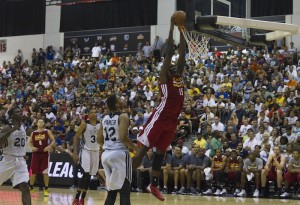 In one game, Bennett attacked the boards and had 14 rebounds. Several times during the week, he impressed by running hard on the fast break, catching passes at the rim and dunking. The Cavs like how he lost about 20 pounds. Now, they want him to increase his stamina.
Terry thinks Joe Harris has hit old man status.  He is gonna be running off of picks to get his shots.
The Cavs like how Harris moves without the ball, and can run around picks to get open. They see him joining veterans Mike Miller and James Jones as outside shooters coming off the bench.
Terry also shut down the notion of Kyrie being traded for Kevin Love.  First off, it's impossible for him to be traded for at least six months when signing a max contract because of an NBA rule, and, secondly, it would make the team look horrible, since one of the reasons LeBron came back was to play with Kyrie.  The team has to wait at least a year to trade Kyrie.
Did you know LeBron James is able to make decisions for himself?  It may come as a surprise that the best basketball mind in the world is making his own basketball decisions, but Maverick Carter has confirmed this. And, after Bill Simmons suggested that LeBron was a genius, Brian Windhorst has penned a piece about LeBron's incredible memory and mind.
It is perhaps one of James' greatest gifts. And while those who watch James are typically impressed with how he uses his speed and skill to generate highlight plays, those who know James or spend a lot of time with him are more frequently blown away by the almost curious power of his mind.
David Blatt had an interview with Zach Lowe of Grantland. Blatt seems ready to just use the pieces the team has.
[Zach Lowe]The Heat had Shane Battier to guard power forwards so LeBron wouldn't have to all the time. And Battier could shoot 3s. Can you envision Anthony Bennett as sort of a bigger Battier in that same role?

[David Blatt]I'm really happy with the way Anthony has come to our camp. He's worked extremely hard, has improved his body, has improved his approach. He's maturing. He's on the right track. We're gonna see what we can do with him.
Can you say Anthony Battier? That's exactly what Blatt is envisioning.
International news is heating up.  Matty D is one of the NBA players who is looking for a spot on the Australian team.  Dante Exum along with Aron Banes and a group of lesser known players will all be at the camp in Canberra waiting to see who has made the final cut.
Dion Waiters was named to the USA Select team, which will face off against Kyrie Irving and the Men's National Team during July 28-31 in preparation for the FIBA World Cup. Chris Fedor has the details at Cleveland.com.
The Canadian team failed to qualify for the FIBA cup in Spain this year and is looking to qualify for the Olympics in 2016.  The problem is that not all of their stars are playing during their summer games.  Andrew Wiggins, Tristan Thompson, and Anthony Bennett are not playing with the team for one of the Olympic qualifying tournaments.  If Canada wants to succeed in the future, they'll have to hope the stars want to play full summers with them.  Also, according to Jason Whitlock, the Canadian team might be better if they just weren't Canadians without that killer instinct.  Craig Lyndall has Whitlock's comments about Canadian players covered over at Waiting For Next Year.
Lastly, Andy is in Brazil, training with his national team.
Primeiro dia de treino,como é bom estar com vcs meus amigosFirst day of training,it's so good to be with u my friends pic.twitter.com/rvpa6gPeS2

— Anderson Varejão (@VAREJAOANDERSON) July 21, 2014