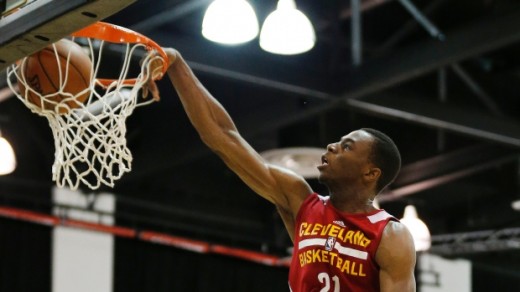 Four points I'm thinking about the Cleveland Cavaliers…
1.) There's a reason that the two sides of the Kevin Love/Andrew Wiggins debate are so equally passionate about the other side being horribly misguided. This is not necessarily an argument about the personnel moves made by a basketball team so much as it is a larger struggle between Reason and Imagination. Love, supporters of the trade that would send Minnesota a package headlined by the Cavs' recent number one pick say, immediately makes this Cavs team a contender (at least in the East) and, still only 25, would keep the Cavs championship window open well through LeBron's prime, the new extension on Kyrie Irving's contract, as well as whatever new contract the Cavs cadre (Lake Erie's new answer to the Miami mafia) convinces him is worth the signature either prior to or just after the 2014-15 season.
They are, of course, entirely right. If the only thing we can be sure of in professional sports is what we already know, then Love is a no-brainer. Whenever you have the assets to nab a top-12 player who has yet to enter his prime (which is really the scariest thought here) while still keeping the middle of your batting order together, you do it. You do not think about Anthony Bennett, reason says. You do not think about the type of player Andrew Wiggins might develop into.
Except thinking about the type of player Andre Wiggins might develop into is exactly what one does with a head already packed full with too much sports detritus, much of it now out of date and worth about as much as a Michael Olowokandi rookie card. Wiggins offers that spark to a Cavs fan's imagination: that talent to watch blossom while wearing wine and gold; to watch explode through space with an athleticism that seems such a clear distillation of what is most exciting about watching professional basketball. Even Bill Simmons, who has long lauded his own sports common sense (Celtics notwithstanding), has called for the Cavs to give us even half a year of seeing what a LeBron/Wiggins team might look like before making the trade that makes the team make more sense. Let us have our look into what we imagine the future might look like even if what the future actually will be might be the better choice. Let us see two amazing NBA wing athletes (who would double as their team's best rim protectors) turn opposing passing lanes into a human version of Whack-a-Mole, appearing as if from nowhere to change out dimes into pennies from heaven. Just give us a taste of the candy; we promise we'll finish our boneless/skinless and our broccoli all in due measure.
But, of course, the league doesn't operate like that. This is the NBA. This is serious business. And so the Cavaliers pursuit of acquiring just the right assets to land Love continues on.
2.) I wondered during Summer League if Carrick Felix had much of a future with this team. He was brought in by the Grant/Brown regime as a long wing defender whose shot was capable enough that he might be an adequate 3-and-D guy down the line. But with David Griffin stressing shooting so much, Felix didn't seem quite knock-down enough to survive the ever-crowding roster. He had some moments in summer league, but he's really a hustle guy who has not yet developed enough of a shot to make sense on this team. I'll always be a Felix supporter after I got a chance to chat with him at summer league last year and I hope he finds a fit somewhere in the league.
3.) Tuesday's trade that brought the non-guaranteed contracts of John Lucas III, Erik Murphy and Malcolm Thomas to the Cavs in exchange for Felix and a future second rounder is a clear indication that Griffin is putting foot to pedal on trying to trade for Love. But it's far from meaning that the trade is a lock.
Remember, Griffin pulled the trigger on the deal that sent Jarrett Jack to the Nets well in advance of knowing that Northeast Ohio would be the winner of LeBron Lotto 2014. He still moved Jack, though, believing that getting out from under Jack's contract would increase the team's ability to make other moves to improve the team had the best player in the world not agreed to play on the roster he's tasked with constructing.
Griffin has been incredibly proactive in making deals to put the team in just the right position to do what he wants to do. Imagine if the Chicago Bulls had moved enough salary around at the start of free agency to offer Carmelo Anthony a Max deal. Do you think that may have shown Anthony a level of seriousness in him that even the Knicks hadn't shown? It would have, at the very least, been a hell of a bluff. And it may have been bluff enough to tip the scales Chicago's way.
These are the type of little deals Griffin has been making because he knows even if LeBron falls through or Love falls through he's given the team assets to immediately get things done. Eventually, one runs out of extra first or second round picks to sweeten the deal but, so long as Griffin is gambling with Chris Grant's house money, these are moves he is wise to make.
In the short term — and, make no mistake, the short term is now the Cavs dominant term — non-guaranteed deals will always be of more immediate value to another team than a second round pick who wouldn't have seen his way north of Canton for the Cavs this year.
4.) Now Sam Amico is reporting that the Philadelphia 76ers are interested in helping to "facilitate" a Love trade and covet Dion Waiters in return.
[Sigh]
If the Cavs trade Wiggins AND Waiters, they immediately become very suspect on the wing with their best option suddenly being begging Minnesota to include Kevin Martin's bad contract in the deal (which, of course, they absolutely want to). Otherwise, you're rolling out Mike Miller, James Jones, Ray Allen, Anthony Parker, Reggie Miller and Rick Barry at the two.
It will be interesting to see at what point in this deal-making process the Cavs channel their inner Popeye and say "I can't stands no more!"