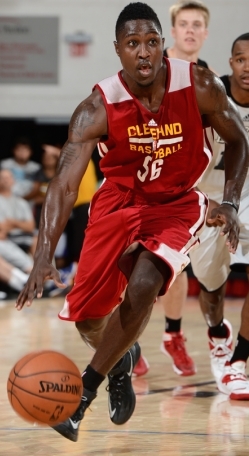 The Cavaliers summertime instructional team raced out to a quick lead over the San Antonio Spurs, building leads of 25-11 after one and 41-23 at the half before fending of a Spurs second-half run to notch an 82-70 victory in Las Vegas, Sunday afternoon. In what will, no doubt, come to be known as the "Crystal Ball Game" sometime around next June when the Cavs' varsity unit puts a similar smacking on the Spurs' A-team to win the 2015 NBA Finals and… and…
[experiences shortness of breath … light-headedness … reminds self of "marathon, not sprint"… counts to 10… okay, I'm back]
The Cavs Summer League team looked pretty impressive in upping their record to 2-0 in the Sunbaked Classic.
Andrew Wiggins and Anthony Bennett each scored 13 points, Matthew Dellavedova had a team-high seven assists and Will Cherry scored 14 consecutive points in the fourth quarter for the Cavs when the Spurs were starting to threaten. Cherry finished with 21 to lead the team.
The Spurs were led by Ohio State product DeShawn Thomas's 21 points and 5 rebounds.
•Summer League can be a bit of a Funhouse mirror sometimes; whatever you're looking at is almost always distorted in some way relative to the NBA. There have been true star turns at Summer League who have never really shined as bright in a regular season game. How good a team is in the regular season usually equates to how recognizable (or un) a Summer League roster is from a regular season one. Assistant coaches handle the head duties and the majority of the players, veritable basketball perfect strangers, have only practiced together a handful of times.
The Cavs might be the exception to this rule. Take, for instance, Bennett's performance: 13 points on an efficient 5-8 shooting, only three shots from deep (one make) and a game high, arguably game changing 14 rebounds. Bennett scored early, seemed to disappear for much of the middle only to come back with a coffin-nailing emphatic jam in the game's final minute. So, while many would expect a former number one pick in need of a redemptive narrative to come out firing (as he did and did and did Friday night), Bennett played essentially how Cavs fans might hope to see him play this season. He played within the offense and let the game – and the rebounds – come to him. Bennett's strengths are obvious. He has a nice touch, especially on midrange shots, has arms like a crane's boom and even slipped a couple nice passes into his stat line. His ball handling and court awareness are going to be a work in progress (as many will wonder how he can rebound so well yet always seem to be floating beyond the three-point line on offense) but Bennett is showing real skills and the ability to respond to coaching (hence, the fewer heaves from deep) thus far. All good signs early in the summer.
•Wiggins also scored 13, but shot only 3-11 from the field (1-3 from three). Like Bennett, he faded in and out of discernability on the court, going long stretches without making his presence known, but his defensive mindset was on full display. In the third quarter he missed a jumper and immediately hustled to steal the ball back off the rebound and draw a foul. He also stretched out for a nifty left-handed block of fellow rookie Kyle Anderson's driving layup. Wiggins also showed a capacity for in-game adjustments as, when it was clear that his outside shot had stopped falling, he clearly made a point of driving to the basket. One of Number 21's weaknesses coming out of Kansas, though, was his inability to finish strong at the basket and that was (unfortunately) also on display on Sunday. Still, he was able to use his drive to get to the line where he went 6-8. He also registered half of the team's four total blocks.
•Dellavedova continues to look… well, like a guy who played a bunch of meaningful minutes in the NBA last season. Delly just always seems to be in the right place, ready to make the right pass or (well, you wouldn't know it from this game where he took only three shots, making one) taking the right shot. He seems to be about a step and a half ahead of nearly everyone else on the court which, again, is what you'd expect from a guy who spent last season fashioning himself into an NBA rotation player. I can not stress this enough: last year, I thought Dellavedova was nearly invisible on the court in Vegas. This year, I can't stop watching him.
•It's been really fun to watch the team play David Blatt ball and, by in large, this is the main reason why you will have somewhat underwhelming scoring games by the guys you would expect to be the focal points of the offense. The ball just keeps moving which, even on the Summer League level, is such a welcome change from the general ball-domination of the Cavs primary handlers the last couple of seasons. It's also the reason the team's ignorable centers, Jack Cooley (15/5) and Alex Kirk (6/2) wound up with easy looks (if not always sure-fire conversions) at the rim. Everyone on the Cavs already seemed to embrace making the extra pass and when the team was really clicking in the first half it was beautiful to watch, even if done mostly by players who will be playing in Europe come the fall.
Again, there is so little to trust in trying to equate Summer League ball with the regular season variety, but this team is showing flashes of the offensive flow and defensive aggressiveness that Cavs fans were told would be the hallmarks of a David Blatt team. The coach's blue jeans-and-polo shirt look don't hurt either.
•But along came the fourth quarter, here came the Spurs, and there went Cherry to run away with game honors. Looking like a 6-1 (if you believe the listing) Nate Robinson, Cherry seemed like he was in attack mode every time he touched the ball. Early on, it was bad attack mode, but once his shot started falling, the bullet-quick guard from Montana put the whole team on his back and showed them the way home. Cherry was hitting from inside and out, in transition and in the half-court. His sudden flamability is likely also the reason that Bennett and Wiggins were not bigger factors down the stretch. The team rode the hot hand and that hand was Number 53's.
Carrick Felix rebounded from an invisible first game and had a nice box of seven points on 3-5 shooting with four boards, three assists and a steal. The second-year swingman from Arizona State still didn't look completely comfortable, but he was able to show off some of the all-aroundness that made him a second round pick in 2013.
2014 second rounder, Joe Harris, looked fine in his debut. The 6-6 guard from Virginia scored just four points in 21 minutes, but showed great awareness on defense by, twice in the second half, keeping his arms straight up-and-down while still back pedaling and causing his man to miss a bunny at the rim.
Now, in honor of Cherry's game, folks, please enjoy you some Runaways…
Tags: 2014 NBA Summer League, Andrew Wiggins, Anthony Bennett, Will Cherry