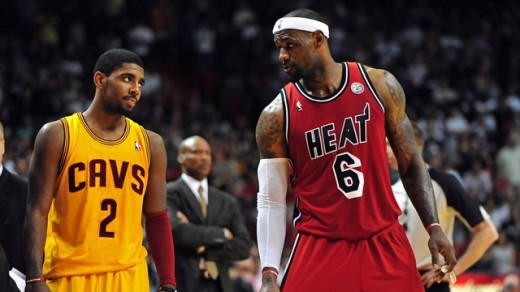 Four points I'm thinking about the Cleveland Cavaliers…
1.) Last week, I wrote about the Cavs moves in free agency and failed to mention LeBron James. However hard to believe, it's true. At the time, all of five days ago, I was still trusting what people who cover the league closely had been telling me since the Heat came crashing down in the Finals: sometimes where there's smoke, there's just a smoke machine. Basically, while The Return continued to be the year-long rumor that refused to die, very few people saw much in the story besides the story. Of course, the Cavs were going to court LeBron, as any team with the cap room and a drunk gunslinger's chance of catching the eye of the best basketball player on the planet should have. And, for a league interested in becoming a year-long news cycle similar to the NFL, Cleveland presented The Angle: the plucky, oft-spurned suitor who croons and coos through 7-10 days of lead stories before James, eventually, though inevitably, returns to the pillowy-soft wedding bed of the Miami Heat.
So, even as The Story seems to have gone bi-pedal, I still remain skeptical about exactly how much weight its newly grown legs can support. Thus far, there has been relatively little substance to any reports regarding James's intentions and, even if the needle seems to jitter Cleveland's way and then not several times over the course of each day, the only thing really different than when no one wanted to talk about The Possibility is that now we can talk about it and — assuming we keep our heads about ourselves (that's what sports fans do, after all, right?) — we need not feel silly doing so.
Keep in mind: I'm not predicting anything here. This is just trusting people more in the know than I am. If you look at what has actually happened since the LeBron talk picked up its little feet and began to walk, there's not much to see. There may be, but it hasn't happened as these fingers hit keys.
But stranger things, I absolutely know, have happened.
2.) Lost in all of the clamor of the rush to bear new Witness is the fact that there will actually be some version of Cavaliers basketball on display at the end of this week. On Tuesday, the team announced its Summer League roster that will kick off a Vegas vacation this Friday at 8pm ET. As is the case with most young teams, several players who will be in the mix for 2014-15 rotation spots will be on display starting, of course, with the team's recent number one overall pick, Andrew Wiggins. After the months of picking at Wiggins's game, it will be nice to have some actual (though, relative) NBA action on which to base judgements.
While Summer League can be a far cry from the talent level Wiggins will be competing against on a nightly basis come November, the League doesn't get enough credit for the feistiness and competitiveness of its play. This is not an All-Star game. These Summer League rosters are filled out with players who want to make an impression on NBA or European teams so they can have a job playing basketball (even for part of) next year. For a player like Wiggins whose assertiveness has come under fire, getting hounded by some late-20s journeymen might be a good way to break his teeth on exactly how much his opponents will want to break him once the real games start. But for a player who prides himself so much on his work on the defensive end, it's reasonable to expect Wiggins to give back whatever he learns he can get at the other end and wind up having himself a pretty good Summer League. Athleticism rules in these summertime games and the one thing we do know about Wiggins is that he is flush with that.
What's more, the NBA won't have to wait long at all to get it's "Wiggins/Jabari Parker rivalry" motor running. The Cavs opening game comes against Parker's Milwaukee Bucks.
3.) Flying a bit further under the radar than Wiggins's debut, is the first summer swing by 2013 number one pick, Anthony Bennett. Bennett, who will be playing on the same courts he patrolled in his one year at UNLV, is reportedly in great shape … finally. After missing last year's Summer League while recovering from shoulder surgery, these games in Vegas represent Bennett's first shot at the retribution he'll likely tell you is the furthest thing from his mind. Still, look for Bennett to likely be the summer team's first option on offense when he's on the floor as the new coaching staff tries to get a handle on what exactly they have in the 6-8 whatever-he-is-now pounder. For a player who showed a decent amount of explosiveness even when significantly overweight last year, Friday will be Bennett's first chance (while likely matched up against Parker) to show Cavs fans and the league just what his real game might look like.
How did the Cavs other recent number one picks fare in their first Summer League action?
Kyrie Irving never played in Summer League. In 2011, the League was canceled due to the league-wide lockout and, the next year, he hurt his hand slapping the padded wall beneath a basket in practice, missing summer action again.
In 2003, LeBron James played in four of the Cavs' six games at the Reebok Pro Summer League in Boston, averaging 15.8 points a game to go along with 7.3 rebounds, 4.3 assists and 4 turnovers.
4.) Usually, Summer League teams are coached by one of the team's assistants. Last year, Jason Kidd decided to get his feet wet as the lead man on the bench by coaching the Nets' Summer League team in Orlando. This year, the similarly-career-pathed, Derek Fisher, will be coaching the Knicks team in Vegas. Those moves made sense, as both Kidd and Fisher were fresh off of their playing careers and had no prior coaching experience. The Cavs will see a slightly less orthodox situation in which a coach with over 20 years of professional coaching experience mans their Summer League bench. That man, of course, is new head coach, David Blatt. Blatt, whose storied coaching career has, to this point, taken place entirely overseas, will use the games in Vegas to begin his formal acquaintance with the NBA sideline. He will be joined by associate head coach, Tyronn Lue, and a bevy of former Mike Brown assistants, including Jim Boylan, former Cav, Vitaly Potapenko, and new bench addition, James Posey.
While it's unlikely we'll see many bells and whistles from Blatt's much ballyhooed offense, giving him some extra hands-on time coaching to actual NBA rules and working with some of the younger players — including Matthew Dellavedova, Carrick Felix, and Sergey Karasev — on his roster certainly ups the usually low level of interest in whoever is sitting on the Cavs bench in Vegas.
Tags: 2014 Las Vegas Summer League, Andrew Wiggins, Anthony Bennett, Jabari Parker, Lebron James