Seems wasteful to exert much energy over the LeBron to CLE rumors until something more permanent starts to take shape.  As a person with access to zero "sources" it makes even less sense.  We're analysts, fans, and supporters, not insiders.  But, I've had plenty of thoughts and conversations about all the rumblings lately.  I thought I'd share them.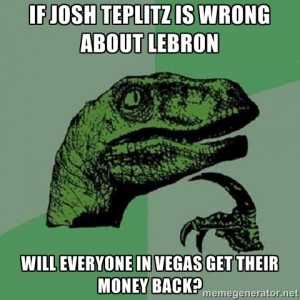 On everyone's emotions:
"How could LeBron get over the comic sans letter?!" is (intentionally) on everyone's mind.  Here's how he gets over it.  He recognizes that The Decision destroyed basketball in Cleveland for 4 years.  It left a smoldering crater.  It hurt (a lot).  LeBron gets this now (I believe).  The national pundits wondering how he could ever "get over" the letter don't believe he did anything wrong leaving Cleveland in the first place.  Oh sure, they might pay lip service to "The Decision" being in poor taste, but they don't acknowledge what the lowercase decision did to a region of die-hard fans.
That includes the Cavs biggest fan, Dan Gilbert.  He was hurt by the decision.  So he vented in solidarity with the rest of us.  I've heard people speculate on whether he could swallow his pride.  Seriously?  The guy that fired Mike Brown, rehired him, told a room full of cameras that the original firing was a mistake (his mistake), and then proceeded to fire him again?  I have no idea what Gilbert might say about the letter when that time comes, but I'm pretty sure he's not going to sabotage the future of the Cavs in order to double down on it.  One year after LeBron left it felt pretty cathartic to let LeBron James know exactly how I felt.  (DG liked it too).  Ya know what?  If he came back to the Cavs, I would not, in fact, wish for him to fail forever.  I'd rather he redeem himself with a championship.  And then all of us that had fightin' words for LeBron after The Decision can eat crow while we party in the streets.
Anyone else seen comments like this?
It would be beyond cruel to toy with that city's emotions again.

— David Aldridge (@daldridgetnt) July 7, 2014
No disrespect to David Aldridge, and I appreciate him acknowledging the passion of Cleveland sports fans, but this is false equivalence.  The Decision hurt so badly because it was the answer to the question: "Is Cleveland worthy of LeBron James."  This wasn't paranoia or self-hatred.  Rather, it was the question everyone outside of Cleveland had been posing since 2004.  Remember how Nike wanted LeBron in a "big market".  Remember WorldWide Wes and CAC.  Remember headlines like L.A. Bron.  (These aren't questions I'm demanding you recall these events.) From the moment the Cavs landed The Chosen One there was a constant question.  It felt rhetorical.  The implication: "Cleveland isn't nice enough."  The Decision, and using "South Beach" to contrast his previous location stung because it vindicated the notion that Cleveland wasn't nice enough, LeBron's teammates weren't good enough, the organization wasn't competent enough.
The good news is we've moved on.  Watching the Lakers, Knicks, Nets, Celtics, and Bulls depress their "big markets" while the booming metropolises of Oklahoma City and San Antonio represent two of the hottest basketball destinations has changed my outlook.  Cleveland has the requisite passion welled up inside its citizens to experience the same basketball euphoria as San Antonio Texas.
So if LeBron decides to stay in Miami I think most Cavs fans will look forward to the Kyrie Irving/Dion Waiters/Tristan Thompson/Andrew Wiggins/Tyler Zeller/(don't forget Andy!  #NEVERTRADEANDY) era – which is just beginning.  Oh yeah, we have Anthony Bennett too.  Maybe he'll surprise us this season.  Cavs fans are gonna be just fine if LeBron decides he's not ready to come home yet.
The Most Overrated Reason LeBron Would Stay in Miami:
Pat Riley – the guy that needed more than one ride on the Michael Beasley machine.
The Most Underrated Reason LeBron May Come Home:
His Wife apparently loves Akron.  When Savannah put out the instagram with "The Countdown is Real" you had two camps.  You had those that lost their mind thinking this was leaked information about LeBron's FA decision and you had those people rushing to explain it away to the freak out crowd.  But here's the simple truth we ignored.  His wife…Loves Akron.  If you're not married, bear with me here.  If Savannah DIDN'T love Akron, I don't think there's any chance LeBron would ever come back.  Not to cement his legacy or take care of "unfinished business" or anything.  But they have a growing family, and the more children you bring into the world, the more you weigh family into career decisions.  Now Woj claims that Rich Paul is on a mission to get him back to NE Ohio.  If his wife, family, friends, and agent are all longing for home, there's a good chance it will factor in heavily to his decision.  It short: it matters more than many will admit.
On the Wild Rumors:
I don't believe for a second that LeBron has told anyone he's coming back to Cleveland.  I DO believe he or people close to him have been entertaining the idea for some time.  Here's how quickly this can spin out of control.  LeBron and one of his buddies are playing Call of Duty.  Buddy says "think you could take the Cavs to the promised land?"  Bron says: "aw yeah.  Me and Kyrie'd light up the league like I'm about to light yo ass up.  Boom."  (Bron's buddy gets naded).  The buddy explains this to a person that wasn't there and doesn't understand the context or tone.  He texts a simple message pretending to be LeBron.  The guy that receives the texts wants lots of retweets so he pretends LeBron actually sent the text, since that's way more meaningful.  It's also possible that people are just fabricating entire stories.  I was fooled by a fake David Alridge account saying the Cavs had moved Jarrett Jack to Orlando.  I retweeted it before quickly realizing my mistake.  And I messed people up.  So there are plenty of ways, both accidental and malicious, that half-truths and falsehoods are being spread.  I'd bet my money on what Windhorst and Broussard have said.  Basically, nothing is set in stone – nothing has been decided.
On Free Agency:
It's disingenuous of me to overload my outrage meter when it comes to free agency since I loved (LOVED) the Jarrett Jack singing last season as well as the calculated risk of Andrew Bynum.  But as far as this FA cycle goes, I'm pretty annoyed that the Cavs seem to have taken a step backward with the loss of C.J. Miles and no stretch bigs or rim protectors to speak of.  Two of the guys I lobbied for were Josh McRoberts and Channing Frye.  They're both taken now, and while they weren't flailing around the bottom of the bargain barrel the Cavs could have gone after either of those guys.  Maybe they did and just lost out. I certainly hope that's what happened with DeMarre Carroll last season (on my "not getting over it anytime soon" list right up there with cutting Danny Green).
I'm not upset about Spencer Hawes leaving.  Well, I'm upset that Cleveland lost a true Patriot, I'm just not upset that the Cavs aren't investing in Hawes.  I'll leave it to Evan Zamir to explain my feelings exactly.
Of all the guys ranked three hundred and fifty in RAPM I like Hawes the best.

— EvanZ (@thecity2) July 5, 2014
Gordon Hayward for 16 mil?  Doesn't seem like good value.  Looks even worse after letting Danny Ferry snatch up Paul Millsap for under 10 million a season.
Kyrie and the Max?  I understand why people are excited about it.  I'm not upset by it, just…nervous.  The laws of rational player assessment do not exist for Kyrie Irving.  He exists on his own island, unburdened by those inconvenient truths like: his actual performance.  It's not unlike health care in America for the past 30 years or "college life".  It's…distorted.  In some cases, not real.  Except for the expense! – as real as it gets.  I feel the same way with Kyrie.  Could his performance one day be worthy of investing 30% of the salary cap?  Sure.  Is it likely?  Only if we ignore what has actually transpired and make a load of excuses for him.  "BUT!  BUT!!  You HAVE to lock up a guy like that!"  Really?  You need that "star power", huh?  Gotta put butts in the seats, right?  It's "just so hard" to attract free agents to Cleveland, right?
Anyway, that's my view, but I can't disagree with that of our own Cory Hughey, writing for gotBuckets:
If Grant's successor David Griffin can follow through on his mandate to field a roster fitting coach David Blatt's screen heavy, off-ball movement offense proven to be very guard friendly, Irving could make a dramatic step forward this season. Finally, last season, Irving was a youthful 21 and definitely possesses time to resume an upward arc to his career.
The good thing about giving Kyrie the max is that it is a necessary first domino to fall before the real team-building starts.  The Cavs have been in asset collection mode for so long and unfortunately, we haven't learned enough about the young talent.  But the Cavs are taking the plunge and committing to Kyrie, thus embarking on their journey towards relevancy.  I was annoyed at the flippant way they treated acquisitions like Livingston, Ellington, and to a lesser extent, Miles.  As if they were disposable, and not part of the future, even as they fit the needs of the team.  The Kyrie commitment signals the end of that mindset.
On the Cavs Waiting for LeBron:
I'm with Cleveland Jackson:
If Lebron James does return, all I want is for them to treat him like a basketball player instead of the guy who runs the organization

— WayneEmbrysKids (@WayneEmbrysKids) July 7, 2014
Also, this: (how I found my way into this NBA sub-culture)
Jeez, remember the Kobe Bryant vs Lebron James ad nauseum discussions

— WayneEmbrysKids (@WayneEmbrysKids) July 8, 2014
And finally, this:
@WayneEmbrysKids This was the exact thing I hoped they wouldn't do. I.E. wait on lebron and let all the other free agents get away.

— Spark Ring (@LUNI_TUNZ) July 7, 2014
The thing about waiting for LeBron: It's not worth it if he doesn't join your team.  It's TOTALLY worth it if he does.  He's worth more than 20 wins by himself.  That's the difference between a lottery team and home court advantage in the first round of the playoffs.  I know it's frustrating watching some good FAs get away because the Cavs are trying to make LeBron work.  I think as long as they don't sell the farm to bring in K Love for a one year rental they'll still be alright.  My real concern is this:  if LeBron re-signs with Miami and gives himself an out for year 3, do the Cavs time their roster build around that?  How wise would that be?  Kyrie's already locked up so the Cavs won't have his impending FA to scare them into desperation mode.
I don't know the answers, but I do know that it's time to start enjoying basketball again in Cleveland, with or without LeBron.
Tags: Free Agency, Lebron James