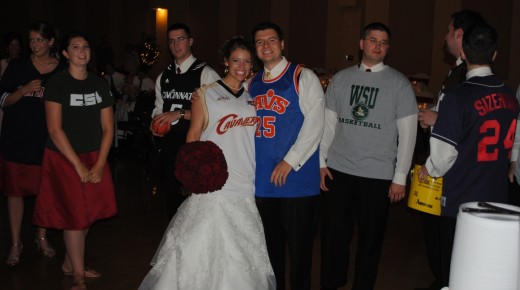 Here's hoping and praying Lorenzen Wright is OK.  Wright went missing Sunday.
Can't say I blame Matt Barnes for wanting to compete for a title instead of rebuilding.  Not even a good fit for the Cavs right now at 30.  But turning down all that extra money?  Things are bad in C-town when more money can't even buy FA.
Understatement of the year: "They are not blockbuster moves, but the Cavaliers are taking steps to fill holes on their roster." [Plain Dealer Staff]
Windhorst has GOT to be joking with this one: "Word is LeBron indeed advised Paul to demand a trade but he wants CP3 to stay in Western Conf. to make a better rivalry." [BW Twitter]
"Now, after the shadiest summer in league history concluded with those three all on the same roster (not to mention the apparent shenanigans with James Jones and Richard Jefferson opting out from and then returning to the Heat and Spurs, respectively), that question has moved from a hypothetical "what if?" to a very real "it did."" [John Hollinger thinks the Heat will win 63-68 games.  sounds familiar?]
"At his home in New York, Miller must be smiling, for James represents the ultimate victory for the player. He broke no rules. He merely exercised his rights. He articulated that the condescending paternalism that is such an odious part of pro sports (could we cease once and for all with calling owners "mister?") must now give way to full, even cold-blooded partnership. If teams can trade players without the players' consent, the players must then be able to utilize their power to manipulate the free agency process." [Howard Bryant]
It was sort of obvious that if LeBron left writers would point out how absolutely atrocious the Cavs rosters the last few years have been.  My problem with all this analysis is that the Cavs were very good defensive teams, and that player accolades do not always translate to winning.  How many all-star games, MVPs, all-defensive teams etc did Amare Stoudemire play with in Phoenix?  They never won "anything" either.  The Cavs rosters were full of mostly one-dimensional offensive players because the offense was built around LeBron James.
Shaq wants to be a Celtic.  If the Cavs do a sign-and-trade who the HECK do the Celtics have that is young and worth taking a look at?
Should the Cavs retire LeBron's number? Is Benedict Arnold on Mount Rushmore?  Speaking of…"The connection between Arnold and treason continued into the 20th and 21st centuries. In a recent reference, Dan Gilbert, owner of the National Basketball Association's Cleveland Cavaliers, subtly invoked Arnold in 2010. Upset over the manner in which LeBron James announced his departure from the team, Gilbert's company lowered the price of posters bearing James's likeness to $17.41, referring to the year of Arnold's birth" [Wikipedia BA]
"You think the NBA wants two of its top players in Miami, where basketball runs a distant third to the Dolphins and Miami Hurricane football? Of course not.  But this is how players think today. It's hard to believe, but the new battle cry is the old one: "If you can't beat 'em, join 'em.'' It's not going to make building a contender any easier in small and mid-level markets. Then again, Kevin Durant likes Oklahoma City just fine. It doesn't look like he'll be bailing out on the Thunder anytime soon." [Mitch Lawrence on CP3]
"LeBron made announcement at 6:27 pm PT. Surprised he didn't do it at 6:24 so he'd be guaranteed to be Finals MVP next year." [Question in Simmons Mailbag]
Tweets To The Present: Follow me @tompestak
"These days "brand management" & "doing what is best for your family" apparently means turning off as many of your fans as possible." [Brian Windhorst]
"For those who missed it, Pooh Jeter, the 5-11 PG who impressed with Cavs summer team, has signed with Kings." [SamAmico]
"Great day on the course with my coach Byron Scott. Oh yeah we played firestone." [Mo Williams]