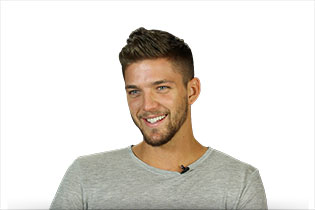 I love Chandler Parsons. My girlfriend thinks he's a model, and basketball nuts think he's a bargain for what he has done for the Rockets as a second round pick. However, if you search the words "Cavs" and "Chandler Parsons" on Google, there are only two articles, both from Cavs' blogs, even fathoming the idea of Parsons coming to the Cavs.  I know it's a long shot.  The Cavs would most likely have to pay him above his actual value of $8-10 million a year, and even if they they did over pay him, the Rockets could match the offer or make the Cavs do a sign and trade deal for him.  He might not even sign a Cleveland offer sheet solely because he values big city life or just warm weather.  He's a valuable player in the modern NBA, which is why so many teams are contemplating making an offer to him.
Marc Spears at Yahoo is reporting that the Timberwolves, Lakers, Mavericks, and Bulls may be interested in Parsons depending on how free agency works out with some of the bigger names.  If the Cavs are serious about making an impact in free agency and throughout the next season, they need to consider him.
Parsons is 6'9" and just came off of a season averaging 16.6 points, four assists, and 5.5 rebounds per game while shooting 37.8% from behind the three.  He would be an immediate upgrade over anyone the team had last season at the three spot and is an offensive upgrade over Andrew Wiggins currently.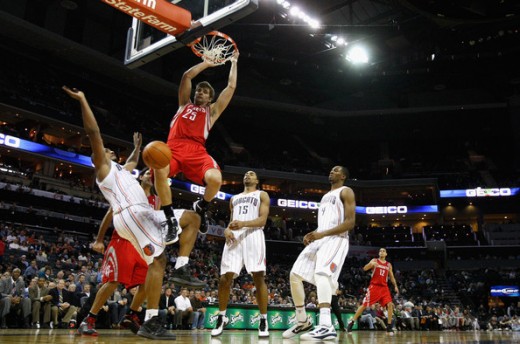 CJ Miles, now a Pacer, shot the best three ball of any wing player on the Cavs last season at 39%, and Parsons would come in at the top of the team this year for a wing player shooting the three.  His shooting would help space a team that is going to have trouble if Wiggins and a power forward or center that can't space the floor are playing together.
Even though Parsons can make the three ball and will spread the floor, it is his size, shot selection, usage rate, and offensive passing ability that make him so appealing for the Cavs.
At 6'9" Parsons can play power forward if need be.  The Rockets fourth most used lineup with Parsons had him playing with Jeremy Lin, Dwight Howard, James Harden, and Omri Casspi. Surprisingly, of the five most common lineups with Parsons, this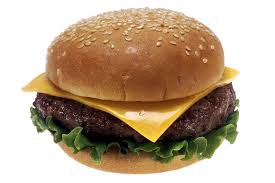 lineup was the best rebounding one grabbing 6.6 more boards than opponents, and this group gathered 5.5 more assists than opponents.  Parsons is better when he's playing big, so he should probably start pounding cheese burgers to fit in with the front court of the Cavs.  Parsons' ability to play big also allows him to play next to Andrew Wiggins if Wiggins is at the three, so there is no need to worry about Wiggins losing minutes.
My favorite part about Parsons is how he has embraced efficient basketball.  This is something the Cavs desperately need to learn because they aren't matching up well with the best teams in the league.
Almost 31% percent of the Cavs' shots were long two pointers, and they barely took any corner threes. They also have no problem going into the paint where a ton of defenders are constantly lingering.  Take a look at the Spurs' and Heat's shot distribution if you want to be depressed by a comparison. Parsons could come in and change that depression.  Look at his shot distribution: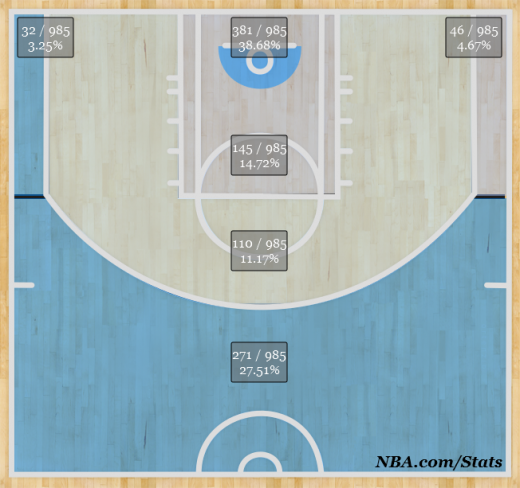 Parsons shoots three point shots and shots extremely close to the hoop.  He uses his pump fake as a way to get to the rim.  The players Parsons would be taking time from couldn't figure out the whole "shooting good shots" thing last season.  Anthony Bennett took 35% of his shots in the mid-range area (maybe there was candy there). Hopefully under David Blatt, Parsons' attitude about shooting would spread to the rest of the team.
Parson's also knows how to play with ball dominant guards.  He was content to take open catch and shoots (he shot 38.5% from three on catch and shoots) and drive when he was closed out on. James Harden had a usage rate of 26.8%. Kyrie Irving and Dion Waiters have usage rates of 27.8% and 25.7% respectively.  It's easy to see Parsons playing alongside the Cleveland back court players because he's already used to playing with a high usage player.
What's even greater about Parsons is that he and Bennett are swappable usage rate wise.  Bennett had a usage rate 18.7% while Parsons had a usage rate of 18.6%. Parsons is plug and play for the Cavs.
And, when you swap out Bennett for Parsons, good things will happen offensively.  Parsons actually assisted on 17.3% of plays while Bennett assisted on 4% of plays and turned the ball over at a 15.5% rate. Parsons, on the other hand, turned it over at only an 11.7% rate: a positive offensive passing effect.  To make it more easy to understand Parson's offensive passing ability think of Dion Waiters.  Waiters assisted at an 18.3% rate.  Parsons would come in as a top passer for the Cavs.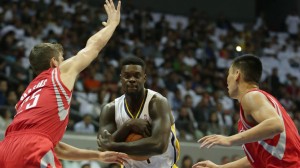 Defensively, Parsons is lacking when you look at his ratings.  He comes with a defensive rating of 108, which is somehow worse than Anthony Bennett's rating of 107.  Yet, I don't think Parsons is that bad at defense.  When you watch him, he always seems to be moving, and with the length he possess, he should be causing issues for opponents.  Parsons is the victim of playing with lineups where over half of the team doesn't focus on defense.  Dwight Howard, Omer Asik, and Patrick Beverly were the only players that were defensive minded with the Rockets last season.  On top of that, Parsons, playing at the small forward, was often left with James Harden who played little to no defense at times, and he inevitably had to cover Harden's man too. Parsons also played with the second team, which could be damaging his rating too.
–
During the end of the season press conference, David Griffin said how he felt the Cavs should build the team going forward.
"We need to be bigger. We need to be much smarter as a team; our basketball needs to improve. Our shooting needs to improve. I feel strongly that our toughness needs to improve. Those are things we need to address all within the confines of fit."
Parsons meets all of those criteria. He's 6'9" as a small forward, which is typically the height of a power forward.  He assists like a shooting guard, and has played with ball dominant players, which would make his transition to playing with Kyrie and Dion very easy.  Parsons is the player David Griffin would create if he could design a player from scratch, so why not try to sign him?
Tags: Chandler Parsons