Well, the NBA free agency courtship period started at midnight, and the current Cavs roster currently doesn't look much better than the ones that we've been forced to watch for the last four years. But, last night, the Cavs did get Kyrie Irving to agree to a five year max extension for $90 million dollars, which kicks in after this season. (More on that in a future post). For now, let's take a look at some of the Cavs free agent options. I've tried to inform my opinions with the probability that the players come to the Cavs and their RAPM stats from 2014 and earlier. Here's the Cavs current depth chart. That's a lot of contracts.
| | | | |
| --- | --- | --- | --- |
| | First Team | Second Team | Third Team |
| PG | Kyrie irving | Jarrett Jack | Matthew Dellavedova |
| SG | Dion Waiters | Sergey Karasev | Joe Harris |
| SF | Andrew Wiggins | Carrick Felix | Scotty Hopson |
| PF | Tristan Thompson | Anthony Bennett | Dwight Powell |
| C | Anderson Varejao | Tyler Zeller | Brendan Haywood |
The Cavs' Cap Situation
Phew, finally correct (hopefully). Here's @ShamSports data on 2014-15 Cavs contracts. Cap holds are huge. pic.twitter.com/QvaJaKhoFs

— Jacob Rosen (@WFNYJacob) June 27, 2014
So judging by that, the Cavs have anywhere between $12 and $18 million if they renounce every non-guaranteed contract. Clearly they have some players to clear out and they also have more than a couple trade chips.
Group 1 Free Agents: LeBron James
Obviously, I don't have to say that LeBron is the big domino that every team in the NBA would re-arrange their entire roster to acquire. News out of Miami is sparse, but apparently, he, Bosh, and Wade have all opted out of their contracts. The fact that Wade, with only one and a half functioning knees, opted out of a two year $42 million dollar dear tells you that a wink-wink/nod-nod deal is in place for Wade to make the same or money over a longer period (or under the table). The odds are long that LeBron is returning to the shores of Lake Eerie, but he's so good that the Cavs must explore the option. If he returns, the rest of this article is mostly moot.
Group 2: Never Going to Sign with Cleveland (well, unless LeBron is here, then one might)
This group includes Carmelo Anthony, Chris Bosh, Dirk, Wade, Paul Pierce, Shawn Marion, Vince Carter, Ray Allen, Kirk Heinrich, Mike Miller, Caron Butler, Andrew Bynum (snickers all around), Chris Anderson, and Kyle Lowry. These guys are either max contract guys, guys locked into ring-chasing mode, or who I've just deemed: "will never come to Cleveland." There's very little point in recruiting them.
Group 3: The Cavs own Free Agents
C.J. Miles, Luol Deng, and Spencer Hawes all provide varying levels of efficiency. C.J. and Luol were actually two of the better Cavs last year when it comes to 2014 RAPM. In his time with the Cavs and the Bulls, Deng posted a very good 2.84 RAPM, with a .5 offensive split and a 2.33 defensive split. C.J. provided a 1.05 RAPM and a 2.95 SWAgR (or just about three wins). The Cavs were better with each player on the floor than without on offense and defense. In April, Tom penned an article that explored the efficiency of different lineup combinations for the Cavs. Both players were in some of the best two man lineups for the Cavs. Retaining Miles as a bench player should be a priority after the primary tier free agents are gone. A two or three year deal at $2.5-4 million per year sounds appropriate. Sadly, Miles is rumored to be meeting with the Pacers. Deng, while an interesting option at small forward, probably remains too injury prone to continue at that position for the Cavs at a salary of over $10 million a year, additionally, I'm sure the Cavs want to commit minutes to Wiggins. Deng is a nice fall-back option, but probably won't remain with the Cleveland.
Miles had a 1.02 RAPM with a .76 offensive split, a 16 PER and .435/.393/.853 shooting splits. Despite a fluke ankle injury, Miles was one of the Cavs best players last year.
Hawes, on the other hand, was not very good on the Sixers, and not much better on the Cavs His -2.98 RAPM in 2470 minutes was downright trashy. Sure, much of that was caused by how putrid the Sixers were, but he was -97 in 780 minutes with the Cavs. For a look at what Spencer might bring in a more stable situation, take a look at him under the more defensive minded Doug Collins in 2013, and 2012, when he posted -3.30 and -3.35 RAPM scores. Yikes. Hawes allowed opponents to shoot 56% at the rim in a Cavs uniform, too. Hawes giveth and Hawes taketh away. Spencer has value as a floor spacer and a passer, but perhaps his inability to contribute around the basket on offense, and his shortcomings as an interior defender produce a negative net effect. Still, he integrated well with his teammates, and perhaps his positives can be enhanced and his negatives mitigated. Maybe his reputation can be salvaged. Truthfully, I'd rather give his minutes to Zeller, or have Ryan Kelly at a fourth the price.
Group 4. The Restricted Free Agents
There are a large number of high value restricted free agents this year. I've grouped them into tiers
Tier A: Their teams will probably match any offer they receive: Eric Bledsoe, Greg Monroe, Chandler Parsons, Gordon Hayward. Any offer sheet to these guys will tie up the cap space of the Cavs for three days, starting July 8th, while the other team decides to match or negotiate a trade. Going after any of these guys is risky because it  wastes the Cavs' time while those players probably will be retained at all costs, unless the Cavs severely overpay. If the Cavs have no other options, signing one of these guys to an offer sheet can be a good way to tie up a rival's cap space for years and make them overpay, much as Minnesota did with Nic Batum a couple of years ago.
Tier B: These are players I've identified as good value RFAs whose teams may not be able to afford or want to keep.
Avery Bradley: a very solid defensive combo guard with a 1.12 RAPM in 2014, but with injury issues. It would probably take a lot to get Boston to not match an offer sheet, and he'd add to the Cavs glut of guards, but if that glut can be cleared out a bit, he'd make a solid third or fourth guard as he plays unrelenting defense and his offense is passable.
Ryan Kelly: a 6'11" undrafted free agent rookie for the Lakers last year, Kelly played just below NBA replacement level with a 12.67 PER, and a -1.12 RAPM. But those aren't bad numbers for a rookie. And Kelly shot .339 from three and showed a propensity for steals and blocks at L.A.'s fast pace last year. He also lit up the Cavs for 26 on February 5th. Honestly, if you want a floor stretching big, it makes much more sense to get 90% of the production of Spencer Hawes at a much cheaper price. L.A. will probably have too much money tied up in other players to keep him.
P.J. Tucker: the 29 year old basketball journeyman caught on with the Suns in 12-13 and had a very nice year in 13-14, posting a positive RAPM of .38 in just under 2500 minutes. He is only 6'6″, which is small for the three spot, but he shot .387 from three and and dropped 9.6 points, 1.4 steals, and 6.5 rebounds in thirty minutes a night, with his best areas being from the corners. He would be a solid backup at the wing spot if the Cavs can't re-sign Miles. The Suns have talked well of him, so prying him away might take $5 million plus.
Isaiah Thomas: the waterbug guard from Sacramento posted a 1.89 ORAPM and a DRAPM of -.23 which, considering his size is respectable. Still, unless Sacramento gets a big upgrade at the point, he's staying. Also, he doesn't really fit on the Cavs.
Patrick Patterson: has an extensive body of work in four years as an NBA stretch four, and really broke out in the playoffs for Toronto as a key role player when he averaged 10.4 points and 6.7 rebounds to go along with .542/.389/.778 shooting splits. Patterson had a 1.42 RAPM last year and shot .364 from three in the regular season, including 59% around the basket. He would be a very effective four man to provide spacing for the Cavs, but as a rebounder he's below average for his position.
Group 5. Unrestricted Free Agents
This year's UFA class contains a lot of role players and very few high productivity players looking to to change teams. Let's take a look at some of the role players who could help the Cavs.
Anthony Tolliver: Another stretch four, Tolliver had a solid season as a backup with the Hornets, playing positional defense and being a three point specialist on offense. He posted a .420 3P% and scored 6.1 with 2.6 boards in 20 minutes a night. He had a 1.12 RAPM this past year, a -.49 in 2013, and a .05 in 2012, so it's not like these numbers came from out of nowhere. He's not a great rebounder, but he is a WWPD (What Would Popovich Do?) style bench player.
Shaun Livingston: You know him as a member of the Herculoids, and as a guy who could have been playing for Cleveland last year. Livingston is an average RAPM player at -.82. He can't shoot threes. And he isn't the greatest pick-and-roll point guard. What he is though, is a great passer, a Swiss Army Knife (can play three positions at 6'7″), a solid veteran , and a guy who can get you easy buckets in the post. It was a mistake letting Livingston go the first time. The Cavs should find a way to bring him back if they move Jack.
Josh McRoberts: Tom is a fan. I just think he had a good year. McRoberts posted a -.28 RAPM which isn't awful, but isn't great. Another stretch four, McRobert's skill is his passing. Josh averaged 8.5 points, 4.8 rebounds, and 4.3 assists with only 1.1 turnovers in thirty minutes and shot .436/.361/.729.  He's a good player, but a below average defender. At 27, McRoberts wouldn't be a bad bench big, and would be a solid role player, but on the wrong team (Orlando in 12-13) he's a disaster.
Nick Young: The primary beneficiary of the Mike D'Antoni era in L.A., the 6'7″ small forward's probably staying put. He posted a -.27 RAPM with a .80 offensive split, and a 16 PER to go along with .435/.386/.825 shooting splits and shot around four free throws a game. He's a small forward who can get you some points, and wasn't the worst on defense. L.A. has a lot of free agents who owe Mike a commission, and he's the best of them.
Jeff Adrien: a 6'7″ bruiser journeyman power forward form Milwaukee. He probably has the lowest RAPM on this list at -1.30 with a DRAPM of -1.23. Why is he here? Because he's an elite rebounder who had an 18% total rebound rate and a WS/48 of .134 . He shot .520 from the field, and .639 from the free throw line and had .7 blocks per game in 18 minutes. Basically, for the cost of a veteran minimum, you could get a guy who does everything Tristan Thompson does (-2.03 RAPM), but does it better.
Al-Faruq Aminu: played for the Pelicans last year, and can guard threes and fours as a defensive specialist and is not a disaster on offense. At 6'9″, 215, and only 23 years old, he still has upside, and is a good rebounder. His PER was 13.19 with 7.2 points and 6.2 rebounds in 25 minutes. His RAPM was .12 with a .78 DRAPM. Aminu can finish around the basket, and has shown a slight proficiency for corner threes. If his shot can be fixed (.292 career from three), he could make a serviceable 3D player. Even without that, a defensive bench player who can guard threes and fours is nothing to sneeze at.
Anthony Morrow: another Pelican, Morrow is one of the league's best three point specialist and had a very nice year for the Pelicans. He shot a BLISTERING .451 from three to with shooting splits of .458/.451/.828 for 8.4 points a game in 18.4 minutes. A 6'5″ wing, Morrow had a -.09 RAPM and 1.18 ORAPM.  He's been providing positive ORAPM for most of his career, and is a very capable sub who can help the Cavs finish games. He should be high on their list if they want to add shooting.
Channing Frye: he'll be in high demand after the first tier of free agents this summer, and odds are he re-signs with Phoenix. Frye provided very good ORAPM last year at 2.30 and was good enough on defense that he didn't hurt his team (.02 DRAPM). Frye is a 6'11" stretch four/five who shot .432/.370/.821 for 11.1 points and 5.1 rebounds. Channing also provided the comeback story of the year last year, as he had missed all of the previous season due to surgery for an enlarged heart that was performed at Cleveland Clinic. If Cleveland strikes out on the top tier free agents, would they overpay for the injury prone Frye? It might be a gamble worth taking.
Boris Diaw: after a dynamic finals in which the Spurs spent large amounts of time running their offense through him, Diaw is suddenly drawing interest from multiple teams. In the finals, Diaw notched 6.2 points, 8.6 rebounds, and 5.8 assists off .364/.333/.500 shooting splits. One wonders why the Heat paid him so much attention when he was shooting that poorly, and let him rack up all those assists, but thankfully, they did. Over the course of the season, Diaw posted a 1.05 ORAPM, and a -.23 DRAPM, and was a solid cog in the Spurs machine. Remember that Diaw was bought out by the Bobcats in 2012, and San Antonio claimed him off the scrap heap? Well even going back to 2011, Diaw's RAPM was never lower than -1, and he's always been able to frustrate certain players (ahem, LeBron). But Diaw is 32, and I doubt the Spurs magic can be replicated on the Cavs.
Patrick Mills: another breakout Spurs star, Mills couldn't even make it on the court last year, and was behind Corey Joseph on the depth chart in 2013. This last finals, he outplayed everyone on Miami's bench when he scored 10.2 points in 15 minutes per game and shot .543/.565/.000 on his shooting splits. He made himself some money. In the full season, Mills posted a 1.33 RAPM, and an 18.8 PER. Patty was a very good bench scorer, scoring 7.3 points in 14.3 minutes a night. Mills is limited by his six-foot height, and one wonders why it took him till 25 to get in really good shape and improve himself as a player. Patty's could be a solid addition if the Cavs end up losing some guards.
Marvin Williams: -.29 RAPM for the year on a bad Jazz team, and this is the best year of his career, at least in terms of RAPM. Marvin is a combo forward best known for being picked ahead of Chris Paul in 2005, but he can give you  nine points and five rebounds in 25 minutes a night, while shooting .360 from three. Probably picks a contender ahead of the Cavs.
Trevor Ariza: Posted a very nice .93 RAPM with a 1.01 defensive split. Ariza had a good season as a very solid two way player and helped the Wiz make the playoffs. He was also a high productivity player, averaging 14.4 points, 6.2 rebounds, and 2.5 assists to go along with shooting splits of .456/.407/.772 in 35 minutes a night. The problem with Ariza is twofold. First, he saves his best play for contract years. His RAPM was -1.15 in 2013, -1.63 in 2012, and -1.12 in 2011. It was 1.0 in 2010, his only season with Houston, and the first year of his now expiring contract.The second problem is that he's been in the league 10 years and is now 29. His minute count is lower than it might be, as he's missed significant time with injuries. If you'll remember, Ariza rebuffed the Cavs in 2009, when LeBron wouldn't help recruit him. I'm doubting the Cavs look more attractive now, given Ariza's preference for warmer weather. Cavs reportedly have interest in the $8-$10 million dollar range. Just pay Miles half that.
Marcin Gortat: I've been singing Gortat's praises for the last couple years. Gortat is a capable interior defender, a solid pick and roll partner, and mobile enough to keep up in today's NBA. The Polish Hammer had a 1.85 DRAPM last year. He is a good post-up and help defender, and has improved as a pick-and-roll defender. He is also is the only option for interior defense in this entire free agency class. He should be priority number two after LeBron. Now I would be remiss if I didn't note that Gortat posted some horrific RAPM numbers in the seasons previous to this one (-2 to -3). And he's 30. But unless the Cavs are going to trade, he's their only hope for a defensive center upgrade. The Cavs should be prepared to overpay if they want him.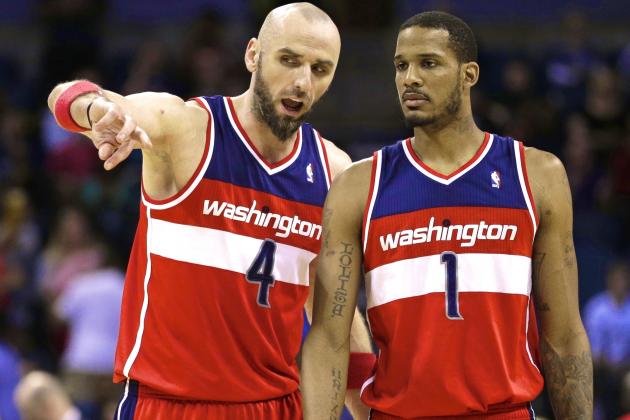 Conclusions
My choices? Marcin Gortat, C.J. Miles, Al-Faruq Aminu, Anthony Morrow, and Ryan Kelly. They give the Cavs two things they need: defense and shooting, and excepting of Gortat aren't outrageously expensive. If the Cavs decide to move Tristan, Jeff Adrien would be a nice replacement. The Cavs can get quality players without breaking the bank on names (ahem, Ariza).
Corrections: This article was updated Tuesday morning to include newly published 2014 RAPM by @talkingpractice that included the entirety of the 2014 playoffs. Most RAPM numbers changed only slightly, but Patty Mills and Boris Diaw saw significant bumps while Gortat and Ariza saw non-trivial drops.