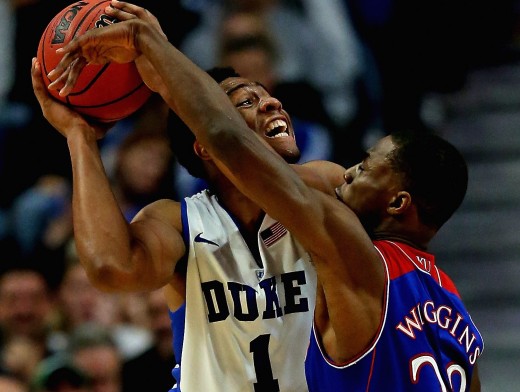 This will be a short article, mainly intended to lay out a few thoughts that are too long for twitter.  I am really excited about the Wiggins pick, and have a half formed idea on how to develop him.
In 2011, the Cavaliers drafted Tristan Thompson.  He was good at offensive rebounding, blocking shots, and generally being athletic.  Over the past three years, the Cavs have focused on bulking him up and working on a jumper & face-up game.  His block rate and offensive rebounding rate have dropped every season in the league; by some measures, he was one of the least effective basket-protecting Big Men in the NBA.  What if the Cavs had instead focused on taking his strengths and maximizing those, while working on his offense as a secondary concern?  I think his performance and effectiveness would be better than it currently is.
Now in 2014, the Cavaliers selected Andrew Wiggins.  A small forward with prototypical length and ridiculous athleticism.  A guy that likes defense and who Draftexpress says can become a "multi-positional lockdown perimeter defender in the NBA."  He is also a player with weaknesses of needing to further develop his ball-handling and shot.
I hope the Cavs take a position of focusing on enhancing that defensive impact, while on offense giving him a role and developing the tools to strike efficiently from within that role.  Certainly, hitting open jumpers, and also strong work in transition and cutting within the offense, and eventually the ability to recognize a mismatch and take advantage from isolation or as the ball-handler in the pick & roll.  In this capacity, he may never be a 25 point per game scorer with 28% usage, but that seems fine; an efficient, relatively low usage, multi-faceted wing with a terribly disruptive defensive streak can be a star.  Look at Kawhi Leonard, he of 18% usage, but an NBA Finals MVP and at age 22, already one of the 25 best players in the game.  If the Cavs wanted a high usage scorer, Jabari Parker was the pick.  If they wanted a freak athlete that can be a monster at the other end of the court, they made the right call in Andrew Wiggins.  Focusing the team's goals for Wiggins towards maximizing every ounce of his existing talents, turning him not into a good, but the best defender, should go a long ways towards determining his ultimate ceiling.  Trying to turn him into something he is not will be more difficult and could inhibit his path to stardom.  Kevin Durant, Carmelo Anthony, Lebron James; the most dominant offensive forces from the small forward position were already well on there way to being that at 18 years old.  That is not Andrew Wiggins, and that is fine; he doesn't need to go there to be an outstanding player.  Hopefully the Cavaliers can maximize what he is, molding him into his own unique kind of star.
That is all.  Go Cavs!