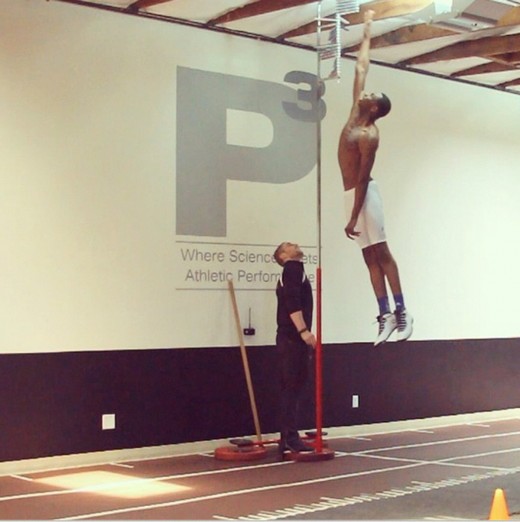 As recently as last Thursday afternoon, the Cavaliers draft strategy seemed set. They were poised to draft Joel Embiid, the 7-1 center from the University of Kansas, who many draft analysts considered to be the tip of the consensus top-three, that also included fellow Jayhawk, Andrew Wiggins, and Duke forward Jabari Parker.
The discovery of a stress fracture in Embiid's right foot — and his subsequent surgery that inserted two screws to stabilize it — sent the Cavs and the entire NBA draft into a weeklong whirl-a-baloo of trade rumors and a dizzying back-and-forth between the remaining two, Wiggins and Parker.
In the end, the Cavs stayed put and went with Wiggins, a 6-8 200 pound SG/SF whose length and elite athleticism immediately helps out the Cavs' soggy perimeter defense and finally extinguish the tire fire that has been their small forward position since the summer of 2010. Wiggins possesses jaw-dropping athleticism and, until Embiid's emergence, was considered a lock to be the first player taken in this talent-laden draft. While he is by no means a finished product, he excels in the open court, which should have Cavs fans readying their salivary glands in anticipation of all the above-the-rim finishes off passes from Kyrie Irving and Dion Waiters. His shooting is inconsistent, but the form on his shot is good enough to expect his long range accuracy to only get better.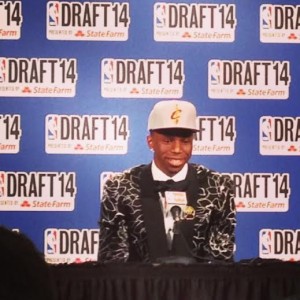 "I've been dreaming of this moment since I was a little kid," a beaming Wiggins said following his selection. "It doesn't even feel real right now."
What is very real, though, is the continued influx of Canadian basketball players into the NBA and the Cavs, specifically. The Toronto native joins fellow Canadians, Anthony Bennet (2013 number one pick) and Tristan Thompson (2011 fourth overall pick) on this Cavs roster.
"Before [last year], no player from Canada has been No. 1, and now we have two back-to-back No. 1s," Wiggins said. "So, it's a huge accomplishment for Canada. It just makes — opens more doors for all the kids in Canada, just international by itself and I'm just looking to playing it for my fellow Canadians, A.B. and Tristan."
Wiggins admitted that he didn't know that he was going number one until his name was called. "I always wanted to be the No. 1 pick," he admitted. "But come draft night anything can happen. … So, when they called my name, I was just all over the place."
Asked about Cleveland's other fresh face, newly-hired head coach David Blatt, Wiggins said he asked around and found that  "no player has ever not liked him. He's a great coach and I think he's going to do great things for our team."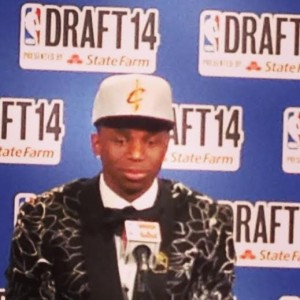 He downplayed a potential rivalry-in-the-making between himself and Parker, who was taken number two overall to the Cavs' Central Division rival Milwaukee Bucks. "I never think of anything as a rivalry," Wiggins said. "On the court, it doesn't matter who I'm going against, I'm going to go hard. I'm going to go win and kill." For those concerned about Wiggins, often criticized  for a lack of aggressiveness, these had to be welcome words.
Usually listed as a small forward, ESPN's television coverage had Wiggins listed as a shooting guard. Wiggins downplayed the distinction saying "I think I can play both. I think I'm tall enough and skilled enough to play the two or three." Does he have a preference? "No," he said. "Whatever the coach wants me to play, I'll play."
But things kept turning to up north, as Wiggins talked up his connection with the Cavs two Canadian bigs. "The chemistry is already there with those guys. I played with them already. So, I think big things are to come."
Wiggins is the 11th international player to be drafted first overall and the first from Kansas since Danny Manning went number one in 1988.
Concerns over Wiggins heavily-scrutinized game include poor ball handling, trouble finishing at the rim as well as the aforementioned passiveness.
Unlike last year's shocking selection of Bennett, though, the Cavs didn't overthink this one. They saw a young player with all the potential in the world. Now, it will be up to the Cavs and David Blatt to make sure that potential gets realized on the court at Quicken Loans Arena.
With the 33rd overall pick, the Cavs took Joe Harris, a 6-6 SG/SF from Virginia. Last season, for the NCAA's Cavaliers, Harris shot 40% from three-point range, but may struggle defensively on the NBA level.