Mallory and Nate will be consuming craft beer (drink responsibly) and live blogging the 2014 NBA draft.  #GoCavs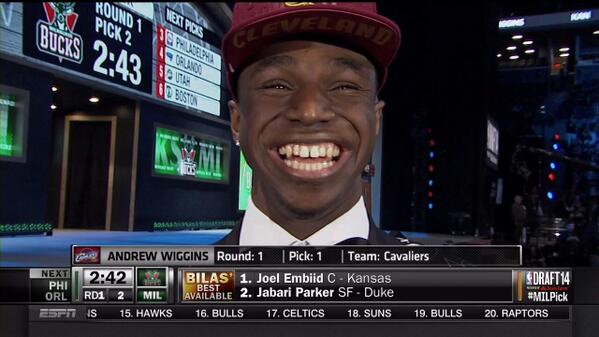 Holy cow!  I'm late.  A long trip to New Jersey to get some Great Lakes (I swear) has resulted in me being late.  But HOLY MOLY ANDREW WIGGINS!   Thoughts?
2nd Pick is (no surprise) Anth…errr Jabari Parker.  What do you guys think?  Perfect fit?  I'm glad he's near home, at least?  Who should Philly pick?
Nate: Mallory, So I'm drinking Fat Head's Sunshine Daydream Session ale.  You?
Mallory: I'm freezing some GLBC Wright Pils.  Lets hope it's cold in time for me to make fun of LA.
3rd Pick is…JOEL EMBIID!  Nate is probably excited about this, because he loves broken down centers (which there are now two of in Philly…)
Nate: 4th Pick is… Aaron Gordon!? Because who needs a point guard when you can get a 6'9″ energy guy!?
Mallory: This is insane.  Did anyone see this coming?  Aaron Gordon totally knew this was coming – he's wearing Magic Blue.  Really, though, does this mean Exum may fall?  If so, should Cleveland trade up for him?
Nate: I'm in shock. Aaron Gordon is the Tristan Thompson of this draft. The Shawn Marion/Kawhi Leonard comparisons don't make sense.
5th Pick is… Dante Exum, who can't be happy to be in Utah when the Celtics and Lakers are next.
Mallory:  Is Dennis Lindsey the next David Kahn?  Will Utah take another PG next year?  And is Exum the cockiest person in this draft?  Because his interview would certainly suggest so.  Most importantly, is he or Kyrie the best Australian-born PG in the NBA?
Side note from Nate and Mallory: Are Bill and Jalen too buddy-buddy?
6th Pick is… Marcus Smart. Crud the Celtics just got a steal.
Nate: Also, Delly is the best Aussie PG in the NBA. Check out my draft survival kit.
Mallory: This means Rondo is out.  No question.  The big question is where does he end up?  I'm guessing…I honestly don't know.
7th pick is…Julius Randle.  A great player – tough, smart, crafty.  I guess Vonleh is falling.  Randle could've been a top 4 pick before this season.
Side note: A Shake Shack reference was just made.  New Yorkers, applaud yourselves.
Nate: Randle, a good player, not a great player, but Gordon and Randle are both players with no outside game. Can you win with those guys in the current NBA? Would either have gotten off the bench in the finals?
8th pick is… Nik Stauskus. Shooting, ball-handling, a knock down shooter, irrational confidence… It's a taller Jimmer!
Mallory:  Basically, Nate is saying this is a future bust.  I have no feelings, except that Vonleh is FREE.  (dun dun dunnnnnn) FREE FALLLLLLINNGGGGGG!  Is he going to be a Bobornet?
Nate: Has any player who has ears like Alfred E. Neuman ever succeeded?  It's the same reason I'm down on Manziel.

9th pick is… Noah Vonleh. He has big hands and he can shoot when absolutely no one is guarding him. The next Andrew Nicholson. Woot.
Mallory:  Vonleh seems like a nice, smart kid, per is interview.  Happy for him.  Imagine if he's half-decent?  Charlotte could end up scary.
David Griffin interview!  What I'm learning?  He's good at saying "the right things."  He makes old-man jokes about Wiggins' jacket, too.
10th pick is…Elfrid Payton.  OK, what the WHAT?  Not a great jump shooter, decent defender, tough…I guess MCW's days are really numbered.  Why, though?  Nate – got any answers?
Nate: Jay Bilas with the line of the night, "Elfrid Payton brings… a great hair do!" Seriously though, Philly is trying to eclipse the losing records of last year with two guards who can't shoot. MCW just gave the most awkward interview I've seen in a while. Looks like he thinks he's being moved. One of these guys is being moved, right?
Also the Griff interview means we're out of the woods on a Wiggins trade, right?
Elfrid Payton's Louisiana Lafayette numbers match Rondo's numbers at Kentucky's which means… nothing.
Mallory: Poor MCW.  Yes, I just called the reigning ROY "poor."
11th pick is…Doug McDermott.  DOUGIE D!  Is this the draft of redundancy?  What happens to Gallinari now?  Long, hybrid shooter SF/PF types?  He's gotta be moved, right?
Nate: Just heard McBuckets might be going to the Bulls which… crud, I don't want Thibs getting his hands on McBuckets. I can just imagine Tristan Thompson guarding Dougie from 10 feet away, and Thibs will figure out how to hide McDermott on defense.
12th pick is… Dario Saric… wearing a fantastic pink bow-tie. Dance Dario, Dance.
Mallory: I have no feeling on this.  Except…doesn't Orlando need a PG?  Like, badly?  I get the whole "stash" concept.  but still…
13th Pick is…Zach LaVine.  Long, athletic "pg" (aka he's not that tall and can kinda pass).  He's raw.  I get it, for the Wolves, though.  If they're going to trade Love, might as well plan for the future, right?  Could end up the Westbrook of 2014.
MAJOR DEVELOPMENT:  Chris Broussard has just reported that, if Lebron signs with Cleveland, K-Love would happily resign with the Cavs (if traded).  MY DREAM SCENARIO IS STILL IN PLAY!!!!
Nate: Ugh. Make room on our inactive list for Kevin Love! Zach LaVine seems like a workout warrior. I think he got a lot of easy buckets from Adams and Kyle Anderson. Not that impressed. This is a classic Minnesota pick, but hey, like I wrote this morning. He's a swing for the fences pick.
Trade! Saric goes to the Sixers, and Elfrid Payton goes to the Magic. This makes 500 times more sense for both teams.
14th Pick is… T.J. Warren, who went WAY too late in our mock draft. Phoenix gets another nice pick here. Don't know where he plays with the Morris brothers, but he IS a good scorer and is great in transition and around the basket. He's one of the last guys left who has "could be an all-star if things break right" ability. Also, his shirt was stolen from a barber shop quartet.
Mallory: C'mon, Nate – you really had to reference our embarrassing mock draft in this post?!  Really, I have no opinion on Warren, except that I think he might've gone a little too high, considering his current talent level.  There is a LOT of talent still left on this board.  Think the Cavs may be trying to sneak back in???
15th pick is…Adreian Payne.  Ohio State fans know this guy too well – he's a great shooter and a tough interior player.  He's probably close to his ceiling, but he'll be a great compliment/bench replacement on this Hawks roster.  Is there any team that COULDN'T use Payne?  He'll be in the NBA for a long time, as long as his body holds up.
Nate: Except he's completely redundant on Atlanta after Milsap, Horford, and Mike Scott. Gary Harris made more sense. Anyway, no I don't think the Cavs will sneak back in. The draft is surprisingly boring. No crazy trades yet. No one wants to get fleeced. #TheChrisGrantEffect
Classy moment for the NBA here, honoring Isaiah Austin whose career ended suddenly because of Marfan Syndrome. Very cool. I just got goose bumps when Silver hugged Austin.
Adam Silver is such a pimp. He makes Roger Goodel look (even more) like a buffoon.
16th pick is… Jusuf Nurkic… Serbian Big Country!! This pick is by Chicago for Denver.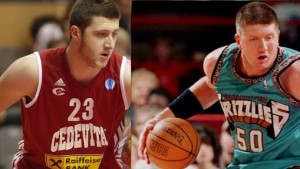 Mallory:  Going back to the Isaiah Austin moment – brought a tear to my eyes.  Great kid, fantastic move.  This issue was outside of Isaiah's control – I can't imagine being in his position.  He's handled it brilliantly.
I've gotta believe Nurkic is going to follow in the line of other large foregin white dudes and be very, very mediocre.  I'm basing this on absolutely nothing but previous history.  Still, he looks BIG.
The 17th pick is…James Young.  Simmons is excited – that's about all I can take from this pick.
A couple twitter posts…
GOOOOODBY BUDDY pic.twitter.com/XtEHDWClpd

— WayneEmbrysKids (@WayneEmbrysKids) June 27, 2014
And this one, which I can't post directly.
The 18th pick is… Tyler Ennis. Phoenix gets this draft's most developed pure point so far. Ennis will be in the NBA for 8+ years.
The 19th pick is… Gary Harris. Denver (via Chicago) gets a nice player here. Harris is solid, but I'm not as sold on him as Jalen and Bill. But, I like him. He also usually sports a superior mustache.
Mallory: After some computer problems…We're back!  Harris is a good player with a high upside – Denver is loaded with middle level talent!  They're officially the late 2010s version of the early 2010s Bucks!
The 20th pick is…Bruno Caboclo!  Ummmm…Who?  Fran says he's the Brazilian Kevin Durant.  Except he's 7 years away from playing the league?  Apparently he plays at Panera (or something like that…Why would he play at a restaurant?).  He's two years away from being two years away…from being two years away.
My Wright Pils is finally cold.  BELIEVELAND!!!!!!!!!!!!!!
Nate: OMG! Bruno Caboclo; grainy footage!; "only two teams saw him play;" he grew up playing basketball on with a basket on the side of a tree (only one of these things is true). Oh my lord, this is why I love the NBA draft. Bruno wins this year's Christian Eyenga award for the most irrelevant first rounder, and  Fran Fascilla takes the lead in the one liner contest. "This kid is two years away from being two years away." Gotta love Toronto.
The 21st pick is… Mitch McGary… Jay Bilas: "this is really big guy who can really run." OKC gets a center prospect who failed a drug test. What could he do in a playoff series?  6 fouls, that's what.
Malory: I don't hate this pick as much as you, Nate.  Mitchy boy is tough, and energetic.  I mean, I don't love it, especially when Rodney Hood is there.  Really, OKC?  You don't want a shooter?  I guess the Thunder learned more than we thought from that Spurs series…
The 22nd pick is…Jordan Adams!  OK, I really don't know much about Adams, but Nate has a strong opinion here.  Take it away, Nate…!
Nate: This guy was the centerfold for analytics monthly. Super rebound and steal rates and can score and rebound. Didn't test out the best athletically, but he will fit right in on the Grizz who need help at the wing spots because Tayshaun Prince is 130 years old.
Watching clips of Exum. He is certainly the most charismatic 19 year old I may have ever seen. He is a marketing dream. I see Australian Cocoa Puffs commercials in his future.
Mallory:  Nate totally stole my Exum crush.  Love this kid – he's hysterical and well-spoken.  Can't wait to drive this bandwagon into a ditch!!!!
The 23rd pick is…Rodney Hood.  Finally!  Utah already has a ton of shooters (Hayward, Burks) but at the 23rd pick, why not grab another?  If any of these guys blossoms, watch out for Utah…
The Cavs should probably target Heyward now.
The 24th pick is… Shabazz Napier.
Nate: Hornets get another NCAA tournament winner to go with Kemba Walker… But apparently this trade is for Miami. Crap. Not cause I think Shabazz is that good, but because LeBron loves him. Meh.
Mallory:  Whelp, I guess we can confirm that Lebron's Twitter feed is the most powerful draft assessment.
The 25th pick is…Clint Capela.  This is a stash, plain and simple.  Apparently he's good?  We won't know for a while, that's for sure.  STASH!  TRADE!  STASH!  TRADE!  SIGN SIGN SIGN!!!!!
Nate: Bilas just said "wingspan." Take a drink! Still a nice player, though. He'll be fine.
How the hell did the Heat move up? They have Norris Cole…and… what?

— Thomas Pestak (@tompestak) June 27, 2014
Trade: Denver gets Anthony Randolph to go with the 16th and the 19th for… oh, who cares. Shabazz has me depressed.
The 26th pick is… P.J. Hairston for the Bobcats, apparently. Lit it up as a shooter in the D-League. Kind of a bigger guy at 6'6″ 229. First player out of the D-League to be picked in the first round, so there's that. Everyone's starting to get punchy. Simmons just mentioned Cleanthony Early for the 458th time.
Mallory:  I'm still confuzzled as to how the heck Miami just got Napier.  What the heck, NBA?  Didn't we all live through a lockout so this wouldn't happen?!?!?!?
Another trade!  76ers get Saric, a future 1st round pick, and a 2nd round pick.  The Magic get Elfrid Payton.  MCW is safe!
The 27th pick is… Bogdan Bogdanovic.  Bogdan Bogdanenstein Bogdaniga Bogie is an excellent young SG – maybe the Karasev of the 2014 draft?  Stash stash stash!
Nate: B Squared! The B.B. Gun! Tom loved this guy, and so did an analyst I read. Phoenix is really doing well this draft.
The 28th pick is… C.J. Wilcox. HEY! I called it in the mock draft. I'm running around my living room like I just scored a goal in the World Cup, and… Oh God… I drank too much beer. I'm dizzy. Simmons is starting to make sense. The Clips should have taken a big. Hold me, Adam.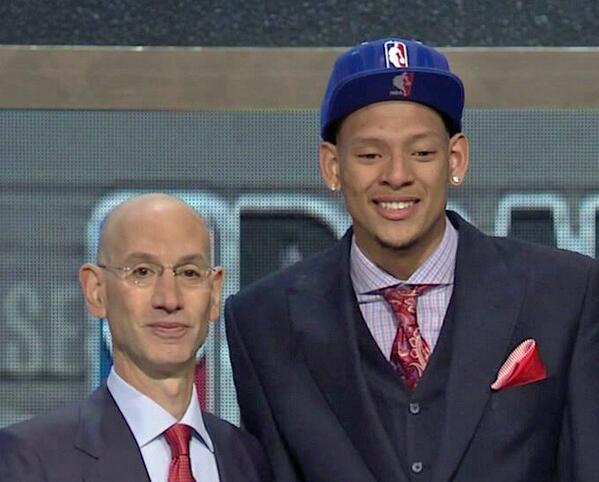 Mallory: Love this picture…!
The 29th pick is…Josh Heustis.  Excellent defender, really, this kid is…OK, I'm just regurgitating.  Really, though, who the heck is this dude?!?!
The real question of the draft – what happens with the announcement of the first pick of the second round?  Does Adam Silver introduce himself?
Nate: Yeah, Heustis is a baffler. I didn't have him in the second round. WTF? Oh well, the Cavs have an opportunity to get some good players. But who is the deputy commissioner? The biggest comeback of this draft?  Simmons. He's been really good in the second half of this draft. And sometime in the next two minutes he will say "Cleanthony Early" for the 852nd time.
The 30th pick is… Kyle Anderson. Crap. Seriously. The Spurs got a guy who should have gone in the lottery. I'm angry. ANGRY!
"The best passer in this draft." Thanks for rubbing it in, Jay. And did you catch the name of the deputy commissioner? He's from Brooklyn. He must have a beard.
Mallory:  C'mon, Nate!  Not everyone in Brooklyn has a beard.  For example, one of the guys in my office is too young to have a beard.  See?  TOLD (side note: I work in the music industry.  EVERYONE has a beard).
OK!  SECOND ROUND TIME!!!  Can we get an Aaron Craft chant going????  Or, at the least, a LaQuinton Ross one?
Nate: OK, Mark Tatum is the deputy commissioner, and he looks like Gilbert Godfried and appears incapable of growing a beard.
The 31st pick… Damien Inglis.  Ben profiled him a couple weeks ago. Nice pick, cause Milwaukee needed another small forward.
The Cleanthony Early count is up in the thousands at this point.
Mallory: I've been chanting Early for the last 10 minutes.  And, it looks like it worked, because…
The 32nd pick is…K.J. McDaniels.  All I can says is Nate is not happy he's not falling to the Cavs.  But whatever.  IT'S CLEANTHONY TIME!
If I had a dollar for every time Rece Davis said "the second round…It's going to get FAST AND FURIOUS!"  How furious, Rece?
OMG…OMG…HEART ATTACK.
The 33rd pick is…JOE HARRIS!  Wait a second.  Who?  Talk about a let down…
Oh god.  The Knicks are going to land Early!
OK.  So the Knicks, without a first round pick, land Cleanthony Early.  I'm ending it here.  Cavs fans, sound off.  Did the team screw this up?  Should they have taken Early?  Are you happy about Wiggins?  What now?  Ready, set, GO!
Nate: Well, that was underwhelming… With Early, Grant, Jarnell Stokes, Glenn Robinson, Dinwiddie, Russ Smith, and Tavares on the board, the Cavs take a 5th wing. Wheee. Seriously, just take Tavares on a lark there. Harris won't even make this team. Oh well. Cavs got Wiggins! and free agency starts in July 1st!
Goodnight Mallory. Goodnight Cavs fans!