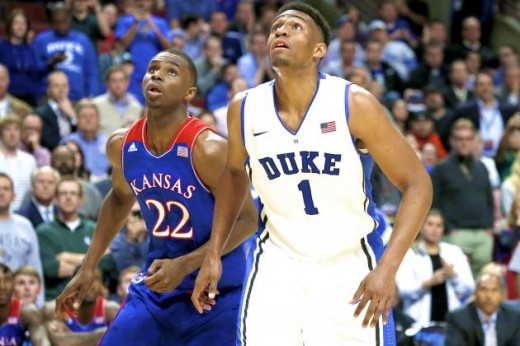 Sights and sounds from the NBA Draft media session at the Westin Hotel in Times Square:
Each year, the day before the draft, the NBA does its best Jaws impression, taking its top prospects — as if by the bucketful — and dumping them into the blogger-bloodied water to be picked clean of everything from how they felt they were utilized in their college offense to their favorite video game to play (spoiler: it's almost always "Call of Duty"). This is the one time of year where these elite athletes will watch us perform. They are ushered into a hotel conference room 8-10 at a time, shown to a small round table bearing their name — time for a deep breath, maybe a count to ten — and then it's all arms, microphones, shouts for their attention and just a general jostling for position as every media member tries to get his/her question in and still have time to hit all the other tables. Good journalism, it seems, makes for bad manners.
Welcome to the NBA, gentlemen. We will continue to behave like this.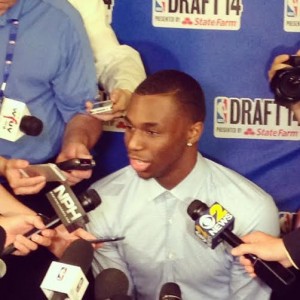 1.) I arrived just as the event began, so it was a few minutes before I could get into Andrew Wiggins-range. By the time I was within ear/iPhone-shot, Wiggins was already hammering the expected soft pitches out of the park: "I'm prepared. No matter what team I go to. I want to win. I'm willing to do anything for the team in that situation."
When asked about the Cavaliers hiring of David Blatt and if he saw any potential problem playing for a coach with no prior NBA experience: "I've heard good things [about Blatt]. And I'm not — I'm coachable. I've never been on a team where a coach or player didn't like me. I'm a team player — a good teammate. I don't foresee any problem."
About whether he'd share his NBA ambitions with fellow Canadians Anthony Bennett, Nik Stauskas and Tyler Ennis growing up: "We all had hoop dreams."
What he's learned in his one year at Kansas: "College teaches you a lot about sacrifice, hard work, limiting all the distractions. Especially at a school like Kansas where the basketball players are treated like rock stars, you really get a feel for how it's going to be at the next level."
When asked if he liked being treated like a rock star, Wiggins grinned, thought then shrugged. "It's never a bad thing." he said.
On critics saying he lacks a killer instinct: "That's just people talking. If it's someone I don't have a relationship with, it's just in one ear and out the other. But if it's a GM or a coach, I'll think about it." Of course, one of the people who has said that is Wiggins's college coach, Bill Self.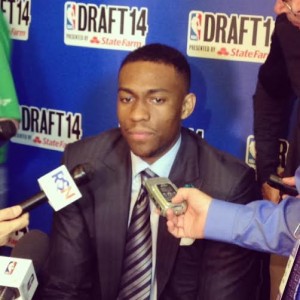 2.) Then I realized that there was another table with a huge throng surrounding it.  A couple of well-placed boney elbows later,  Jabari Parker had this to say:
On what it will feel like to hear his name called on Thursday and finally put on an NBA jersey: "It will feel great to put on that jersey. But it's your responsibility to make that jersey feel a little bit more significant to you. You've gotta put in a lot of work, a lot of sweat into that jersey."
On his reportedly poor conditioning: "I felt real good, through the workouts. If you put a treadmill right here, we could have a contest and you all could judge that. I feel real good. I feel confident, right now. … I'm in the gym 24-7. I don't have to self-promote myself. I don't have to put anything out on Instagram. It's my job and my duty to practice every day. I'm no couch potato. You won't find me flipping the channels. I play basketball every day."
On whether teams are envisioning him as a small forward or a power forward: "They see me as a small forward. But I don't have a position."
Finally, I asked him if he had a chance to meet new Cavs coach, David Blatt, as both were in Cleveland last Friday. He responded, "No, I didn't. But he was in my hotel."
Besides that, I asked, what did he know about Blatt. Parker replied, "I know he's a winner."
3.) So, what did I learn from Wiggins and Parker? On a strictly passenger-side psychology level, Wiggins did seem to be as he's been described: a super nice kid. Maybe he occasionally says what he thinks is the right thing to say or what people want to hear rather than something telling or unique. Does that mean he doesn't have the killer instinct or alpha male demeanor many have said will keep him from achieving greatness? If you believe that such an instinct is crucial to a player's ultimate success, then … maybe. Or, if you're going to say that Wiggins is a pleaser, couldn't that evolve into a good thing. If he finds a coach who he trusts and teammates whose approval he seeks and who he wants to help win games for, couldn't that develop into just as strong of a desire to win as your Jordan-esque "destroy everyone in your path" route?
On the other side, Parker seemed fiesty, smart and took every question as a challenge. Whereas Wiggins answered a reporter's question following the U19 games in 2012 that what he most wanted people to know about him is, "I'm just 17 years old," Parker made constant mention of how much he plays basketball, how much he's in the gym, how basketball is everything to him. That doesn't change the fact that his conditioning has been an issue all year. But did Parker come off (again, in the whole 7-minutes I spent listening to him … grain of salt, all) as the type of driven competitor you'd want to rub off a bit on your team if, say, your team happened to not be the mentally toughest? Sure. Absolutely.
4.) Random hits: Dante Exum wins the Victor Oladipo Award for interview personality that completely won me over. Exum comes across as good-natured, intelligent, thoughtful and confident. I don't want the Cavs taking him at one … but it's tough not to like him. Marcus Smart wins the Greg Oden Award for 20-year old who could pass for one of my dad's 60-year old card buddies. Also, speaking of Smart, it was interesting to hear how many of the players are convinced that they will always play the positions they did in college, despite what a lot of league experts are saying. Smart considers himself a point guard, even though many others thing he'll be a shooting guard in the pros. Exum also considers himself a point guard. Parker insists he's a small forward. Wonder who gets to break the news to them. [Update: Dario Saric was asked why he decided to stay in the draft when he'd just signed a three year deal to play in Turkey. He said that he felt that his stock was pretty high this year and he was confident he'd be a lottery pick. Of course, the follow up questions was "So, why do you feel like your stock will drop over the next few years?"] I asked Noah Vonleh, whose enormous hands were the cause of much draft combine gasping, if he'd had the chance to measure them against other noted big-hander, Kawhi Leonard. He said he hadn't, but that ESPN had run a piece that showed the measurement of Leonard's mits and was pretty sure his were larger. The real battles, folks, rage on. And, finally, while this is not the best picture, Julius Randle wins the award for his amazing threads. This was the year of the bow tie in the Draft Media Availability Room and Randle was the king of them all.
Happy Draft Day, everyone. Talk to you from Barclays tomorrow!