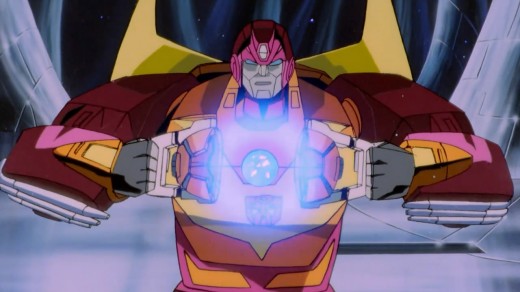 The Cavaliers five-week long coaching search finally came to an end Thursday with the team offering the position to former Maccabi Tel Aviv head coach, David Blatt. An agreement has not yet been reached, but is expected soon.
General Manager, David Griffin, and Cavs owner, Dan Gilbert, were pressed to make a decision Thursday before Blatt could meet with the Golden State Warriors, who were interested in bringing Blatt aboard as Steve Kerr's lead assistant. Los Angeles Clippers assistant coach, Tyronn Lue, also impressed the Cavs in his two interviews with the team and was reported to be the other front-runner for the job. But, in the end, the Cavs chose Blatt, who will become the first coach to go directly from coaching overseas to a head coaching job in the NBA.
Blatt, 55, was born in Massachusetts and played under iconic college coach, Pete Carril, at Princeton. Following his graduation in 1981, he played professionally in Israel and in 1993 began his coaching career with Hapoel Galil Elyon. He has also coached professionally in Turkey and in Russia, where he coached Dynamo St. Petersburg as well as the Russian National Team.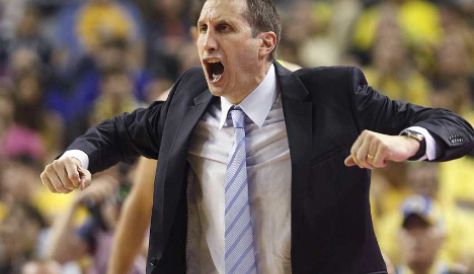 Known for being one of the most respected offensive minds in basketball, Blatt has won everywhere he has coached, most recently guiding Russia to a surprise bronze medal in the 2012 London Olympics and  capturing the 2014 Israeli League championship, the 2014 Israeli Cup, the 2014 Euroleague Championship and being named Israeli Coach of the Year for the fourth time in his illustrious career.
Adding a head coach with Blatt's history of success and offensive acumen seems in step with the direction the league is headed. With the NBA embracing a more offensive-minded approach, Griffin's history with teams who like to score the basketball, and the San Antonio Spurs just wrapping up a championship season by putting on an absolute offensive clinic, the decision to hire Blatt seemed like a no-brainer. Clearly, he convinced Griffin and Gilbert that his coaching success would not get held up in Customs and the Cavs pulled the trigger to bring Blatt on as the 20th head coach in Cleveland Cavaliers history.
Some thoughts:
• There are concerns that Blatt might experience a pretty steep learning curve going from the Israeli League to the NBA. And, yes, there will certainly be adjustments he will have to make. Still, it's a bit much to weigh a coach's entire professional prospect on the differences between the American and European game. The Plain Dealer's Mary Schmitt Boyer spoke to Blatt's college coach, Carril, who had this more practical take on the situation: "[Blatt]'s got a brain. He sees things. …  When he watches [his team] play, he'll see exactly what he has to do — whether he can play an up-tempo game or what. Right now, if a guy had a brain in his head, he'd imitate the San Antonio team."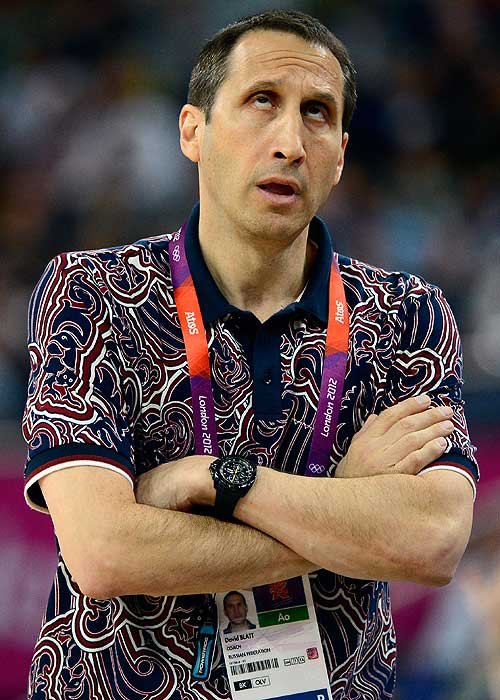 Since Carril already indicated that, in fact, Blatt does have a brain in his head, it will certainly be interesting to see if he can get a young team with two ball-dominant guards in Kyrie Irving and Dion Waiters to play as crisply, unselfishly and non-ball-dominatingly as the Spurs.
• Despite the widely held belief (because it's true) that being a head coach in the NBA is preferable to being an assistant, there were still reports after Blatt's interview in Cleveland that he was being counseled to choose the Golden State assistant job over the possible Cavaliers head spot. The idea, I guess, is that should Blatt fail as an NBA head coach, he would damage his ability to get another head coaching job later on, perhaps after he'd adjusted to the NBA game. I doubt Blatt gave much consideration to this counseling, though. While it's possible that a disappointing showing from the Cavs could damage his reputation — and while this team is absolutely capable of a disappointing showing — Blatt need only look over at the Washington Wizards bench and see Randy Wittman, who has never been described as a master of anything, the ink still wet on the contract extension he got well after distancing himself from the stink of helming some of the most grizzly-bad teams in Cavs history. The thing about NBA head coaching gigs is that there are only 30 of them. If you have one of those jobs, it symbolizes that you are at the very head of your profession. There is some swagger needed to pursue a head coaching job having never coached on the NBA level — and, frankly, it's a swagger this team needs.
• While a lot of focus has been on what Blatt might bring on the offensive side of the ball, by all accounts, he preaches some good defense, as well. Back in 2007, the Moscow News ran a story about Blatt's re-establishment of Russia as a basketball powerhouse. In it, Bojan Soc discusses the coach's philosophy: "From day one, the outgoing American coach had stressed two things: his team's defense will be granite-tough and its offense will be lightning-quick. …
The lack of size in the frontcourt (CSKA Moscow's Alexei Savrasenko was the only true center in the squad) Blatt's men compensated by quickness – his forwards often rushed to help in the paint, eventually double-teaming the opposition's scorers. Russia's backcourt players, led by Holden and point guard Pyotr Samoilenko, harassed one after another of Europe's leading playmakers, limiting such stars as France's Tony Parker, Lithuania's Sarunas Jasikevicius and Spain's Jose Calderon to subpar performances.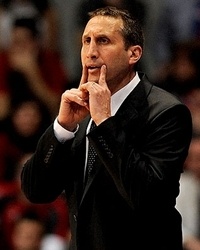 On the opposite end of the court few teams could handle the Russian players' fast-paced offense. Their quick feet and movement without the ball often set up open shots along the perimeter, while the point guards fed their frontcourt quartet of Savrasenko, Morgunov, Kirilenko and Viktor Khriapa for easy baskets in the paint, taking advantage of the teammates' quick rotation on the floor."
This brings up what you hear about Blatt again and again — and it's what Carril meant when he said that Blatt's "got a brain": throughout the course of his coaching career, he has been able to maximize the abilities of the players on his team, obscuring their deficiencies through accentuating their strengths. If he is able to bring that to this talent-filled, coaching-deprived squad, things suddenly look much brighter for the 2014-15 season.
• But can Blatt, who has made much of his name by coaching up players who were never considered the greatest at what they do in the whole, wide world, relate to today's young, AAU-developed NBA talent? Blatt has never played in the NBA. He has never coached in the NBA. He played four years at Princeton, but topped out averaging 2.4 points and 1.4 rebounds a game. He has spent the last 33 years almost exclusively overseas. Will his be a resume that players will immediately respect and respond to?
I like to give players a bit more credit than that. Besides, we just came off an NBA Finals that featured two of the best coaches in the game, neither of whom played a minute professionally. Now, that being said, some personalities succeed and some do not. So, it was nice to read these words from Scoonie Penn, (via StepienRules) who played for Blatt in Turkey: "His style of basketball was great. More than that, though, he was a guy I really loved playing for. He was a real hard-nosed, smart coach who I respected a lot. As a point guard, he's a coach you love playing for because of the way he wants to attack. … When I played for him, we had a really good player-coach relationship."
David Blatt, welcome to the Cleveland Cavaliers.
Tags: David Blatt, dion waiters, Kyrie Irving, Tyronn Lue