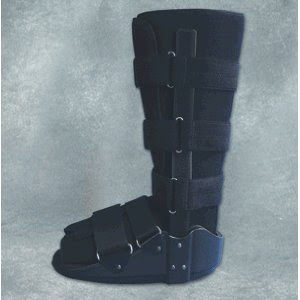 The Cavs' pending decision of who to draft with the number one pick may have gotten easier.  Joel Embiid has suffered a foot injury.  Jeff Goodman at ESPN broke the story.
"He suffered a foot injury to his right foot, sometime over the last few days," agent Arn Tellem told ESPN's Andy Katz by phone Thursday. "He's getting evaluations from various doctors and experts in the field. We'll know more Friday."

One source told ESPN.com that Embiid "may have broken" his foot, but Tellem wouldn't speculate on the seriousness of the injury until he had heard back from doctors. Tellem also said it was unlikely he would be doing any more workouts before the draft, which is June 26.
Embiid seemed to be the probable number pick up until now.  Chad Ford even mocked him to the Cavs after a supposedly stellar workout.  Regardless of how good the workout went, the previous injury concerns, although they were back injuries, are now the only thing I can think about.  I'll be talking myself into Andrew Wiggins if this injury is something very serious. 
In other Cavs news, Chris Manning at Right Down Euclid put out his mock draft for the first round.  He has Embiid going first, but I wonder if he would change that now.
David Zavac at Fear The Sword has a piece up about all the questions the Cavs must answer this summer time.  It's a lot more than you think and most don't even deal with the coach we haven't hired yet.
Hiring a coach, making decisions on Irving and Thompson, using a first overall draft choice, navigating trades, utilizing cap space, seeing what our young guys got at Summer League. It's going to be a wild summer. Last time the Cavaliers had so much uncertainty and promise, it was … well, it was 12 months ago.
The Cavs will keep all of that promise until the season starts.  This is the best time of the NBA year for Cleveland fans.
Going back to the question of who the Cavs should pick as coach, Pete Carril, David Blatt's former legendary coach at Princeton, raves about Blatt.  Mary Schmitt Boyer reports some of the pleasant comments.
"He's got to go watch the guys play," Carril said. "When he watches them play, he'll see exactly what he has to do — whether he can play an up-tempo game or what. Right now, if a guy had a brain in his head, he'd imitate the San Antonio team."
If Blatt can honestly realize that he should be copying the Spurs, I'm all for him as coach.  However, he may not be all about coaching in Cleveland according to some.  Andrew Schnitkey at WFNY breaks down the reports that Blatt is being advised to avoid the Cleveland job because of Dan Gilbert's meddling.
Cavs fans are now stuck hoping either a) the reports about Gilbert's meddling in the coaching search are untrue, b) the report of Blatt's advisor's are untrue, or c) Dan Gilbert will finally acquire some self-awareness and realize that despite what I'm sure he feels are best intentions, he is hurting this franchise. Otherwise, it's a long, bleak road ahead of the Cavaliers this summer.
Bill Simmons answers a question in his mailbag about where LeBron may go if he opts out this summer. Cleveland is a possibility.
Door No. 2 (+400 odds): He goes back to Cleveland and convinces Carmelo to come with him. Do NOT rule this out. Especially if Cleveland hires a coach that LeBron likes. The Cavs are loaded with young assets and could create whatever team LeBron wanted. And also, you gotta love the fairy-tale ending here — LeBron coming home as 10,000 different Cavs fans make YouTube montages of him with that "I'm Coming Home" song.

(The biggest obstacle: Will LeBron ever forgive Dan Gilbert for The Letter? From what I'm hearing … not anytime soon. I'd start groveling to a connected third party right now, Mr. Gilbert, if you're not doing that already.)
At +400, Cleveland's odds beat out the Clipper's odds for LeBron at +500, but Cleveland's odds fall short of Miami's odds for LeBron at -400.  Carmelo coming to Cleveland would also be a plus, but I somehow think he may like the spotlight in big cities too much to do that.  Miami would be easily open for him if LeBron came to Cleveland though.  It could all work out perfectly.
Simmons also thinks that Cleveland's Midwest sibling, Chicago, doesn't have a chance.
And going back to the Midwest but picking Chicago over Cleveland? Come on.
It's going to be a crazy summer starting this Thursday at the draft.  There should be lots of action to see and criticize for fans.
—
Update: There's also this…
As Jeff Goodman reports, Joel Embiid suffered a foot injury. Cavs want to workout Dante Exum for No. 1 spot now too, sources tell Yahoo.

— Adrian Wojnarowski (@WojYahooNBA) June 19, 2014
Nate Smith: I said the other day, that this is a five deep draft, and it appears the Cavs are wondering if it might be at least four deep. Regardless of perceptions, It can't hurt to work the guy out. Cleveland may have been thinking about trading to three, and feel that Exum will be there if they still made that trade. Embiid's injury changes the draft that math in two ways: first, the draft pick may be even more valuable now because there is one fewer guy at the top of the draft. Second, it may be much less likely that the Cavs trade. Also, I'm trusting Tony Rizzo's sources from now on.
Cleveland doctors discovered right foot injury in exams and passed info onto Embiid reps, sources tell Yahoo. Fear is a right foot fracture.

— Adrian Wojnarowski (@WojYahooNBA) June 19, 2014
Tags: David Blatt, Embiid Injury, Simmons