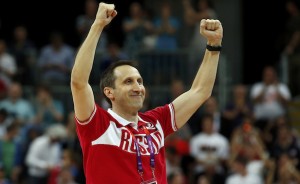 The Cavs have been conducting an intense investigation to find the best coach.  The search has taken them all the way from Los Angeles, Tyron Lue, to Israel, David Blatt.  They've covered the whole spectrum of expierence too.  Lue has never been a head coach, while Blatt has been a head coach, just not in the NBA.  However, Blatt is a winner if you hold the Israel league, the Israeli Cup, and the Euroleague championships in high esteem.  He won all of those this past season.
David Blatt is going to be fresh on Dan Gilbert's mind after today because Blatt is having his first face-to-face meeting with the Cavs.  Bob Finnan reports on the situation.
David Blatt, 55, ex-coach of Maccabi Tel Aviv. He's scheduled to make his second interview and first face-to-face meeting with Griffin and Cavs majority owner Dan Gilbert on June 18.Blatt is known as an innovative thinker on the offensive end, one who could make the Irving-Dion Waiters' backcourt thrive. Hiring him would be a bit of a risk since he's never coached in the NBA. The Cavs would have to load up his staff with proven veteran assistant coaches. Price's name has been linked to that role, as well.
It would be amazing to see what an optimized Dion Waiters-Kyrie Irving backcourt can do because if those two ever figure out how to work together they would be unstoppable, as each is driving and spotting up to space the floor for cuts.   It could also be the best possible situation if the Cavs can end up with Blatt and still land Mark Price as a member of the organization.  Of course, a lot of people still believe Price may end up being the head coach.  Brendan Bowers at Stepien Rules has the summary of the media coverage regarding Price.
The new Cavs coach is going be dealing with an outstanding rookie after the team finishes the draft.  Andrew Wiggins is working out with the team today, so keep your phones ready for the reports about his performance.  Joel Embiid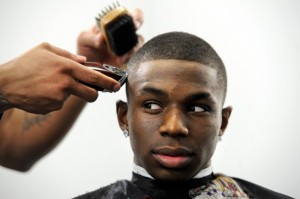 visited with the Cavs last week and had a transcendent performance according to many.  Chad Ford has him going to the Cavs in his mock draft updated yesterday.
Embiid's workout and interview in Cleveland last week were major successes, according to sources close to the Cavs. Embiid did a full workout there in front of the Cavs' front office and owner Dan Gilbert. Multiple sources said that the team was blown away with the workout. Embiid even ended one session by launching and nailing a series of 3s. Directly after the workout, two different sources told me that Embiid was the strong favorite to be drafted by the Cavs. Even Gilbert was on board.
I'm hoping the "multiple sources" are correct about Embiid's workout.  If Embiid was nailing threes and is healthy, that's just one more sign that he is the way of the future for the Cavs.  Can you imagine a seven footer taking people off of the dribble at the three line?
Whoever the Cavs draft will be in good company at the shooting guard spot.  Dion Waiter's season review came out on Cavs.com. Waiters was one of the better bench players and even starters in the league this year, and he has shown he is willing to work hard to improve after playing through some terrible rumors.
After rejoining the starting lineup on March 18, Waiters posted the 6th-highest scoring average in the Conference over the final 15 games (21.2 ppg). The former Syracuse standout was stellar in that final month of the season. In his first start in that final stretch – he doubled-up with 17 points and 11 assists in a home loss to Miami. Waiters topped the 20-point plateau in nine of his final 15 games – including four straight contests in late March.
His defense should also get mention because he can be pesky when he gets locked in.
Mike Mayers at Fear the Sword thinks there is an itsy bitsy chance LeBron returns to Cleveland.  If he does return, Mike is optimistic about what happens to the Cavs.
And if LeBron were to make the choice to come back and play near his hometown, it would instantly make Cleveland a contender in the East. Pairing Kyrie Irving with LeBron would give the Cavs the best duo in the conference, and David Griffin would have plenty of assets at his disposal to surround that duo with a very strong supporting cast.
It's never good to focus only on the Cavs because as this past season has shown it can be depressing.  Check out Jonathan Abrams piece about Boris Diaw's path to an NBA championship.  Diaw caught alley o0ps during his time in the French Academy.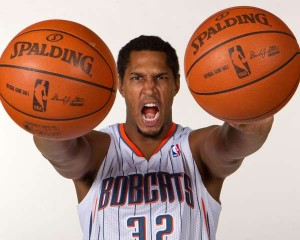 Diaw was the offense's fulcrum, getting the ball to where it needed to be, setting screens, crashing the boards, and dunking. "I used to throw alley-oops all the time to him; he was super-athletic," [Tony]Parker said.
He played ineffectively in Atlanta, succeeded with the Suns, almost ate Charlotte into a famine, and finally landed on the Spurs.
—
Update: The content just keeps on coming, today. Kirk at WFNY has a very good film room breakdown of Andrew Wiggins. He sums up his analysis well with these bullet quotes.
Helpside defense remains a work in progress for him. However, in one-on-one scenarios, Wiggins has the potential to lock down the other team's best perimeter threat…

Just under 25% of all shots from Wiggins came in transition with a 62.4% effective field goal percentage. For comparison sake, Parker shot just under 17% of his shots in transition with a 57.1% eFG…

Wiggins' single most effective skill in the halfcourt is his ability to get to the line and convert. His FT/FGA clip of 53.8% is outstanding, and it's even better when you see that he made 77.5% of his 227 free throws. Drawing almost six fouls per game is nothing to dismiss. It's a repeatable skill for him…

Guys like Wiggins do take longer to develop, but he probably has the highest ceiling of them all given his position and athleticism.

In the end, though, I see Wiggins as third in the pecking order behind a potentially dominant big in Embiid and an offensive machine in Parker.
Fansided's Bryan Rose reveals that Jabari Parker is a "Carmelo Anthony, Grant Hill hybrid" in his profile of the young small forward.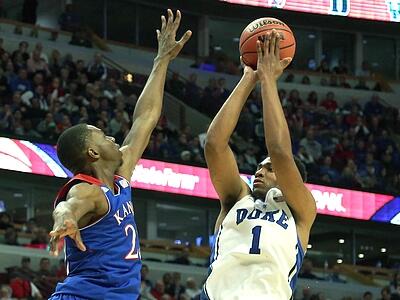 Mike Schmitz over at DraftExpress adds a Parker versus Wiggins head to head breakdown, here. Be sure to check out all the other great stuff at DX, including the always well researched "By the Numbers" breakdowns of each position in the draft by Matt Kamalsky: point guards, shooting guards, small forwards, power forwards, and centers.
Over on GotBuckets.com, former CtBer, Kevin Hetrick and @talkingpractice go in depth on the NBA's — new for 2013-2014 — SportsVU data and its defensive impact and rebounding stats.
"Opponent FG% at Rim" provides encouraging results as a gauge of player defensive value. Of course on the other hand, the remainder of the SportVU defense and rebounding numbers proved pretty marginal towards contributing to an understanding of on-court contributions.
Irving's day at the park with the Cleveland Indians is chronicled on CavsTV, here and here.
Finally, get your free tickets for the draft party at the Q. It should be interesting.
Tags: Boris Diaw, Coaching Search, David Blatt, dion waiters