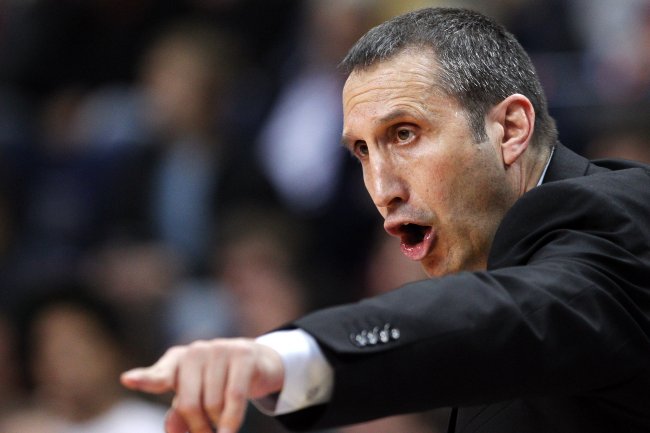 Four points I'm thinking about the Cleveland Cavaliers…
1.) If, as reported, the Cavs have interest in Maccabi Tel Aviv head coach, David Blatt, then this past Wednesday was an important day. June 11th marked the end of Maccabi Electra's season where they lost to Maccabi Haifa 84-82, but still won the club's 51st Israeli League championship on account of winning the first of two Finals games with Haifa by four points.
I'll repeat: they lost the game, but still won the championship.
Hmmm…
Not having point totals carry over into your next playoff game is just one of the adjustments Blatt would face if, indeed, the Cavs have serious interest in the 55-year old Massachusetts-born Princeton grad. And while Blatt is widely considered a top offensive mind among head coaches abroad, he is a product of the same Pete Carril who originated Byron Scott's preferred offensive philosophy — the one Scott quickly scrapped when it became clear that his young Cavs team lacked sufficient basketball jones to grasp the offense over just one training camp — which could temper whatever scoring wizardry a Blatt hire might promise.
Now that Blatt's season is officially wrapped up and he'll be available for an official interview we'll get some sense if the rumors of this outside-the-box coaching candidate actually have legs. If the Cavs' coaching search extends, as it is beginning to seem, to every person who is not currently a head coach of an NBA team, bringing Blatt in — at least for an interview — makes sense. He's had tremendous success internationally, both for Maccabi Electra and the Russian National Team, who he coached to a bronze medal finish in the 2012 Olympics, but his roots are here in the States. He's a veteran coach, but would bring a fresh perspective to the league and is still young enough to have a significant NBA coaching career ahead of him, should he choose to pursue that route. [Update: Apparently, he has chosen to pursue that route, per reports late Thursday] He has a connection to the Cavaliers, having coached Sergei Karasev on that bronze medal Russian team, but when your best connection to a team is "having coached Sergei Karasev" … well, you get the idea.
Hiring Blatt would bring significant risks for Dan Gilbert and David Griffin, but he absolutely has the type of pedigree that would appeal to Griffin (if not, necessarily, to Gilbert). I would put my own interest level in Blatt at "three drinks in," meaning he looks pretty good, but not so good that I'd be okay with whatever ribbing I'd get if the decision didn't work out. But, I just ordered my fourth drink, so check back soon.
Regardless, Blatt's schedule is now open [and he's coming Stateside], allowing us to find out if, in fact, that smell is actually fire or just a whole mess a' smoke.
2.) It's that time of year where, if given enough time, I can talk myself into anything. For example, I've swung from Andrew Wiggins over to Joel Embiid to now actually giving some thought to Jabari Parker. Likewise, the more time I spend with all the party-goers on the coaching carousel, the better some of the first reported  candidates can seem. Take Alvin Gentry: Yes, a career 335-370 record as a head coach isn't exactly overwhelming and it's tempting to look at his lone stand-out season — 2009-10, in which his Suns went 54-28 and advanced to the Western Conference Finals — as more aberration than rule.
But consider this: true to Gentry's offensive-minded reputation, the Suns posted the league's highest rated offense in 2009-10. But they were also tops in that category in 2008-09. In that season, Gentry started the season as Terry Porter's assistant, his offensive coordinator, as it were, as Porter tried to force the Suns roster into the San Antonio defense-first mold. Gentry took over for Porter mid-season and is credited for once again applying pressure to the team's gas pedal, but the team had the league's highest rated offense with Gentry only coaching 31 games, meaning that the offense, even when it was busted, was still pretty darn good. In 2010-11, the Suns' offense dipped to ninth in the league but by then he was fielding a roster that teamed Marcin Gortat, Mickael Pietrus and Channing Frye with a past-his-peak Steve Nash, so ninth ain't all that bad. And, of course, the Clippers captured the crown for league's top offense with Gentry as Doc Rivers's associate head coach this past season.
But all of Gentry's teams had two things in common: they were run by one of the top point guards in the league and they were all abominations on defense.
Right?
Well, to the first point, yes. Steve Nash and Chris Paul can, in fact, run a good NBA team. And, yes, his teams usually finished in the bottom third in points allowed per 100 possessions. But, when you factor in Gentry's fast-paced style (which leads to more points in general) and in spite of fielding a team of below average individual defenders (Nash, Amar'e Stoudemire and Jason Richardson to name a few), Gentry's Suns teams between 2009-2012 were 145-116. That's having good players like Nash and Stoudemire, but that's also very good coaching in a tough Western Conference. There might be more than one way to peel an apple, is all. More than one way a team can be successful.  Mike Brown might argue differently, but then that's part of why we're having this discussion in the first place…
3.) You didn't misread that. I am, in fact, coming around on one line of reasoning for Jabari Parker at number one for the Cavs (which is very different from saying that I'm coming around on Parker actually being the pick, but bear with me…). As the consensus "most NBA-ready player," Parker would likely come in and immediately be Irving's most trusted player on offense (besides, that is, Irving himself). For a player like Irving who struggles with trusting his teammates (see the Cleveland Cavaliers 2012-14 seasons) and excels when he does (see any All-Star or USA Basketball game), adding a player who would immediately become Irving's clear and trusted number two scoring the ball greatly improves the odds that Cavs fans won't see a repeat of Team Dysfunction. At least not on the offensive end of the floor…
[Note: Props to the guys at the podcast, 2.1 Seconds to Madness, for making said argument.]
4.) Watching the Spurs-Heat match up in the Finals is actually serving as my own mini Embiid vs. Wiggins debate. The Spurs, while clearly having their share of talent on the wings, have the series' premiere big man in Tim Duncan. The Heat, on the other hand, have been built around all time great "perimeter" players (all of whom just happen to excel at posting up, as well). The anti-Embiid arguments that focus on how the NBA is lessening the importance of the center position need only look at what Tim Duncan has been able to do against the Heat as a traditional (though once-in-a-generational) big. Even if Wiggins can become a better version of Kawhi Leonard (let's put a moratorium on all LeBron comparisons for, like, ever, all right?) you have a game changer who can defend and guard the 2, 3 and, given some added bulk, 4.
In fact, paying attention to Leonard might make more sense for Cavs fans because he is performing at a high level while only in his third season. He has been inconsistent, as a player his age will almost always be, but he's also been occasionally brilliant. The Cavs can afford to wait on Embiid or Wiggins because, however imperfect their roster, neither player will be expected to carry the load, at least on offense (and, heck, Irving and Dion Waiters probably wouldn't allow it anyway). And an influx of "inconsistent and occasionally brilliant" should be enough to drag the Cavs kicking and screaming into the playoffs next year.
At least, one would hope…
Tags: 2014 NBA Draft, 2014 NBA Finals, Alvin Gentry, Andrew Wiggins, David Blatt, Jabari Parker, Joel Embiid