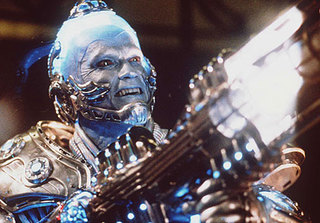 The biggest news of the past day has to be LeBron James cramping up during the first game of the Finals because the air conditioning wasn't working at the Spurs' arena.  That led to Bud Shaw figuring out how we can get Mr. James back to Cleveland.  Hire Mr. Freeze.
Not to say the Cavs are desperate to land James, but no doubt they'd consider hiring Albert Belle as their thermostat control expert if that's what it took.
Shaw serves up even more sarcasm in his weekly "You Said It" column also running today.
Bud: LeBron is not coming back. Cleveland is not Florida. The Collusion Brothers have no interest in us. We haven't won anything in 50 years. Florida beaches, etc , certainly make for a nicer setting. Oh, and winning those trophies – Leslie Kaminski

But on the flip side, we do have a chandelier now.
Get your final fill of LeBron Finals talk with Grantland's staff talk piece.  They cover LeBron's cramping, Manu going off, Ray Allen dunking like a young man, and, of course, texting with Gregg Popovich.  Andrew Sharp dealt with the Kobe and MJ comparisons about playing with cramps.
Would MJ and Kobe have played?

The answers here are pretty simple. Kobe definitely would've tried to fight through it and stay on the court. He tried to play on a ruptured Achilles for god's sake. Same with MJ, history's greatest psychopath. Bird, too, probably. Would any of them have been successful with the entire left side of their body seizing up with every step? Probably not!
I'm writing this column with a raging foot cramp right now, but I'm not stopping any time soon.  You have to play through everything in this day and age to avoid criticism.
–
Slate has a profile piece on Delonte West by David Haglund.  The piece is written extremely well and asks a question I have had for a long time: Why isn't West in the league anymore?
Just a few months later, in February 2008, he was traded again, to the Cleveland Cavaliers. There his ascent resumed. He became a starter on a team that, in the Eastern Conference semifinals, fought eventual champion Boston for seven close games. West played more minutes in that series than any Cavalier save LeBron James, had the second-most assists on the team, and was third in scoring.
West was wonderful on the court with his outstanding defense and even put up decent stats.  Off the court he gave interesting and funny interviews/segments, but ever since he had the motorcycle gun incident, he has been labeled crazy.  I often thought of him as the missing link between Ron Artest and JaVale McGee on the NBA craziness continuum, but this piece has changed my mind.  West is a human being before he is a basketball player or someone suffering from mental illness.  The piece is a great reminder of how sports stars and even regular people have complicated issues they are dealing with and need to be looked at more sensitively.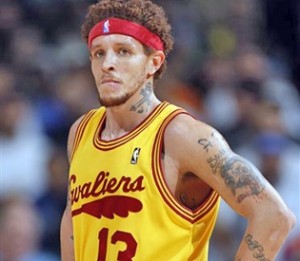 –
Sam Vecenie of Fear The Sword has a piece about trading the number one pick to Utah for their number five pick and Gordon Hayward/Enes Kanter/ Derrick Favors.  He shows that Hayward is going to get paid and is in good stat company in the league, but he also addresses the fact that this type of trade gives the Cavs a backlog of bigs and no true star.  I hope this doesn't happen.
–
Mary Schmitt Boyer knows what the Cavs should focus on during their coaching search.
Analyzing data from 15,000 basketball games between 1996 and 2004, the authors found NBA teams tend to win more games if led by coaches who were star players or who had long playing careers.
Alvin Gentry is out if the team follows this stat.  Of course, no rule is without its exceptions.  Both coaches in the Finals right now never played in the NBA.
Tags: Delonte West, Lebron James, Mr. Freeze