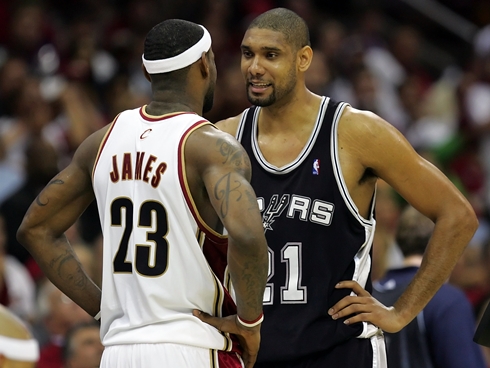 Four things I'm thinking about the Cleveland Cavaliers…
1.) Over the years, the NBA Finals have produced only a handful of memorable player v. player rivalries. The playoffs have had their share, but try to name the real iconic head-to-head match-ups in the Finals. Can't think of many, can you? Magic and Bird, obviously. Wilt and Bill Russell. What else? Michael Jordan and Bryon Russell? No, maybe not.
Generally, the feuding and chippiness that makes us love the playoffs is more often reserved for the Conference rounds, where teams (like Miami and Indiana recently) can meet repeatedly over several years fielding similar rosters and let Player X draw a big red circle around Player Y and go after him with each player's legacy firmly at stake.
But there is just such a match-up in this year's Finals, as Tim Duncan and LeBron James will be facing each other in the Finals for the third time in their careers.
Flash back to the Finals in 2007. At the time, it was billed as LeBron's coming out party. What it became, we all know, was a sweep of broomy proportions, as Duncan and his "boring, old" Spurs stole the thunder from "the King" and took home their fourth championship during Duncan's career. Now, seven years later, four titles is where the Spurs still sit after their own heartbreaking loss last year to James — now playing fully up to his kingly moniker.
Maybe it's because we talk about the Spurs as an organization more often than we talk about Duncan. Maybe it's because Gregg Popovich, Manu Ginobli and Tony Parker all get their fair share of headlines. Maybe it's Duncan's own low-key persona, but when the NBA Finals begin tonight there will be two of the greatest players ever leading their teams against each other. If the Heat win, LeBron has just led them to their third straight title in four straight appearances, putting Miami up there with the better team runs in recent history. If the Spurs win, Duncan gets his fifth ring (tied with Kobe Bryant, one short of Jordan) an unprecedented 15 years after his first, while still being the best player on his team. These are major stakes for two players who have become so unlikely linked to the other's legacy.
Imagine if this were the third time James was facing Bryant in the Finals, with the players tied at a ring a piece. That would be the only narrative. Yes, it's different when you have a wing player leading a team against a forward/center — the match-ups don't hold up to the individual player rivalry narrative — but two all-time stars leading their teams to three NBA Finals match-ups over seven years, the last two back-t0-back is a treat we get so rarely it needs to be savored when it comes around.
That being said: Go Spurs!
2.) The Heat's four straight trip to the Finals can probably put a nail in the LeBron-to-Cleveland talk, at least for this season. Two things had to happen for that to become anything other than a pipe dream: the Heat had to fall way short of the title and the Cavs had to make the playoffs and look like a team on the rise. We all know the second part of that equation fell well short of expectations, but the relative ease at which the Heat have marched to their chance at a three-peat pretty much crosses out the first part now too. Are Dwyane Wade's knees a long-term problem for the Heat? Sure. But Erik Spoelstra  found that managing Wade's regular season minutes — as Popovich long has with Duncan's — could go a long way toward keeping him a difference-making player come playoff time. So, at least, for the post season, LeBron still has a second banana better than anyone currently on the Cavs. Does LeBron want any part in a full-on rebuild in Miami? Likely not. But there are ways in which he can eke out another run or two with this current core, even going so far as to opt out of his deal this summer and sign a three-year deal to remain with the Heat. Such a deal would continue to keep his championship options afloat after the Heat core gets into the less-like-the-new-20s part of their 30s, while keeping his yearly salary at its peak under the current CBA.
Three years from now, Cleveland might look like a plum option for The Return. It just ain't happening now.
3.) Does it seem like the Cavs' coaching searching is taking a particularly long time? Well, it's not. At least, according to the Plain Dealer's Mary Schmitt Boyer, who points out that, outside of last year's hasty jump back into the sack with Mike Brown, Cavs head coaching searches have taken an average of 29 days. We're on day 24 now. David Griffin has said repeatedly that the team would not be providing regular updates on the coaching search, so there's been little comment on the interviews the team has already held with Adrian Griffin, Tyronn Lue, Alvin Gentry, Lionel Hollins and Vinny Del Negro. A second round of interviews is expected with the "finalists" from this list— and don't rule the chance of new names being thrown into the ring. It's even possible, though not ideal, that the Cavs could wait until after the Draft to name their head coach. Byron Scott wasn't hired until July 1, 2010, though the draft was clearly less of a factor in his hiring than it is now.
Since we're being forced to read the tea leaves a bit, I'll say this: the Cavs are committed to putting in a greater degree of due diligence. Bully for them! But if they're convinced that one of the guys they've already interviewed is their guy, what's the hold up? This makes it seem more like they haven't yet been able to interview everyone on their list and are waiting until after the Finals to interview either a San Antonio or Miami assistant coach, likely Heat assistant, David Fizdale. While poaching from the Heat's coaching tree would be a difficult pill for some in Cleveland to swallow, Fizdale would bring with him the instant credibility of having been part of one of the league's best winning cultures over the last four years. For the Cavs, who too often were Team Immaturity last year, any extra respect points the coach can have before walking through the door can't hurt.
And the specter of Billy Donovan just ain't going away, either. So, who knows…
4.) There is an extra wrinkle to pay attention to during the draft process: redundancy. For every player whose life-long dream comes true on June 26, there is a player currently on a team whose chances of still being on that team when the season starts just got a lot longer. Whether due to positional overlap, similarity in skill set or just the fact that there are no longer enough minutes to go around, some players may become available following the Draft's influx of rookie talent. Pay extra attention to two teams: The Philadelphia 76ers and Orlando Magic. Both teams have two picks in the top 12 and, depending on what direction they go in making those picks, perhaps veterans like Thad Young or Arron Afflalo could become available. It might take more than a handful of second rounders to get Sixers GM, Sam Hinkie, to bite this time, but if Young can be had in a reasonable trade — and the same goes for Afflalo — Griffin should absolutely see if those tires are worth kicking.
Tags: 2014 NBA Finals, Lebron James, Tim Duncan