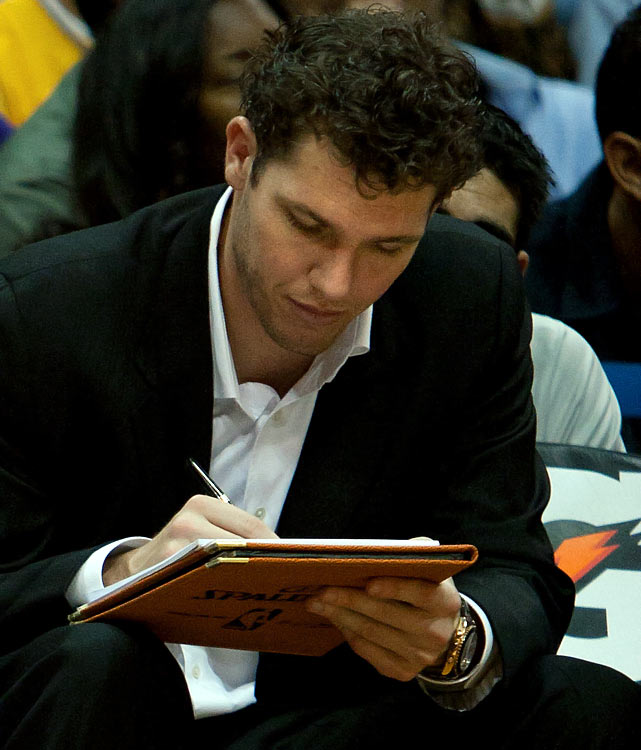 1.) An interesting name popped up amidst the New York Knicks current coaching search: Luke Walton. Walton, the former Laker and Cavalier, has never been more than tangentially connected to the top spot on the Knicks' bench and his name was floated mostly in the same way that anyone who has a previous working relationship with Phil Jackson has been linked to the job at some point post-Steve Kerr pursuit (and, yes, it is too bad that Shaquille O'Neal is part owner of the Kings now taking that tasty morsel off the rumor rotisserie). But Luke Walton as a head coach is not as crazy as it might sound.
Anyone who watched Walton and Shaun Livingston run a fluid, efficient second unit offense for the Cavaliers in 2012-13 could tell just how much the game is in his bones. Walton has had the benefit of growing up around the pro game and then learning under two of the better coaches around: Lute Olson at the University of Arizona and Phil Jackson in Los Angeles (sorry, Byron Scott… we're leaving you off this particular list). During the NBA lockout of 2011-12, Walton spent his extra dose of free time by joining former AU assistant coach Josh Pastner's staff at the University of Memphis. Then following the conclusion of his playing career, Walton was named player development coach for the Los Angeles D-Fenders.
Does this mean he's ready to step right into a head coaching gig? Not exactly, but it is already more actual coaching experience than Jason Kidd, Mark Jackson and Steve Kerr had before their first head coaching jobs. It's more than Derek Fisher, who hasn't even retired yet and is already being courted by Jackson and the Knicks.
So, picture this, if you're the Cleveland Cavaliers: Lionel Hollins makes his round of coaching interviews and, for whatever reason, doesn't get hired. The Cavs feel that a younger voice might reach their young squad, so maybe they talk to Walton, who already has a relationship with Dan Gilbert, David Griffin and several of the Cavs current players from his time with the team. Maybe Walton talks to Hollins, who was his father, Bill Walton's, teammate on those Jack Ramsay's Portland teams of the late-70s, about coming on board as associate head coach. Hollins could mentor Walton, run the defense and allow Walton to design the offense. Plus, if they end up drafting Kansas's Joel Embiid, you'd have the added plus of your head coach's father, who just happens to be one of the greatest centers of all time, around for some extra tutoring.
To this point, Walton's name has not been publicly linked to the Cavs head coaching job, so it's a long-shot that any of the many dominoes that would need to fall in this scenario are even being set up. But Walton is an unconventional option who might just be the perfect fit for this team.
2.) Ryen Russillo's recent Grantland piece gives a nice picture of the sort of muddy slough of great the Cavs will be navigating leading up to the draft. One scout has his top tier as "Embiid, by himself."  Another says of Jabari Parker, "I'd take him no.1 … He's the safest pick." And, while all scouts were critical of Andrew Wiggins's offense ("He needs to add a whole bunch of other stuff to be the scorer people think he can be.") they agreed that he can play defense in the NBA right now. The trending narrative for each player right now seems to be the following: We will continue to talk about Embiid's back because, while other players have suffered and effectively rehabbed from the same type of injury, to quote Dr. Hibbert on The Simpsons, "Modern medicine has a lousy record with treating the back. We spend too much time on the front." Parker may be the best out of the gate, whose high basketball IQ and passing ability probably make him more than just an NBA volume scorer, but his ceiling may never be "multiple All-Star." And the "how much is Wiggins a basketball player and how much is he just a ridiculous athlete" questions will continue to pick at his game like a murder of circling crows.
On first blush, I was a Wiggins guy all the way. But the Embiid-sayers have started to creep in. I'd still be happy with the Cavs getting either one, but if you project both out to their full potential, Embiid might be pulling forward by just a hair.
3.) Here's another question for "coaching staff to be named later": how do you work in a(nother) number one pick without stunting the development of your current players? The Cavs already have a ball dominant player with an alpha dog mentality (Dion Waiters) and a ball dominant player who will soon be making alpha dog money (Kyrie Irving), not to mention last year's number one pick who should come into next season looking to dust the "bust" off every Google search of his name.
This is an organization that wants to start winning, but it might be in its best interest to build a team that can maximize some of its current talent while allowing whoever goes number one to develop slowly(ish). That gives the Cavs the chance of having greater flexibility if, say, Waiters, Tristan Thompson and/or Anthony Bennett develop into real trade chips that the team can move when "number one pick to be named later" is ready to take the team's collective wheel. That's another reason Embiid makes sense for the Cavs: he's the player who would most allow them to see what their current roster might still become. You plug him in at center and let him be a factor on defense and on the boards. He gets the time he needs to learn the game and, since there's no positional overlap, the Cavs get more time to properly evaluate the rest of their roster going forward.
4.) So what about the 33rd overall pick? The beauty of this draft looks like its going to be its top three or four players and its depth. That means the Cavs are going to be in great position to get a player of value in the early-second round, should they choose to stay with the pick. There will be big guys available, should the Cavs take a forward, and there are a slew of small-to-combo forwards, should the Cavs take Embiid. Right now, nbadraft.net has them taking 6-11 center Jusuf Nurkic at 33 (who I was seeing as high as nine or 10 recently), while DraftExpress has Wichita State's 6-7 forward, Cleanthony Early, slotted for the Cavs' second round selection. Look for players 20-35 to be bouncing all over the place between now and draft day.
Tags: 2014 NBA Draft, Andrew Wiggins, Jabari Parker, Joel Embiid, luke walton