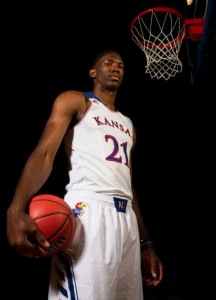 Joel Embiid is a freak physically who had decent stats in college.  His freshman year matches up pretty well with Tim Duncan's freshman year.  Those are just numbers though.  There have been plenty of busts that had wonderful college box scores and amazing bodies.  What is important is what actual skills Embiid has that can be seen, not just measured.  So, I deal with the numbers and what is being witnessed separately.  Luckily for Joel, he appears legitimate when you read his box scores and witness him play.
In the Raw
Joel Embiid is a 7'0," 240 pounds and sports a 7'5" wing span.  Embiid grew up in Cameroon playing soccer and volleyball. He's only twenty years old and has been playing basketball since 2011.  His path to America through basketball is unique, but his path to actually playing basketball was the same as most people his height.  He was pulled to a basketball camp just because of the chance he may become good.
The camp was led by Luc Richard Mbah a Moute, and the NBA player immediately saw that Embiid had amazing moves for someone who had never played organized basketball.  Mbah a Moute eventually talked Embiid's father into sending him to the Montverde Academy in Flordia to play basketball.  However, Embiid didn't see playing time during his junior year, so he transferred to the Rock School, also in Florida.  Mbah a Moute called the Rock school on Embiid's behalf to get him a spot on the team.
Kansas assistant coach and former Florida native, Norm Roberts, brought the big kid to the attention of Kansas head coach, Bill Self.  Self watched Embiid practice and concluded he could be a dominant force and a future number one pick.
During his time at Kansas University, he averaged 11.2 points on 62.6% shooting to go along with 8.1 rebounds and 2.6 blocks.  He turned the ball over 2.6 times a game and fouled 3.4 times a game.  All of this was done averaging only 23.1 minutes.
Moving past the basic stats, Embiid had a PER of 28.2 (first in the BIG 12) and nabbed 20.5 % of all rebounds (second in the BIG 12).  He had the highest defensive rating in the BIG 12 at 90.9.
Embiid has been compared to Hakeem Olajuwon and Tim Duncan.  His stats are comparable to Duncan's freshman year stats at Wake Forest when Duncan averaged 9.8 points to go with 9.6 rebounds per game.  Duncan also had 3.6 blocks a game.
The high points of Embiid's game:
-Amazing body control
-Has post moves
-Good at blocking people in the paint
-Runs like a little guy
-He rebounds and jogs up the floor every play, no sitting back
The low points of his game:
-Over helps
-Turns the ball over
-Losses his man at times
-Doesn't understand how to use his body
-Fouls a lot
-May have back issues (more on that further down)
Stats along with background information and bullet points about his game have been gathered from ESPN.COM, NBADRAFT.NET,  DRAFTEXPRESS.COM, and the Wall Street Journal.  When videos have a start time, the first basketball activity following that is what is being referenced.
From My Eyes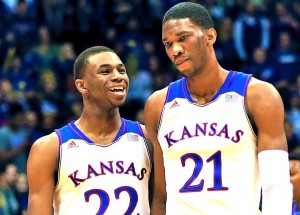 I've probably watched about fifteen hours of Embiid footage in the past three weeks through Youtube and browsing Draft Express. Needless to say, having immersed myself in his footage, I am now a professional level scout. One thing I haven't seen in all this footage is Embiid shirtless.  Stay with me here.  I have never seen a seven foot person that moves how Embiid does.  He doesn't have the flub/bulk that most seven foot players have and a shirtless picture of him would ascertain that.  To make my point more clear look how he appears next to the smaller Andrew Wiggins. Joel's proportionate.  It shows as he runs.  You don't feel empathy for him because running looks enjoyable in his body.  He doesn't have the same extra stress weight you have from being a Cavs fan in a Cleveland Winter.
In volleyball, you move your hands quickly so you don't palm the ball, and you keep your hands up to stay ready.  Joel Embiid brings those traits to the basketball floor. He makes quick movements most of the time.
From the footage I've seen, Embiid is pretty quick to get into a shooting motion, dribble, or do a post move.  The above video shows his quick decision making during his first two offensive possessions.  This keeps teams from stopping him; however, when he is a second too slow, he panics if he's doubled and usually throws errant passes leading to his high turnover rate.  This may become a problem in the NBA as lots of teams pack the paint to stop easy buckets.
Embiid should move past that phase quickly.  He usually keeps the ball high when he is the post.  Remember when the only way to stop a young Dwight Howard was to rip the ball from him as he brought it to his waist to gather?  Embiid is past that issue already and just needs to work on decision making when he is panicked. He also has a crazy power move which has gone unnoticed.  Remember Goku's Spirit Bomb attack that took at least seven episodes to happen?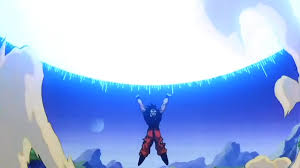 Embiid's dunking is practically the same thing and takes three seconds to do.  Watch his recent work out video and you will be amazed.
He is doing drop step moves three feet in from the three-point line and finishing with one dribble.  That's amazing by itself, but what's even more amazing is watching his college highlights.
Embiid has a rip through move on the level of Kevin Durant that could be named an R.I.P. move.  It can be seen in the workout video against no defense.  The mechanics are solid.
Imagine if Durant was able to do his rip through, then take one dribble from the three line , then have the strength to take all the hits in the paint , and then finally dunk over someone.  That's what Joel has.  He can catch a pass on the side of the key, spin to face up and put the ball to the inside of the defender in one motion before dribbling and scoring.  It's fast and catches people out of nowhere.  Now, pair that with good jump shot form and you have a seven foot man that can take a player off the dribble at the three line in the near future.
Witness a perfect executed fake to drive followed by a nice looking jumper against Kansas.  That is exactly what will be torturing defenses in the future.
Defensively, just ahhhhhhhh.  He could make Kyrie Irving look so much better by erasing Irving's lapses.
Irving's man blows by and wants to use the hoop to shield himself from a defender.  It doesn't happen anymore.
One of the knocks on Embiid by professional scouts is that he over helps on defense and his guy slips under for easy points.  It's a very valid point, but at the NBA level this won't be as much of an issue because players are taught to switch to the open man as soon as their guy gets switched onto.  His lost man won't be uncovered as much in the NBA.
Speaking of boxing out, Embiid is able to do that in a way that allows him to get his rebounds.  Players like Roy Hibbert are said to help the team rebound by boxing out, but Embiid is able to box out then recover quickly to grab the ball.  That is a help on any team that needs players focused on keeping shooters from being open on tip outs.
Embiid does suffer from trying to block every shot and will fall for pump fakes, but as time goes on he will get better about doing that.  This has to happen because the biggest threat to him succeeding in the NBA, aside from health issues, is going to be an inability to stay on the floor.  His adjusted foul rate for forty minutes puts him at 5.8 fouls.  He's fouling out in the NBA no matter what if he doesn't get better at playing solid defense.  NBA players will pump fake and stutter step until Embiid goes to the bench.  Embiid fouls so much for a few reasons: he doesn't know how much to help, so he often gets out of position; he gets frustrated if players try to pull him out of the paint; and he just isn't patient enough to realize his size alone is going to deter shots without moving or jumping.
A veteran big man, such as the Cavs' Anderson Varejao, will have to work with Embiid to teach him that just being big and in the right spot can do wonders for a team defensively.  Andy is one of the better players in the NBA at just moving with his hands up high and bugging people.  Embiid won't get as many big blocks when he starts to play  this way, but he will see the floor more and become much more effective overall.
That brings me to my last point: he's only played organized basketball three years.  He's going to get better and if he is already this good what will his end point be? Nobody knows, but everybody hopes he reaches it.
There is talk that he may have back issues.  My first retort is check out the workout video I posted of him earlier.  It's above, but here it is again. That's not that old.  I don't think he's injured anymore with how he's moving.  But, Trevor Magnotti at Right Down Euclid researched his injury extensively and determined it was nothing serious.  My conclusion, "Please don't be injury prone."  Let Trevor be right and let the young man from Cameroon become the number one pick.
Tags: Crazy Drop Step, Draft Profiles, Joel Embiid, Rip Through Move