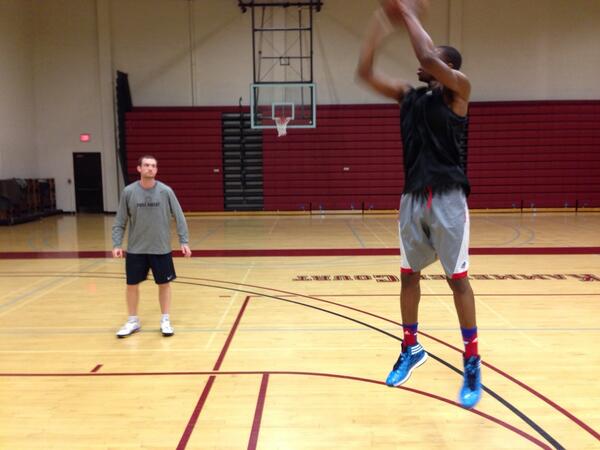 Welcome to a special Memorial Day links edition of CtB.  We've a lot to get to. First off, let's thank our service members whose sacrifices we are eternally grateful for. Second, we still have no idea who the Cavs are drafting. I've seen mock drafts with each of the three wunderkinds going first. This collection of mock drafts from Cavs.com has six sites picking Wiggins, three picking Embiid, and two picking Parker. And I've heard more than a little talk about the pick being moved. We may not know anything till June 26th.
Draft Madness
Joel Embiid:
First off, Trevor Magnotti from Right Down Euclid breaks down the medical details about Joel Embiid's back injury. After a lot of fascinating technical details, he comes to an optimistic conclusion.
Based on prior examples and the method of treatment for Embiid's injury, I don't think there's much of a precedent for concern surrounding Embiid's injury. The possibility is there, of course, but everything Embiid has done has been done the right way for this injury to heal. A lot of the concern around this has clearly come from problems involving a limited understanding of back injury. This isn't a disc problem, which can be a very debilitating and career-ending injury… the possibility of Embiid becoming a Greg Oden redux is very low.
Trevor's piece was detailed and informative, but his conclusions are a little heavy on confirmation bias, and it was troubling that Magnotti did not even address the implications of Embiid's high school back problems. For a more pessimistic piece, check out Matt McCarthy of Deadspin from March.
Like Olajuwon, he only began playing in high school and it's now clear that his body hasn't adjusted to rigors of dragging a 250-pound frame up and down the court night after night. If he'd been playing basketball his entire life, this might not have happened.
Equally concerning is that Embiid's high school basketball injuries seem shrouded in a little more mystery, and may not have been handled as well as they were at Kansas. Gary Bedore of KUSports.com talked to Embiid's high school coach about it.
"He had that a little bit last year. He tried to fight through it, mostly after the season," Embiid's high school coach, Justin Harden of The Rock School in Gainesville, Fla., said…

"It started hurting him about this time last year. He played through it."
Fortunately, Embiid seems pretty well recovered in this eyepopping video from his workout in Los Angeles, last week. Embiid seems like he's playing on a kiddie hoop.  He might be the most effortless dunker I've seen since Shaq.
Last bit on Embiid…
Joel Embiid's measurements at the workout on Fri: 7′ 1″ in shoes, 7′ 5.75″ wingspan, 9′ 5.5″ standing reach.

— Chad Ford (@chadfordinsider) May 25, 2014
Andrew Wiggins:
The PD's Mary Schmidt Boyer had this piece on Wiggins, Saturday.  Boyer notes Wiggins' world class athletic lineage. He is the son of the fastest 200M and 400M sprinter in Canadian Women's Track history: silver medalist, Marita Payne. And Andrew's father, Mitchell, was a six year NBA pro.
Andrew Wiggins measurements from today. 6′ 8.75″ in shoes, 7′ 0″ wingspan, 8″ 11″ standing reach.— Chad Ford (@chadfordinsider) May 26, 2014
If Andrew Wiggins has 8'11" reach and a 44″ one-step vertical, his touch is 12'7". Top of backboard is 13 ft.

— Michael Grange (@michaelgrange) May 26, 2014
Stay tuned, because Ford has the highlights of Wiggins' workout coming on Tuesday. (The cover pick is Wiggins practicing a step-back). One thing I will say about Wiggins, his handle may have been an issue, especially early in the season but a lot of people are cherry picking bad games from early in the season, instead of some of his late season monster games. Check out the video below for Wiggins flashing crossovers, spin moves, and monster defense. One reason to cut him some slack? He's still growing.
Jabari Parker
Tyler Lashbrook of SBNation went in depth to break down Jabari Parker, on Friday.
In transition, Parker is a one-man wrecking ball. He can grab a defensive rebound and fly up the court by himself or finesse his way past a flurry of defenders. He doesn't run as fast or jump as high as Wiggins, but he's still a very good athlete.

Parker's issues break down into two categories: Defense and shot selection. He struggles defending faster wing players out on the perimeter because he doesn't sit down in a defensive stance. Instead, he stands hunched over, making it easy for opponents to drive past him.
Here's Jabari's L.A. Workout video.  Whoa.
Coaching Madness
So, the Cavs coaching search continues. Color me underwhelmed. Lionel Hollins is once again a hot commodity, in the mix for the Cleveland and Lakers jobs, according to USA Today. Also on deck for interviews? Adrian Griffin of the Bulls, and Clippers assistants Tyron Lue and Alvin Gentry. Also seeing tweets that say Vinnie Del Negro is getting an interview. Is it me or are the Cavs going after a lot of guys without the gravitas to challenge David Griffin and Dan Gilbert's meddling? Mitch Lawrence at The NY Daily News filed this crazy report.
New GM David Griffin is looking for a college or NBA coach who agrees to accept input and instructions from himself and the Cavs' notorious hands-on owner, Dan Gilbert. That makes for a potential nightmare
Miami assistant, David Fizdale, has mostly avoided the coaching search spotlight to focus on the Heat's playoff run, reports the Miami Sun Sentinal (paywall). Color me impressed.
And yet amid such speculation about outside interest, including the most recent whispers that have him linked to the Cleveland Cavaliers' vacancy, David Fizdale has dug in and insists he isn't looking to go anywhere. So once again amid a deep Miami Heat playoff run, Fizdale has found himself trying to quell an opponent and quiet rumors. "There have been no contact, no conversations, nothing like that," Fizdale said of the coaching swirl that again has him in the vortex. "Quite honestly, Spo gets very annoyed with me, because he's like, 'Why don't you care about being a head coach?' And I'm like, 'Cause we're in the playoffs.' "And I just don't think about it. I don't even know what jobs are open."
Kyrie Madness
Kyrie Irving's contract extension was in the news — again. A dubious story by Mitch Lawrence of the New York Daily News reports.
The Cavs are making noises that they aren't going to offer Kyrie Irving "max money" this summer via a long-term extension. They don't want to deal the 2014 All-Star Game MVP, but it could come to that, especially if the West Orange product and his family continue to tell people that he wants out. Irving hasn't been a leader in his first three seasons and he's also gained the unwelcomed reputation as a locker-room problem. Those are two reasons the Cavs don't see him as a max player.
There was lots of hand wringing over this, but personally, I don't buy it. The Cavs have too much to worry about to have even thought about this right now.
For a more nuanced discussion of whether the Cavs should offer Kyrie the Max, check out Nate Silver's (yes, that Nate Silver) piece on FiveThirtyEight.com, entitled, "When to sign an NBA Player to a max Contract."
Kyrie Irving hasn't made an All-NBA team and he isn't going to this season. But is he a close call or a flat 'no'? He's squarely on the left-hand side of our chartbased on win shares — and that metric likes Irving a lot better than some other systems. ESPN's NBA real plus-minus rated Irving as just the 37th (!) best point guard in the league, by contrast, in large part because it rates his defense as awful.

If Irving has a 50 percent chance of turning into Westbrook and a 50 percent chance of following the Francis course, the Cavs probably shouldn't sign him. (The team also has other options to explore: trading him, locking up his fifth season by making him a qualifying offer, and so forth.)
Ouch.
Miscellaneous Madness
Sam Vecenie of FTS  goes in depth to analyze all thirty picks of his Big Board 1.0. He chooses Wiggins No. 1 for the Cavs, and not without hesitation, citing Wiggins potential as the reason to pick him over Jabari Parker's readiness and Embiid's questionable health. But the real beauty is the next 29 picks. It's a great read.
And finally, get your tickets for this. I will cry if Dion is not a Cav next year.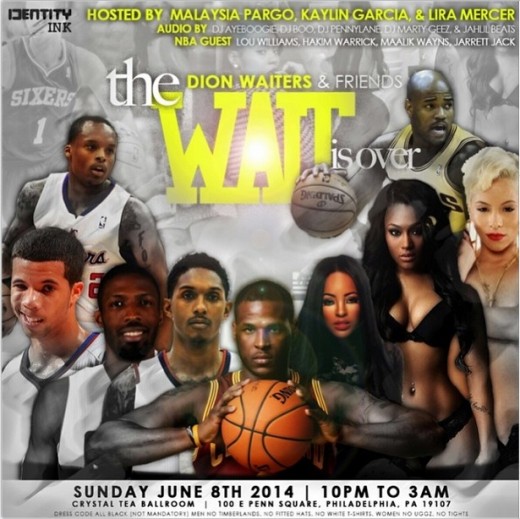 Tags: Alvin Gentry, Andrew Wiggins, dion waiters, Jabari Parker, Joel Embiid, Kyrie Irving, Lionel Hollins, Tyron Lue, Vinnie Del Negro