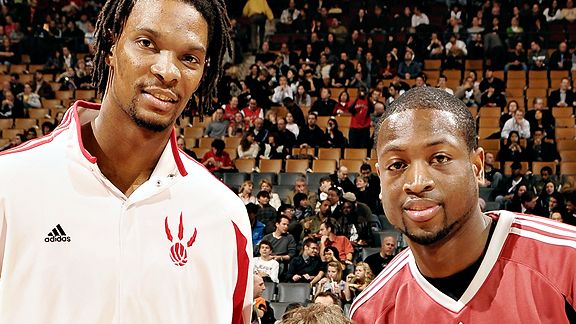 So Bosh decided on Miami, and Wade decided to stick around because of it. Not a bad choice for Bosh at all. He gets the money he wanted, he gets to live in Miami, and he gets to play with Wade. Not the most loyal move he could have made, and not the best basketball choice for him. (I think Cleveland, Chicago, or even Houston have better all-around rosters.)
The Heat have one great player, one very, very, very good player, a great city to play in, and some cap room. The motivations for Bosh's decision would be essentially the same reasons LeBron would decide to sign in New York, with the caveat being that Miami actually has draft picks.
Judging by the timing of these signings and LeBron's ESPN announcement, it looks like LeBron made his decision based on what Wade and Bosh did. As of right now, LeBron's options are:
-Suck it up, take the extra cash, and try to make it work without another superstar in Cleveland.
-Go to Chicago and be part of a Rose/?/LBJ/Boozer/Noah team. Not a super-team, but a darn good one.
-Go to Miami, possibly taking a pay cut, and do the trio of doom thing. Might take a year or two for the team's roster to fill out, though.
-Say "screw it," join Amar'e on the Knicks, run some great pick-and-rolls, make a lot of money, possibly become the A-Rod of basketball, win relatively few playoff games.
-Go to the Nets, for some reason.
-Pretend the Clippers' front office doesn't exist, join their team.
Right now, I think it'll be Miami or Cleveland, and neither one is really an ideal option for LeBron. Sigh. I guess we'll all have to wait and see what happens.