Let me start by saying I currently have two enormous pet peeves frequently generated by journalists/pundits.  The first is the use of the word "nuance" or "nuanced" which is code for "I am enlightened and/or reasonable enough to understand that the world isn't black and white, there are "shades of gray" and therefore my "nuanced" discussion or analysis is superior to your opinions, which are essentially Neanderthal grunting".
This thinly-veiled hubris is insufferable, and the phrase du jour has permeated every sector and level of journalism.  It's one thing when the almond-milk drinkers at The Atlantic are using it; it's another when sportswriters writing about…well sports, revert to it over and over and over.  Can we go back to talking like characters from "da Bears" sketches already?  It's just as intelligent, only without the overwhelming smugness.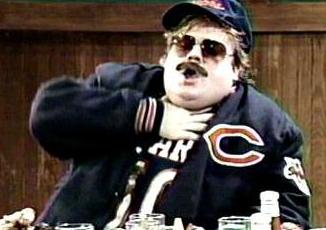 OK, I know that rant was equally awful, but I had to get it off my chest.  My second pet peeve is serious – I hate (hate!) when sports pundits tell people how to feel about something sports-related.  It's a sign that they've lost all perspective on life and actually think their duty is to paternalistically monitor, enlighten, and rectify a fan's emotional response to sports.
fəˈnatik/
noun
a person filled with excessive and single-minded zeal
It's SPORTS.  The whole point is to be a little nutty (so long as no one gets hurt).  It's supposed to be irrational.  One of the most profound exchanges of my adult life came in Portland while waiting for the train with one of my former bosses.  He read my "Why I Want LeBron to Fail Forever" series and took exception that I was disapproving of LeBron's decision.  "He's a free agent, he's allowed to leave!" he said.   "He can do whatever he wants!" I shouted back, "and as a fan, I can hate what he did."  After a moment of silence… "I wish him no ill-will, when he steps OFF the basketball court…"  And that was enough.  My former boss (who started out just simply trolling me before it got heated) was satisfied.  "Yeah." he said with a smirk, "I guess you are allowed to hate it."
And that's the thing about sports, it's the last vestige of good ol' fashioned argument.   Someone once described sports as simulated war – that which quenches our tribal instincts (without all the death and suffering).  But sports has become something else.  Sports is our last bastion of truly "free speech zones".  And I mean that sincerely.  You can have literally any opinion about sports and chances are no one is going to hold it against you personally.  All those millions (actually probably billions) of hyperventilating Kobe fans I spent seven years bombarding – I mean I think they're delusional – but I don't hold it against them!  I'd actually respect them less if they were "nuanced" and succumbed to my analytical blitzkrieg.  Be CRAZY.  Be irrational!  Perform all the mental gymnastics you need to convince yourself Kobe is even in the same conversation as Jordan….  IT'S SPORTS!  YOU'RE ALLOWED.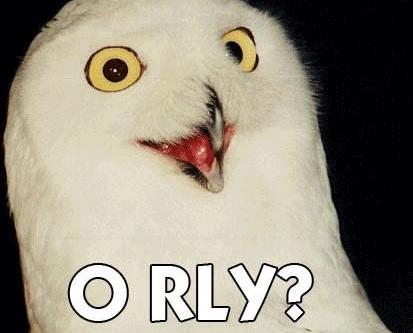 Given all that (if you're still here) it's with great discomfort (and only after a lot of soul searching) that I'm about to explain to you (so that you can understand) how to feel about the Cavs winning the draft lottery (again).  I'll be sure not to make it "nuanced" because I have a strong opinion backed by facts so I don't need to manufacture a sense of false paralysis in my arguments to convince myself I'm above the fray.  I'm not.
Feelings You Shouldn't Have about the Cavs Winning the Draft Lottery:
1.) Feigned astonishment cloaking a general sore-losership that the Cavs have won "Three of the last four drafts!!!?"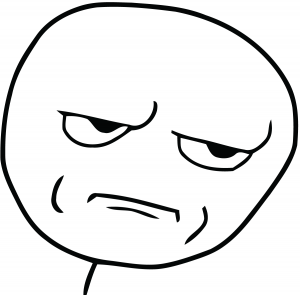 Why not?
Because not all lotteries are created equal.  If you have two friends and the first "wins" three prizes from the reverse raffle at a church fish fry, netting the Directors-Cut DVD of 'The Sound of Music' (the Carrie Underwood Edition tho), a sleeve of corporate-logo golf balls (pinnacle golds), and a goldfish in a zip-lock bag (already listing 45 degrees) and your other friend wins the Powerball, you don't freak out and say "ARE YOU KIDDING ME!?  AAAAND the PINNACLE GOLDS?!  So bleepin lucky….es em aych man…es em aych."
The reality is that the Cavs have gotten lucky exactly one time since LeBron James assassinated basketball in Cleveland.  And, yes, it was this week.  Allow me to explain (so you can understand).  In 2011, the Cavs set a pro basketball sports record for consecutive losses (matched this season by the #tankstrong 76ers).  They played Ryan Hollins over a thousand minutes, and he rewarded them with more fouls than rebounds.  (but I choose to remember this and this)  For all their suffering, the god of ping pong balls rewarded them with the number four pick in the upcoming draft that was relatively weak across the board.  Historians are still trying to sort it all out, but early returns suggest the Cavs had to choose between Tristan Thompson, an undersized PF that the analytics community loved, and a legit 7-foot EuroBig that wouldn't come overseas for at least a year.  Both guys have been underwhelming and lineups that include Thompson and Irving or Thompson and Waiters have been atrocious.  So that's what Cleveland won.  They won Tristan Thompson.  "Let the LeBron Reparations be concluded – the league/karma gods have righted a great wrong".
Or not.
No, I didn't forget Kyrie Irving.  The Cavs didn't win Kyrie Irving.  The CLIPPERS won Kyrie Irving.  The upstart Clippers who were seeded 8th and had a 2.8% chanced of winning the draft lottery won the draft lottery.  Imagine that, it does exactly what it was intended to do.  So how did Kyrie Irving come to be a Cavalier?  How could such an inept organization just steal away the number one pick?  #WellActually, Dan Gilbert paid $12 million dollars for it.
Dan Gilbert has put his money where his mouth is, in a way that is almost unprecedented in the NBA. At the trade deadline, the Cavs traded in-his-prime point guard Mo Williams for prime-rib-loving point guard Baron Davis, who hasn't tried in two years.

The Cavs must pay Davis roughly $29 million over the next two seasons. Williams gets $17 million. (Jamario Moon, who was included in the deal, has a team option of $3.2 million that the Clippers can decline if they choose.) The Cavs also got the Clippers' 2011 first-round pick in the trade.
I know at least one popular NBA pundit out there has written extensively on the stingy financial decisions of both the Suns and the Thunder.  (I'm talking about our own Nate Smith obviously.) It's the belief of many that those ownership groups may have sabotaged (or be sabotaging) their franchise's title hopes by letting all-stars like Joe Johnson and James Harden walk so as to avoid the luxury tax.  The overarching message I got for that popular pundit, and all the others that have written about the subject, is that it's "bad" when owners do this, and really very good when they dig deep into their wallets to win at all costs.
So Dan Gilbert spent $12 million dollars on the chance the Clippers pick (which they didn't protect) would net the Cavs a solid player.  And it did.  The next time someone buys 12 million dollars of powerball tickets and wins, I think the narrative can be "wow, that guy really wanted it!"  Not "what a lucky slash incompetent fool."  So making a shrewd trade and taking on a crapton of salary "won" the Cavs the lottery.  That's not luck, that's good management.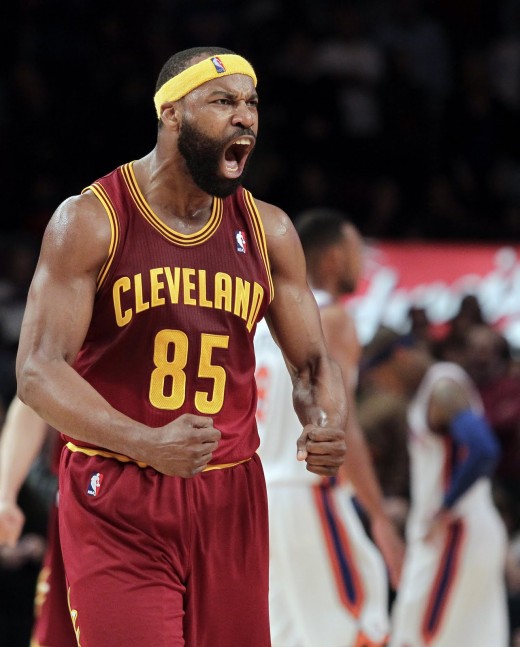 2.) Discouragement that God may actually Love Cleveland and your whole worldview no-longer makes sense.
Why not?
Because…EVERYTHING?!  Josh Gordon stands out, but pretty much everything.  As it relates to the Cavs, they just completed one of the most surreal (and in a mostly negative way) seasons imaginable.  Every move they made (the good, the bad, and the nuanced) ended up fugly.  And really, outside of the mostly indefensible Earl Clark signing, the Cavs made decisions that anyone could get behind.  The harmonious chorus sang in delight over the additions of Jarrett Jack and Andrew Bynum.  Bynum, given the contract, seemed low-risk, high-reward, and his procurement was lauded as a ballsy move by a team that historically struggles to land free agents.  And despite the Cavs working with Bynum to actually get him healthy enough to play (which seems like it should have been the hard part) they were absolutely abominable with him on the court, and he was more or less kicked off the team for his behavior in practice.   Jack was seen as a no-risk, high reward culture changer by everyone including his former coach Mark Jackson.  For most of the season Jack's production and efficiency was crap, but hey, at least he provided that solid veteran leadership.  (His WS/48 went from .115 to .049)
Oh and then Anthony Bennett happened.  A guy that Chad Ford claimed could be a consensus number one if he was two inches taller (also called him a similar but much more athletic version of Paul Millsap) and DraftExpress rated him as sixth prospect overall on their draft board.  Since he wasn't a PG or an SG, out for the season, or from the Zeller clan, he was selected.  Turns out the Cavs found a way to shatter all incompetence records (breaking their own previous record) by drafting Bennett and not knowing he likes pizza.   #WellActually, it turns out, the Anthony Bennett from all the pre-draft youtube videos was actually one of the Monstars training at UNLV for Space Jam 2.  After the news broke that it was all a hoax and there would be no movie, he went back to his original form, bought a dog and a bike and retired to Portland.  What the Cavs have now is a shapeshifting life-form that watched basketball on a European streaming site for years, studying the game and trying to understand its nuances, so that he could one day dominate.  The only problem was the stream got corrupted, and instead of waiting for it to buffer, he kept impatiently replaying the David Wesley layup sequence on a loop.  It's the only logical explanation.
Was it a bad pick?  Probably.  (Ok Yes)  But honestly, other than taking a flier on Nerlens Noel I'm not convinced anyone in Cleveland would trade shape-shifting Anthony Bennett for one of his other draftmates.  They all underwhelm.  And UNLV Bennett actually fits the Cavs roster perfectly – so if someone can send our shape-shifting friend a feed, maybe he can start training again.  Winning that lottery was like winning the right to get in line first at Golden Corral.  A pyrrhic victory, at least for your stomach.
So where is all this transcendent grace coming from?  Not from heaven, as Dion Waiters and Kyrie Irving may or may not have brawled in the locker room to kick off the season, Luol Deng showed up and made the defense somehow worse (at least for the first month), and the Cavs had more 5-second violations in one season than most people witness in a lifetime.   The Curse of Rocky Colavito is still in full force.  Also, you should definitely listen to Jason Whitlock's podcast for his interview (in the middle) with Brian Windhorst.  It's here.  The last segment features Heat Index writer Michael Wallace.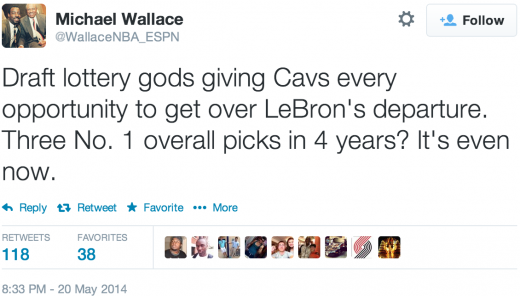 In the podcast with Whitlock (which was, again, excellent), Wallace asked: "if you're a GM, and someone says, 'OK, we'll trade you three No. 1 picks over the next four years for LeBron James' – wouldn't you make that trade?"  Whitlock wouldn't bite, that still wasn't enough of a package, so Wallace continued – "If it turned out to be Anthony Davis, Kyrie Irving, and any of these top three guys….I would take that in a heartbeat….."
Well….yeah.  Had the Cavs won Anthony Davis, the best prospect since Kevin Durant, and paired him with another potential superstar in Kyrie Irving and one of this draft's big-three, then this post would be a recommendation that we all feel differently about God's role in Cleveland Sports.  But the difference between an argument that includes the Cavs winning Anthony Davis and the reality that they didn't win Anthony Davis is..I'm gonna go with significant?  Yep – there's a significant difference.  And it's more than just that.  Here's the story, to add to our lore:  the Cavs and the Pelicans (then Hornets) tied for the third seed in the 2012 lottery.  There was a coin flip to determine which team would be seeded third and receive the ping ball balls assigned to the third seed and which team would be seeded fourth and receive the ping pong balls assigned to the fourth seed.  And the fated ping-pong ball that brokered the Anthony Davis lottery was from the family of four-Seeds.  The Cavs winning that coin flip, now THAT was a pyrrhic victory.
If you really need more proof that God is not a Cleveland Sports fan – recall that the 2007 Cleveland Indians, up three games to one on the eventual World Series sweeping Red Sox, ended up losing thanks in large part to JD Drew's iconoclastic grand slam, which Bill Simmons dubbed "the 14 million dollar grand slam".  He wrote an epic post about it, and in the most vivid way possible, expressed how impossibly unimaginable it was.   And in Cleveland?  The infograph showing us that Drew was oh-fer with RISP in the series was essentially our canary in the coal-mine.  We knew we were goners right then.  But wait, there's more!  Here's the twisted blade of fate that I recall.  I recall that the Indians, up 3-1 in that series, were without 2008 CY Young Winner Cliff Lee for that entire series.  How unlucky is that!  Oh, and the reason they were without 2008 CY Young Winner Cliff Lee?  Because he freaking sucked in 2007 – he was so bad they sent him to the minors to fix his control and left him off the playoff roster (which no one disagreed with).  Think the 2008 version of Cliff Lee on the 2007 Indians improves their chances of closing out that series?
3.) Rage that the least deserving team was given a handout.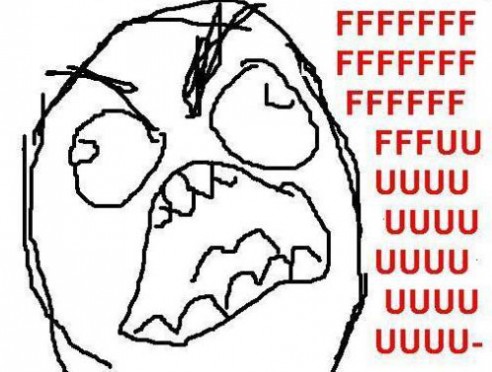 Other folks have already chimed in with their take on Bill Simmons' now-famous draft rage including ESPN's own Scott Van Pelt.  Instead of re-inventing the wheel to make my point, I'm just going to steal these notes from Jacob Greenberg:  First, Greenberg facetiously tells a team what not to do in order to maximize tanking:
Don't sign anyone who can help you, even if it means dipping under the salary-cap floor and going down as the cheapest NBA team ever.

What's the point of signing veterans like Jarrett Jack, Carl Landry, and Shaun Livingston in July just because you have the extra money? So they can tie up your cap, give you depth, make you a few wins better, take young players under their wing and maybe even teach them good work habits and professional behavior and all that overrated stuff? Screw that!
You may recall that the Cavs overpaid for Jarrett Jack this season.  Greenberg goes on to explain the other tanking strategies including some crafty veteran tanking moves.  He was mostly explaining what the 76ers and Bucks did all season.  And then, Jacob Greenberg emerged from the piece and revealed his true feelings:
And that's why this tanking bullshit matters. When 36 percent of your league is willfully throwing away the last five weeks of an 82-game season, you're doing something wrong.
That's great stuff by Jacob Greenberg.  He wrote another piece too.  Today, in fact.  Here is the "it" paragraph:
Of course, this is perplexing for several reasons. The primary reason, of course, is that, unlike other lottery participants — in fact, nearly every single one — Cleveland did not tank. No, they went for it this year, Dan Gilbert had ants in his pants. They weren't the Sixers, who lost nearly 30 straight games and still had the audacity to say they had completed a "successful season." They weren't the Bucks, who boasted a point differential of -8.2 in their games, and had billboards in their cities with ping pong balls emblazoned on the front. They weren't the Celtics or the Lakers, who proudly displayed their tank jobs to a national television audience throughout the year. No, the Cavs went for it this year, rehiring successful former coach Mike Brown, and signing sought-after free agents like Andrew Bynum, Jarrett Jack and Earl Clark in a push to qualify for the playoffs. When things didn't go well for Brown or the Cavs, they took on more salary, adding Luol Deng and Spencer Hawes by trade, and jettisoning Bynum to the Pacers. They did everything they could to qualify for the playoffs, scraping with the Hawks and the Knicks for the final spot in a desperate effort to save face. And when the season ended, the organization behaved like the team had vastly under-performed –because, well, they had — and fired the coach, as well as all of his assistants. By all accounts, this was a team that attempted to win, and for a bevy of reasons, it didn't come together. Assuredly, this is exactly the team that "deserves" to win the lottery; one that didn't plan to be obsolete, it just didn't work.
[Nodding head] Yep.  The Cavs rebooted their season four different times to….TRY TO MAKE THE PLAYOFFS!  It didn't happen, we get it, they sucked. But when they were still in the hunt, they traded for Rent-A-Deng. Then they traded for Rent-A-Hawes. They rehabbed Andrew Bynum and tried to make that work. They were the most ANTI-Tanking team in the NBA last season from the perspective that, at least 10 times throughout the season, they should have said "ya know – we're terrible, it ain't happenin', play the young guys, let's hope for a top three pick", only…that is the thing that every pundit furiously raged about all season long, and….the Cavs DIDN'T DO IT.  Some of the best NBA writers out there even conceded that (despite hating tanking) the smart thing for the Cavs was probably to just take their medicine.  From Grantland's Zach Lowe:
Also, the Deng trade may take Cleveland out of the most anticipated lottery in a decade…Cleveland could have continued its run toward the bottom ahead of a stacked draft. That would have probably been the wiser move in a vacuum, but the Cavs aren't operating in a vacuum.
I actually argued this as well, against Nate in a Cavs:The Duels:
The way I see it, the Cavs are severely lacking in talent.  They need more talent, much more of it.  If a bottom-10 NBA team (which is what I believe the Cavs are with Luol Deng) wants to miss out on the most talent rich (and top heavy) draft in a decade, it should be for a very good reason.  "Making the playoffs" is not a good enough reason when 33 wins in a conference full of tanking teams meets that self-imposed requirement.  There are five to seven players in the 2014 Draft class that if eligible in 2013 would have easily been the No. 1 pick.
Of course the Cavs never even considered tanking, not for one second, this season.
With Lowe and I willing to experiment in the dark magicks, I'm glad the NBA community has thoughtful purists like Greenberg to advocate so furiously against tanking.  But the joke's on you dear reader, for not clicking the hyperlinks (always click my links!), else you'd by now realize it was Bill Simmons, not Jacob Greenberg, that actually derided the shameless tanking in the first paragraph.
I can only assume that the guy on TV the other night is also an out-of-work Monstar from Space Jam 2.  How else to explain the cognitive dissonance between choosing the most anti-tanking team of the 2013-2014 season and declaring it the only team unfit for the spoils of the #1 pick in the 2014 lottery.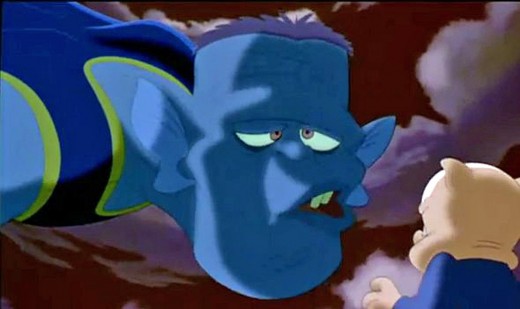 You simply can't.  Once again the draft did exactly what it is intended to do – and in an uncharacteristic lapse, God forgot that the 2013 NBA draft class was last year.  (Give Him a break, he's got way more important concerns than sports – like, everything else.)
And that, dear readers, brings me full circle.  You can't explain (so that plebeians will understand) the nuances of the vitriol being directed at Cleveland, the Cavs franchise, fate, God, the draft process.  It's all contradictory.  And you know what, that's exactly the way it should be.  It's sports, not a GeoPolitical summit!  Believe something fundamental about the game – when it's convenient!  Go COMPLETELY the opposite way when it's not!  If you need assistance, just dial 8 and the nearest Kobe fan will be with you shortly.  Just make stuff up half the time!  As long as it's not boring – you're adding to the party!
So Rage on!  Flip out!  Let's go!  Do I need to remind you that the Cavs win the freaking draft lottery EVERY SINGLE YEAR?  It's GOTTA BE RIGGED.  Of course the NBA would want the Cavs to get all these No. 1 picks – it's the worst kept conspiracy in pro sports!  Time to change the draft lottery!  I vote for the wheel or the plinko – whichever is easier for Mallory Edens to spin/drop!  And let's add a rule that the Cavs can NEVER win the draft lottery again – at least not until we say so!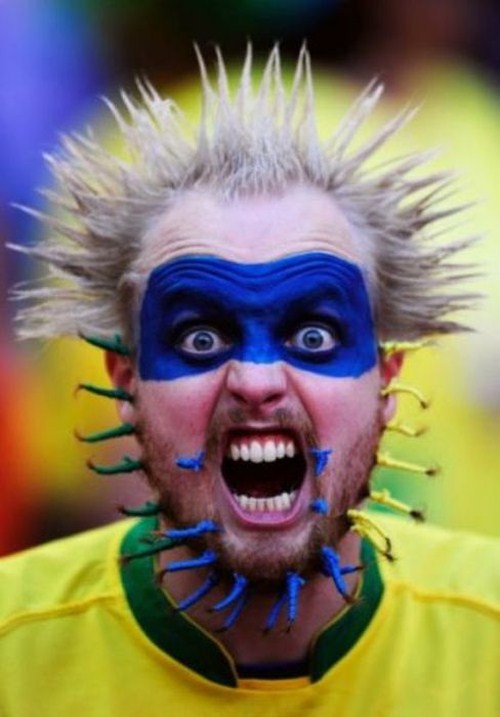 Tags: Anthony Bennet, Bill Simmons, Cleveland, God, Lottery, NBA Lottery