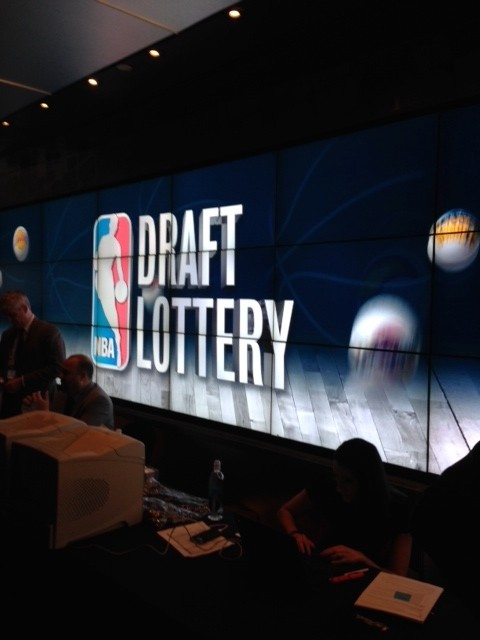 A quick recap of some of the stuff that wasn't caught (entirely) on camera…
•If you're not a Cavs fan or member of the Cavaliers organization, you were not particularly amused by Cleveland's lottery win Tuesday night. ESPN/Grantland's Bill Simmons was the most vocal in his disappointment (or, maybe he just had the biggest stage) but he was not alone in his frustration over the same team winning the lottery three out of four years. There was a lot of grumbling by the media when the Cavs jumped into the top three. When they eventually won, I was pretty sure that the Kings writer I'd been chatting with was giving serious thought to whether punching me would make him feel any better. The Cavs win, while great for us, seemed to make two things obvious to those in attendance: 1.) the lottery actually isn't rigged (unless this leads to LeBron's return, of course…) and 2.) the current system is failing to do what it's intended to do, namely to distribute talent evenly throughout the league and serve as a way for the league's worst teams to have a punchers chance of climbing out from the dregs, if even only for a time. The Cavs win so closely mirrors Orlando's back-to-back lottery wins in 1992 and 1993 that led to the weighted-odds model (both teams were legitimately bad the first year and less legitimately bad the following … although the Cavs, you know, still more so) that you have to imagine this will speed along whatever changes to the lottery are being bandied about in league offices.
• You meet David Griffin and you immediately … I don't know, want to go fishing with him or something. Everything I've responded to in his press conferences was evident in person. As I wrote about for Triangle Offense, when I first met him he punted my question, but he took me aside and pointed out the Cavs official I should talk to (who would, in kind, punt on my question). In talking with the media following the win, Griffin was quick-witted, courteous and had an easy, infectious optimism. Does any of that make him a lock to be a great GM? No, of course not. But he comes off as a genuine, thoughtful, intelligent person who, by all accounts, has a widely well-respected basketball mind. So, when you're building your great GM, it's not a bad place to start. Of course, check back after the draft and an off-season or two and see if this bloom's still on the rose.
• I think there's a bit much being made about how quick the Cavs will be to trade this pick, be it for an established player or for some other package. Griffin seemed legitimately thrilled at the possibility of adding one of the top players in this draft to his first official Cavs team. So, yes, the question was asked about whether they'd listen to trade offers and, of course, Griffin said he would and that he'd never rule out anything that could make the team better faster. I loved it when he followed that up with, "I'd trade me if it made the Cavaliers better." I'm sure he'll get cagier in how largely he leaves the specter of the Cavs trading the pick hanging over the draft — in fact, I'm sure he already has — but judging by his reaction on first blush I would bet very much of the very little money I have that the Cavs end up making that pick.
• Julius Erving gave me two of my biggest thrills of the evening. I'd heard that the Doctor was going to represent the Sixers, but I didn't know when I walked into the Draft Lottery pre-show reception that I'd immediately be standing next to the one and only Dr. J. He was kind enough to talk to me for a quick moment (the transcript is all stammers on my part, so I won't bother recapping) and then came through with the greatest array of disgusted facial contortions of the entire telecast (with an honorable mention going to Orlando Magic exec, Pat Williams). Man, I love when team reps get noticeably ruffled when the order is announced — and Dr. J, even in this much different arena, proved to be one of the greatest of all time.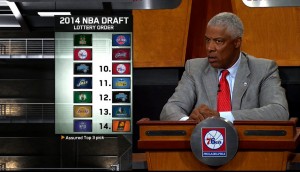 • Some other random observations: Andrew Wiggins is very tall (says the 6-foot professional typer) and he is skinny, but he is not Nerlens Noel skinny. Last year, Noel, at 6-11, could have nearly fit the entire width of his body inside my calf. Wiggins, at least, is normal person skinny… Milwaukee Bucks guard Brandon Knight, the guy that some were pulling for the Cavs selecting in the 2011 draft, strangely, does not look that much bigger than this 6-foot professional typer… Yes, Bucks' co-owner Wesley Edens's daughter, Mallory, is just that much of a lovely young lady in person. You should know, though, that she has been (unofficially) spoken for by Cavs: the Blog's own Mallory Factor. The pairing is so right, it's scary. So, the rest of you back down. Back. Down.