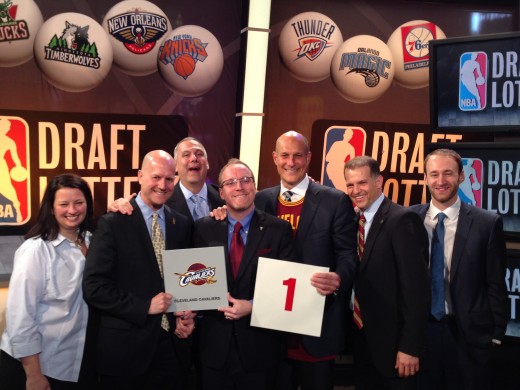 No Nick Gilbert? No problem. General Manger David Griffin is all the magic you need, Cleveland. In a truly shocking bit of ball bouncery, the ping-pongs came up Cavs netting the team the top overall pick in the most anticipated draft since the 2003 Draft which featured game changers like LeBron James, Dwyane Wade and Carmelo Anthony (among others) and which the Cavs, coincidentally, also won.
The Cavaliers finished this season at 33-44, the ninth worst record in the league. They had only a 1.7% chance of getting the top pick, but the crowd in attendance at the Times Square Studio in New York City started grumbling when they learned the Cavs had jumped up into the top three. They knew the Cavs had just gotten very lucky. What they didn't know was exactly how lucky.
An hour earlier, Cavs Vice Chairman, Jeff Cohen, who had been the team's representative in the sealed-off room where the number combinations are drawn in past years, as well, saw their winning combination of 7-9-13-14 come up. It's a feeling he's now known three times in the last four years.
"This really is it," Cohen told a reporter after the lottery. "I'm not coming back." Cohen, of course, echoes Cavs owner, Dan Gilbert's proclamation following last year's lottery that the Cavs would not be back again this year. But back in the lottery they were. However, now some good feelings might also return to a Cavs organization that widely underachieved this year, leading to the firing of former General Manager, Chris Grant, and head coach, Mike Brown, all while having four recent top-four picks on their roster.
"I feel really blessed that we're in this position," Griffin said. "I don't think that there's a clear number one in most drafts," but, he continued, "we're going to try to get radically better much quicker" then added "we're very open to what that means."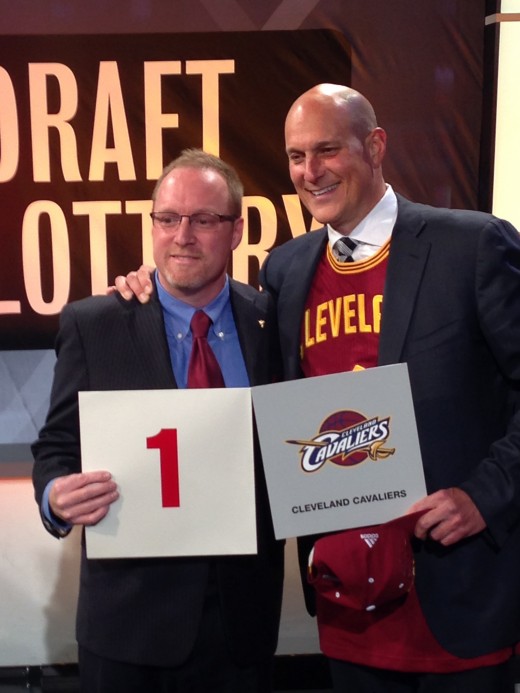 Does that mean the Cavs would consider trading the number one pick and the chance to get a potential franchise changer like Andrew Wiggins, Jabari Parker or Joel Embiid? "I don't think we'll ever rule anything out," Griffin said. "I'd trade me if it made the Cavaliers better."
Griffin already seems poised to make the Cavs better, though, so fans may want him to stick around. On this night, the newly-named GM got a little help from his late grandmother and from Nick Gilbert's closet. His two lucky charms, which he declined to reveal before the win, were a pin worn by his grandmother, Dana Griffin, who passed away the Saturday after the trade deadline, and the younger Gilbert's wine-colored bow tie disguised as a pocket square.
"I didn't wear it," Gilbert joked, "because no one else can swing Thor's hammer."
The lottery win shocked everyone in attendance at the Time Square Studio Tuesday night, Griffin included, but he immediately slotted it in and shifted focus to how it can help make his team better.
"We've got very clear criteria for what we feel makes us better as a team," he said.  "We've got a lot of young talent. A lot of young talent that, in some cases, doesn't fit terribly well together and, in some cases, has really helped each other grow. We need to get the right mix, the right person to advance us the quickest.
"Everything fits sort of like a puzzle, so we might have some piece that would augment the kid we would draft and vice versa. So, in terms of finding the middle, that will be a big function of the coaching staff. … Once we get to the point where we all know more of what this will look like, it will be easier to fit pieces into it."
Oh, that's right. The Cavs still have to hire a new head coach. Right. "If anything, I think [the lottery win] makes us a more attractive destination. But that's a process that's really is in its infancy right now and I don't think of them as being correlated."
For now, though, the team that was so short on luck during the regular season just got a great big dose of it.