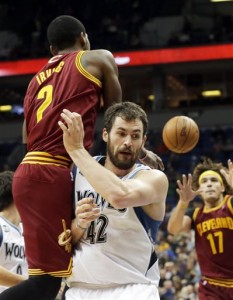 The Cavs are looking to the Western Conference for new talent and coaches.  Recent reports are saying the Cavaliers are interested in trading for the expiring contract of Kevin Love.  Mary Schmitt Boyer of The Plain Dealer reports on this situation.
The Cavs have plenty of assets, but Love, who can become a free agent in the summer of 2015, reportedly wants to go to a team that's ready to win. Still, it will be worth keeping an eye on as the draft and free agency approach.
Kevin Love would be an amazing player to pair with Kyrie Irving, but the Cavs should not make a trade for Love without an assurance he'll re-sign.  The organization could be left without their pick this year and down one or two young players if he walks after they trade for him.  Remember, the Wolves went 40-42 last year.  A 40-42 record would be an upgrade for the Cavs, but it looks like more of the same to Love.  Supposedly, he is leaning towards playing with the Bulls or Warriors.
–
The Cavs front office is looking for a new leader in former Western Conference coach, Lionel Hollins.  Mary Schmitt Boyer says that Hollins has been contacted by a lot of the other teams that are in need of a coach.  There are a lot of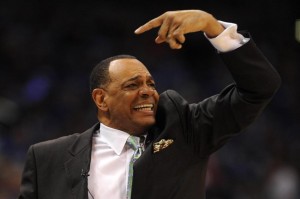 available coaches though, so they don't need to worry if they can't land Hollins.  Kirk at Waiting For Next Year has broken down all of the possible coaching candidates.  George Karl is his favorite, while Mark Price is looked at as a risky hire because he could never live up to fans' expectations.
[About George Karl] He's been a popular coach in some of the NBA's smaller markets. How often does a 1000-win NBA coach come right out and say that he WANTS to be in Cleveland? Karl can command the respect that Mike Brown failed to.

[About Mark Price] However, while I wouldn't necessarily be upset with this hire, I caution against it because of the unrealistic expectations that would be placed on arguably the most popular player in franchise history. What if it doesn't go well for Price? It could be an ugly end to a relationship that the Cavaliers need to maintain.
George Karl managed to make the playoffs with a star free roster his last year coaching, and his coaching style could do wonders for a Cavs team that lacks developed talent.
–
The new Cavs coach may not have to deal with Tristan Thompson.


Per league source Cavs look to trade Tristan Thompson. Key in probable trade is Cavs know Thompson requires a deal on par w/ Favors & Monroe

— Probasketballdraft (@Probballdraft) May 19, 2014
It feels dirty to think about trading such a loyal player, but sometimes a player isn't going to develop into what he might need to get paid in order to stay.  Is he worth the risk?
–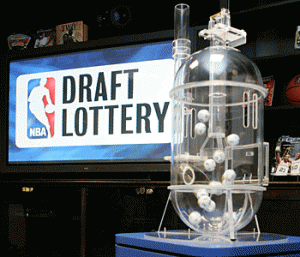 Tonight is the NBA draft lottery.  The Cavs have a 1.7% chance to win it and land a top three pick.  It can happen.  Cavs fans needs to perform their lucky dances and wear dirty jerseys to help the team land their third number one pick in four years (I wish I never had to type that sentence).  Head over to the Point Forward blog to start salivating over discussion of number one picks, who the Cavs may have a chance to draft.
–
Tags: George Karl, Lionel Hollins, NBA Lottery, Tristan Thompson