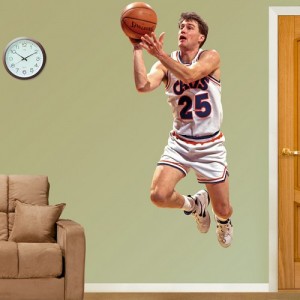 At Stepien Rules, there is a tremendous piece up about Mark Price being the man destined to coach for the Cavs.  He's a former Cav, improves teams' shooting, and helped turn the Charlotte Bobcats' previous season record of 21-61  into 43-39 this season.
Now, preseason, Mark Price is training Kemba Walker, teaching Kemba Walker, molding Kemba Walker.  He is throwing Walker bullet passes at the three point line. They are endless. Mark Price's bullet passes.  Kemba Walker spotting up, balancing his legs, firing.
Kemba shot 33% from the three line this season, which is a full percent better than last season.  He managed to shoot 47% from behind the three point arc during the playoffs taking six attempts a game.  What if Dion Waiters is in Kemba's place shooting those threes with Price?  What happens?
This is the Mark Price of today, the one that learned to persevere by shooting his own endless shots as a young man in Enid, Oklahoma, who learned to coach under his father, an Oklahoma basketball legend, who discovered the concept of a spread team play on offense and defense under Lenny Wilkens, who was taught defensive theory under Mike Fratello and Rick Adelman.  Who played for Hall of Famer Chuck Daly on the Orlando Magic. Who won a gold medal on Dream Team II with the winningest coach in NBA history Don Nelson. This is who Kemba Walker will miss if he moves on and into a head coaching role.
Price has the resume to demand respect from the young Cavs.  If that resume doesn't grab the attention of Kyrie Irving and Dion Waiters, the fact that he was a wonderful guard should.
He remains the dean of shooting a 29.5 inch circumference basketball through an 18 inch diameter rim.  He invented splitting the double team off the dribble, and he remains a commander in the understanding of the pick-and-roll.
I hope it is destiny for Mark Price to coach the Cavs.  If it's meant to be, he will end up in Cleveland somehow.  Maybe he has an irrational fear of bees and will not want to work for a team named the Hornets, so he'll seek refuge at his old home.  Hopefully, he just wants to be here.
–
Rodney Hood, who stands at 6'8" and 208 pounds, is a proven college shooter that the Cavs may want to target according to Bob Evans at Buckeye State Sports.  The Cavs are definitely interested in LaQuinton Ross, who stands at 6'7″ and 238 pounds, and they have scheduled a workout with him on Monday.  Ross will probably go later in the first round or early in the second round.
He shot at the NBA draft combine yesterday from a variety of places on the floor.  From the NBA three line he made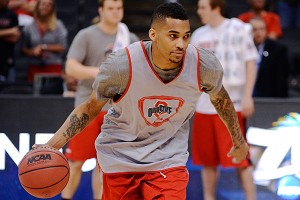 16-25.  He made 6-10 from the corner three spots.  If he can translate that shooting to the NBA, he may be a great addition to the Cavs for a kick out guy.  The extra weight he has on Hood may make the transition to defending NBA players easier and make him the better choice of the pair.
–
One of my favorite reads is Bud Shaw's "You Said It" weekly piece.
Bud: Now that David Griffin has made it absolutely, without-a-doubt perfectly clear that Kyrie Irving had definitely, conclusively and unconditionally nothing to do with Mike Brown's firing, who do you think Kyrie wants as the next head coach? – Warren Friedman

My sources tell me Kyrie is looking for a coach who will challenge him to play exactly the way Kyrie wants to play.

Bud: Great! Just what Cavs' fans need! A doctor telling Anthony Bennett to eat all the ice cream he wants! – Jim Corrigan, Fairview Park
Does Anthony Bennett hold the record for most times a player is mentioned in the same sentence as a food item for the Cavs?  Shawn Kemp may be the only other Cavalier that has him beat.
Tags: LaQuinton Ross, Mark Price, Rodney Hood, Shawn Kemp