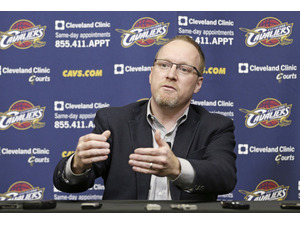 Mike Brown is gone and now I'm blue.  I was never the biggest Brown supporter, but I am a supporter of stability, something the Cavs have lacked during the past few seasons.  Now, the instability is only going to continue.
David Zavac at Fear The Sword thinks David Griffin is going to make a lot of changes.  He just isn't sure what the next moves with Dion Waiters, Tristan Thompson, and Kyrie Irving will be.
-We have suffered through and over-analyzed and at times genuinely enjoyed two years of Waiters. Some of us have done the same with Thompson. I have no idea what either player becomes. Maybe both are destined to be bench players. Maybe they are both starters, perhaps even good ones. One just recently turned 23, the other is 22. We have put the time in cheering for these players through tough years. Wouldn't it be awful to see them turn the corner somewhere else?

-I think Griffin is the right man for the job. I think the Cavaliers are headed in the right direction. But I have a feeling a couple of the moves that get things going might just bum me out a little bit. That's okay, because ultimately the goal is to win games, and perhaps one day a championship.
–
Anthony Bennett is probably feeling a little down, too, because he had his tonsils taken out. Even though it is the least career changing surgery of all the surgeries an NBA player can have, it's actually extra helpful for Bennett considering that it may help his sleep apnea.  Mary Schmitt Boyer at The Plain Dealer reports.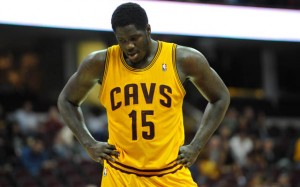 Cavaliers forward Anthony Bennett, the No. 1 pick in the 2013 NBA Draft, is recovering after having his tonsils and adenoids out at the Cleveland Clinic on Tuesday, his second surgery in two summers. It is expected to help relieve his sleep apnea.
I'm predicting a rested Bennett equals a resourceful role player.
–
Marc Stein of ESPN is reporting a few a things about the Brown firing.  First off, Dan Gilbert isn't cheap.
Gilbert had to swallow a borderline unprecedented four years of guaranteed salary to Brown to give the freshly installed Griffin free rein to bring in his own man … and make it clear to Irving in the process that the Cavs are prepared to do whatever it takes to get him to sign that max extension between July 1 and Halloween.
The alleged coaching candidates are varied and are all being pursued by multiple teams.
The immediate buzz in coaching circles, in terms of potential Brown replacements, has focused on various coaches Griffin worked with as a Phoenix Suns executive: Alvin Gentry, Vinny Del Negro and, yes, Mike D'Antoni. Available veterans such as Lionel Hollins, George Karl and Mark Jackson are likewise quickly connected to any opening these days — with USA Today's Sam Amick also listing Chicago Bulls assistant Adrian Griffin as a top candidate — but you're advised to keep an eye on Gentry.
–
The most interesting Cavs read for the day comes from Jonathon Abrams at Grantland.  Abrams deals with Andre Miller in his profile piece.  Miller, who was drafted by the Cavs in 1999 with the eighth pick, is a stand up man even if he isn't as loved by fans as he should be.
Dunks be damned — unless he's throwing the perfect lob that sets one up. "At this level, it's basically a popularity contest," the 38-year-old Miller, now a Washington Wizard, recently said. "Those are the players that get noticed. For me, I'm not a household name. I take pride in being judged on showing up for work and showing up for games, so when guys do see my face, they're like, 'Miller's going to play. He's here to work and he's going to play hard.' I just take pride in being judged by my peers in the right way."
Miller talks the way a player should according to the former Cavs director of player personal, Keith Smart.
"He's quiet off the floor," Smart said. "If you listen to him when he's on the floor and he's on defense or the ball is away from him on offense, he's talking a lot. He's talking about coverages. He's talking about the plays the team is running. He's talking about the down screen that's getting ready to happen when he's away from the play. He's still a quiet person off the floor. But on the floor, the guy is a very, very vocal guy."
I'd bring him back and try to recapture the early 2000s for a year.  He could teach Irving a thing or two about being on a losing team.
Tags: Andre Miller, Bennett, Tonsils