It seems Dan Gilbert took my advice. This spring Mr. Gilbert did not give us his best Sonny Corleone impersonation, he gave us his best Michael. Instead of impulsively firing the coach and hiring his replacement a few days later after one dinner interview, Dan waited…got the lay of the land, reportedly interviewed "four or five serious candidates," and decided to offer the GM position to David Griffin. According to Jason Lloyd, "David Morway, Bryan Colangelo, Donnie Walsh and Joe Dumars" have been linked to this front office search. I don't know about any of you, but I never heard those names linked by any other method than my own wild speculations. I wonder if this is Lloyd's way of saying, "I can't tell you who they interviewed, but this is who they interviewed." First, kudos to the Cavs for keeping it all under wraps. But, if that's really the case, then only Morway and Walsh seem like legitimate candidates. Still, I like this new slow and deliberate Dan Gilbert over the impulsive one. If he thinks, after a couple weeks, that David Griffin is the best man to run the Cavs, all I can ask is that Gilbert empowers Griffin to do the job. Now, what do they do about Mike Brown?
I speculated early on that part of the long pause after the season ended was due to the fact that Dan Gilbert was waiting to see what coaches might be available after the first round of the playoffs. Frank Vogel, Terry Stotts, Kevin McHale, and Mark Jackson were all rumored to be on the hotseat. If Oklahoma City had lost in the first round, Scott Brooks might have been on that list too. Of that group, only Jackson was let go. By all accounts, he's a west coast guy. He wouldn't move from L.A. to San Francisco. It would be hard to see him moving to the North Coast. And Jackson's combative demeanor probably would not go over well with Gilbert. Dan isn't going to fire Mike Brown for Mark Jackson. If Vogel, Stotts, or Brooks had been cut loose, I imagine that Brown's job would be a lot less secure (and it's not that secure right now).
Do the Cavs go into next season with Mike Brown as their coach? Do they hire a top flight assistant to run their offense? Serendipity would dictate that Mike D'Antoni would get a call for that job. Maybe they bring John Kuester back? I've heard Dan's biggest hesitation to firing Mike Brown is not the $16 million remaining on Brown's contract. It's the fact that Dan doesn't want to admit he made a mistake hiring Brown (again) after saying the first firing was a mistake. After Griffin's presser a couple weeks ago, the support for Brown seemed pretty tepid.
And there's a new development. I'm not the sort that reads much into this sort of thing, but LeBron James wearing a Johnny Manziel jersey? That's telling from a guy who repped the Yankees and Cowboys during his time with Cleveland. Despite everything that has happened, the Cavs will make a run at LeBron James if James opts out this summer. Now if Miami wins a title, Bron-Bron's not going anywhere. He may not even opt out. No one walks away from a shot at four championships in a row. But if they don't win one? Then it's anyone's guess as to what happens to the Heat. That thinking may play a lot into what the Cavs decide to do with Mike Brown. What if, instead of Brown, Cleveland trots out a head coach with a connection to team LeBron?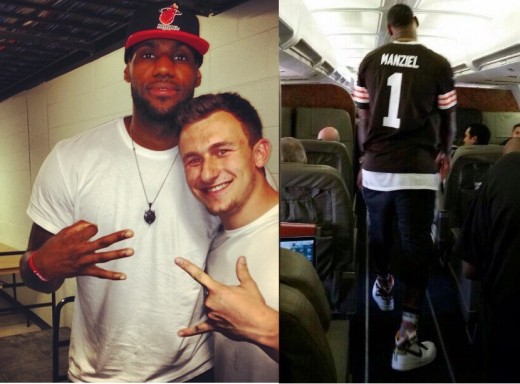 Heat assistant David Fizdale would be an interesting candidate. What about Team USA assistant, Nate McMillan, or Team USA scout, Tony Ronzone? Long time object of James' affection, John Calipari? I summarized a lot of these thoughts in my coaching search almanac, last spring. And, I won't even begin to speculate on which agents are involved in this whole thing. Their tentacled presence will certainly be pulling the slimy levers behind closed doors. LeBron's friend, Maverick Carter, represent Manziel when it comes to marketing and promotions. From LeBron returning to the shores of Lake Erie, or ancient evil awakening from its eternal slumber: anything is now possible.
Given this, my bet is that David Griffin will be handed the reigns as GM, but Mike Brown's status won't be any clearer until we know whether the Heat are gunning for a four-peat or not. In the meantime, Griffin needs to start scouting and preparing for the draft. The NBA Draft combine starts Wednesday, and the Draft Lottery is the 20th. Griffin better sharpen his pencil, his databases, and his Rolodex. Nick Gilbert, please sharpen your bow tie.