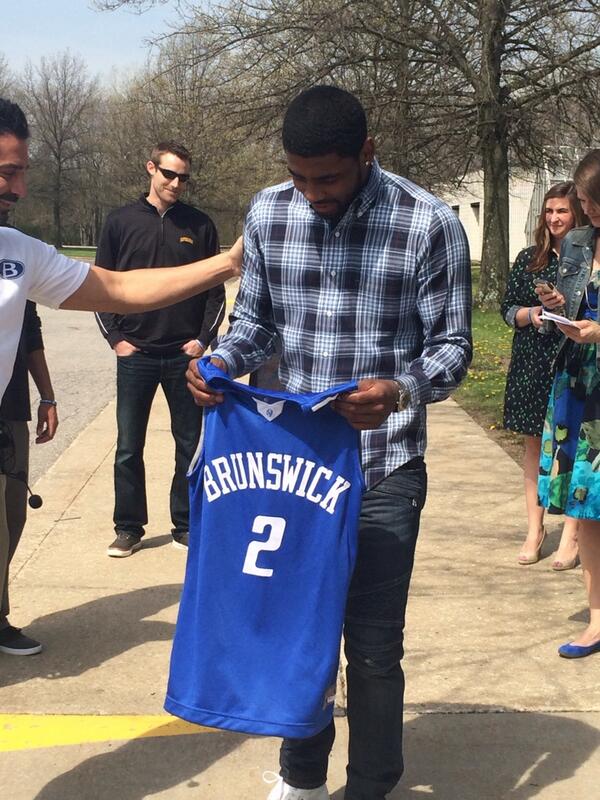 Kyrie Irving headed up to Brunswick High School, today. He was there to help raise awareness for project Blue Line, a fundraising effort for the Blue Pride Foundation which was established in 2012 after the death of four Brunswick area high school students who died in a tragic car accident. It supports scholarships and safe-driving programs in Brunswick area and Medina County. Loren Genson of the Medina Gazette reports.
The Project Blue Line fundraiser Meidenbauer is planning for May 18 would bring together at least 5,000 people along Brunswick's main artery, Center Road, to set a record for the most people in line wearing blue shirts…

In preparation for the record-setting attempt on May 18, students are hosting a "Blue-out" on May 16, encouraging students and community members to wear blue during the day.

On May 17, local businesses plan to support the fundraiser by offering portions of their sales from the day. A list of participating businesses still is being completed.
If you're in the area the 17th or 18th, try to help a worthy cause. It's great to see Kyrie Irving being a part of it.
Here's The Becaon Journal's Jason Lloyd on video from a couple days ago. He gives his assessments of the season and the current state of the "hurry up and wait" Cavs front office.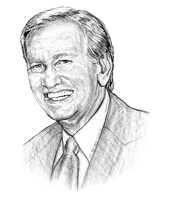 In other news, former Cavaliers GM, Harry Weltman, GM of the Cavs from 1981-1985 has passed away.  Jodie Valade eulogizes, here. Weltman helped rebuild the Cavs after the disastrous Ted Stepien era. Weltman's biggest acheivement was drafting Hot Rod Williams, and making the playoffs in 1985 after a horrid stretch in the early 80s. Last year, Weltman was inducted into the Cleveland Sports Hall of Fame.
Harry's son, Jeff, is currently Executive VP of Basketball Operations in Toronto. Bill Livingston penned a lovely remembrance of Harry for the Plain Dealer.
I was starting to get over myself as a basketball savant and had reached the conclusion that it might pay to listen up when the man who hired Bob Costas (for his first job, handling the play-by-play duties with the ABA's Spirits of St. Louis) and drafted John "Hot Rod" Williams (when he was in legal limbo due to a Tulane point-shaving scandal) offered a story or three…

What followed was a relationship that was warm and filled with laughs on both sides. Weltman loved Glenville High School, for which he starred in basketball. He told me stories of the great Benny Friedman, a superstar from the school before Troy Smith, Donte Whitner and Ted Ginn Jr. were ever born.

The saddest part of it all was that Harry suffered in his last years from the memory loss that robbed us all of so many other great anecdotes.
Finally, and comically, from the "we could have told you so," file, the Indiana Pacers have excused Andrew Bynum for the rest of the season. Steve Aschburner writes on Sekou Smith's Hang Time Blog that the release had as much to do with Bynum it did with how much the signing irritated Roy Hibbert.
Acquiring Bynum – at a reported $1 million guaranteed for the balance of 2013-14 – was a gamble by Bird that didn't pay off. But it might have cost the Pacers more than money. Center Roy Hibbert's ongoing tailspin coincides with Bynum's arrival, so much that some team insiders have wondered if the move rattled Hibbert's confidence and trust…

Bringing Bynum aboard rankled Hibbert, a source told NBA.com, when coach Frank Vogel ran plays to get Bynum involved offensively that he rarely calls for Hibbert.
Let us hope that Bynum has burned his last bridge in the NBA, and that he can retire to a ranch where goofball NBA centers go to live out their 30s. I can just imagine it. He'll have his own hair salon to get a bizarre 'do de jour, a bowling alley, and even his own court where he can launch 60-footers to his hearts' content. He can run jog with Darko and DeSegana Diop while they wait for Hasheem Thabeet and Arnette Moultrie to arrive. I hope 'Drew will be very happy there. Something tells me we won't be seeing him on a TNT or ESPN broadcast any time soon.