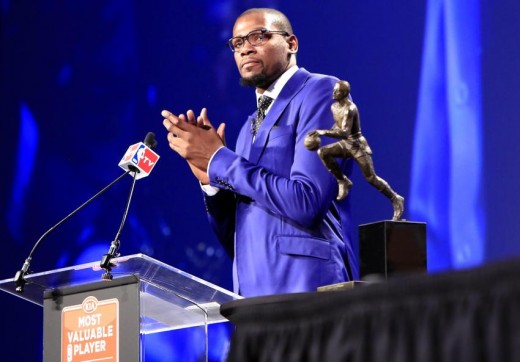 There are lots of things the Cavaliers need.  The team needs an MVP, Shaun Livingston, maybe Mark Jackson, chemistry, and definitely a center.  We will start with the MVP.
Yesterday, Kevin Durant accepted his first MVP award.  He beat LeBron James decisively by grabbing 119 out of 125 first place ballot votes. Durant averaged career highs of 32 points and 5.5 assists throughout this regular season, and he might have averaged the most feel good comments per minute of any press conference I have ever seen.  Ben Golliver of The Point Forward has the press conference video and pulled some of the best quotes out if you don't want to watch the whole thing.  
[Durant] On his mother: "One my best memories I have is when we moved into our first apartment. No bed, no furniture, we all just sat in the living room and just hugged each other. We thought we made it. … You wake me up in the middle of the night in the summertime, making me run up a hill, making me do push-ups. Screaming at me from the sidelines of my games at eight or nine years old … When you didn't eat, you made sure we ate. You went to sleep hungry. You sacrificed for us. You're the real MVP."
I love moments in the NBA that make me think outside of just basketball.
–
Zach Lowe of Grantland has his preview up of the Brooklyn and Miami series as well as the Spurs and Blazers series.  Who knew a year ago Shaun Livingston would be playing on a team that has a chance to beat Miami in the playoffs?  Livingston has come back to his old form and is playing very well.
Livingston emerged as the team's preferred option on LeBron, though Johnson will spend a lot of time on James. Livingston's defense is even more valuable in this series than it was against Toronto, and he'll likely move back into the starting lineup over Anderson.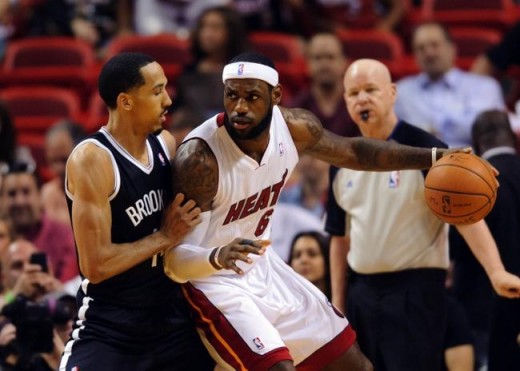 Although the Nets lost last night, Livingston did move into the starting lineup again and played 32 minutes.  That's three more than Deron Williams.  Livingston is a free agent after this season, and I would love it if the Cavs made an offer to him.  He's a great defensive talker and could be a stable veteran presence for the team.
–
Mark Jackson was fired for reasons that have nothing to do with basketball, since the Warriors have been playing some of their best ball under his tenure.  The players were still on his side.
"Over the last three years, coach Jackson has challenged me as a player and person," Curry said in a statement. "His experience and guidance has helped each of us grow in this league… Can't thank him enough for all he did for me. I wish him all the best as he transitions to the next chapter."
The Warriors, a team once known for their terrible defense, have become a very efficient defensive team ranking tenth in points allowed per game for this season.  The Cavs could use a coach that is ready to guide young players and give inspirational speeches, as Jackson is known to do.
Marcus Thompson of the San Jose Mercury News said Jackson is staying positive.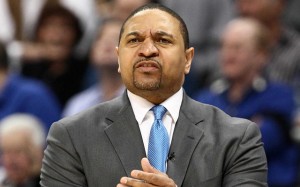 "I'm proud of what we've been able to accomplish," Jackson said. "A lot of people had a lot to do with it. It's a great opportunity. I wish them nothing but the best. The record will speak for itself. These players and the organization, it's a different place than when I got here. I'm proud of that."
Could Mark Jackson be saying that about the Cavs organization some day?
–
Mary Schmitt Boyer of The Plain Dealer wrote about John Wall and Bradley Beal's success.  The big take away from the article is that these two guys know their roles and want to win.  That sounds simple, but after seeing Dion Waiters and Kyrie Irving play together, it is anything but simple.  Randy Wittman, the Washington coach, knows this too.
"If a guy's not willing to accept a guy to be his equal or close to his equal, it isn't going to work. I don't care who you're talking about. If you don't ever accept that you need anybody else with you and you're losing because of that, that's going to be hard."
–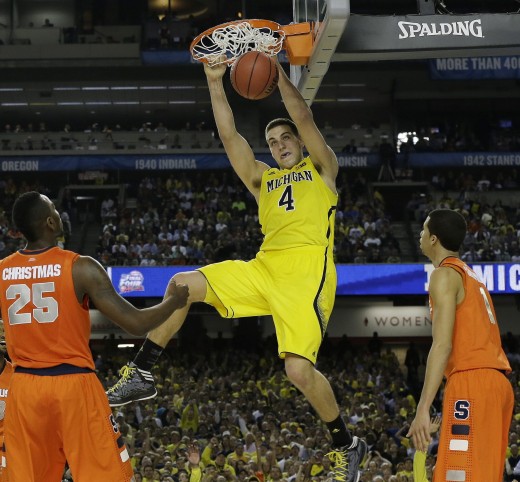 The center position is the center of attention again for the Cavs.  Hiroki Witt of Right Down Euclid thinks that Tyler Zeller just needs more playing time in order to achieve.  And if that can't happen or the team has given up on Zeller, maybe the team can draft a center.  Mike Mayer at Fear the Sword has a list of center prospects up.  I'm partial to Mitch McGary and so is he.
He's a traditional center with a solid post game, and he played his best basketball when he had a really talented point guard (Trey Burke) creating easy looks for him around the basket
Now, the next thing to be figured out is how similar Trey Burke and Kyrie Irving are.
Tags: Centers, Kevin Durant, Mark Jackson, Shaun Livingston