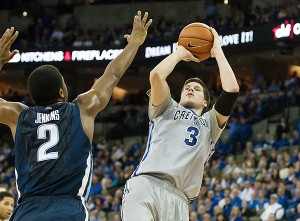 Yesterday, the full list of players leaving college early for the draft came out.  It's officially draft season. This list may or may not change the big boards and mock drafts, but I feel more confident in sharing what is out there because the available players are all known.
The Big Boards to look at:
The Mock Drafts to look at:
The Cavs only have a 1.7 percent chance at the top pick, and 6.1 percent chance at a top three, so the odds are they will be drafting in the 9th spot of the first round and that some of these mock draft picks could be true for them.  Ford and Goodman predict the Cavs to pick Doug McDerrmot of Creighton University, while nbadraft.net and draftexpress.com expect the Cavs to choose Aaron Gordon of Arizona State University.
–
Jacob Rosen of Waiting For Next Year has a draft piece up detailing the potential shooters the Cavs may want to draft.  He uses @ClevTA scouting reports in his piece.  @ClevTA thinks McDerrmot may be a future Wally Szczerbiak that isn't as athletic.
It's pretty obvious where McDermott will struggle at the next level: mainly defense, a lack of athleticism and therefore a question of position. McDermott definitely tries hard defensively but he just doesn't have the lateral quickness to stay with small forwards and isn't strong enough to defend power forwards.
That's worrisome when the Cavs still don't have a rim protector.
–
Scott Sargent of Waiting For Next Year spoke about Sam Amico's thought that Tristan Thompson may be traded rather than extended.
Given how much frontcourt bodies make in today's NBA, it can be reasonably expected that Thompson's camp (he's represented by LeBron James' friend and agent Rich Paul) will be commanding a number that the team may not be willing to match.
I have to remind myself constantly that just because Tristan is a nice fellow doesn't mean he is a great basketball player.
–
Trevor Magnotti at Right Down Euclid has a breakdown of the Cavs' offense and defense.  He includes lots of pictures and gives some suggestions.  It's a very informative read.
This play mainly happened because there was no designed backup plan for the pick-and-roll. The PNR was THE play here, and no one else on the floor had any contingency plan for if it didn't free up Waiters. I should also note that Alonzo Gee's wide-openness in the corner isn't really a good contingency plan, because Alonzo Gee.
Trevor's thoughts about defense:
The Cavs tried to limit looks in the paint as much as they could, and did a decent job at that. However, it resulted in some really poor perimeter play, as the Cavs gave up the most three-point attempts in the league.
Be careful reading this because you may have horrific flashbacks to some moments from this season.
–
Jason Whitlock has a different take on the Donald Sterling punishment that is worth thinking about.
It's comical to watch the well-intentioned mob circle around Sterling as if his unintended transparency says nothing about his peer group.  It's equally comical seeing this issue framed as a "black issue," with black people running to suggest ways to clean up Sterling's mess.

White people should be wearing black socks, turning their T-shirts inside out, protesting outside the Staples Center. This is their culture, their Frankenstein. Or maybe they agree with Donald T. Sterling.

"I don't want to change the culture because I can't. It's too big."

It's also too beneficial. It's too comfortable.

Well-intentioned white people should be holding nationally televised panel discussions focusing on ways to lessen the damaging impact of white-supremacy culture. Well-intentioned white people who work within or support the NBA should be demanding that the NBA power structure cede some of its governing power to men and women who look like the overwhelming majority of the league's players.
Whitlock brings up a scary idea that this incident isn't the result of one bad seed and needs to dealt with on a systematic level.  Nate and Tom mentioned this article in their piece that dealt with Sterling, and I hope if you didn't check it out then you will now.
Tags: Donald Sterling, Draft, Tristan Thompson