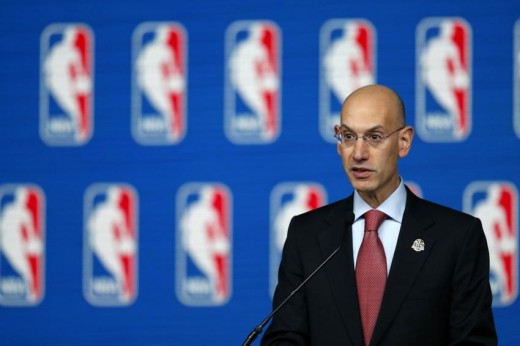 There wasn't much envy for Adam Silver's position the last couple of days. On Saturday, TMZ dumped the audio version of a 20-pound bag of frozen shrimp that's been left out in the sun all afternoon into the lap of the still dewey Commissioner of the NBA. Worldwide debate elbowed its way into the start of this year's (truly, truly remarkable) playoffs as questions shifted from "Will tonight's Thunder/Grizzlies game go into OT again?" to "Should Chris Paul and the Clippers even play?" in the wake of an ignorant stream of racist comments allegedly made by Clippers owner, Donald Sterling.
It's "allegedly" no more now as Silver passed his first real public test as Commissioner with flying colors, suspending Sterling "for life," fining him $2.5 million ("the most allowable" under the league's Constitution) and calling the NBA's Board of Governors to force Sterling to sell the team he has owned since 1981.
Since the recording's release over the weekend, the NBA has been conducting its own investigation on the matter. This included interviewing Sterling, himself, after which they concluded (likely because he admitted to it) that the voice on the recording did, in fact, belong to Donald Sterling.
"I apologize," Silver said as he further decried Sterling's comments (which can be seen/heard here) as "deeply offensive and harmful" to a "multi-cultural and multi-ethnic league."
The suspension means that Sterling is not permitted attend games, practices, or any facilities associated with the NBA. He may not participate in any personnel decisions or Board of Governors meetings and will be subject to the fine which, Silver said, would be donated to charities dedicated to tolerance.
The clincher, though, was when Silver stepped up and strongly stated that he would personally "urge the Board of Governors to force a sale of the team" and do "anything in my power to make sure that happens." He continued by saying that he has spoken to the owners and that "we stand together in condemning Mr. Sterling's views. They have no place in the NBA."
Silver refused to look back on why it took the league so long to do something about a man who was widely regarded as a slumlord and who reportedly told former GM, Elgin Baylor, one of the best players in the history of the NBA, that he wanted "a white Southern coach coaching poor black players." Instead, the Commissioner, not even three months into his tenure, showed the resolve to tackle such issues now that we're on his watch.
Silver's course of action will likely open the NBA up to some counter-litigation from Sterling — and there are legitimate questions being raised about how a recording made when one believed he was in the privacy in his own home could result in such public punishment (Silver addressed this question by saying, the comments "are public now") — but there is no doubt that he acted with the decisiveness and necessary weight that many of us who follow professional sports doubted was possible. At least on this matter, Silver showed the willingness to do, clearly and definitively, what was right.
Yes, in this case, what was right was also the decision that would save the league a permanent black eye and loss of potentially billions of dollars from investors, so this wasn't the toughest moral test in gauging Silver's long-term moral compass. Still, starting the process of severing its ties with Sterling for good was absolutely the right thing for the NBA to do.
Cavs fans, in particular, should breath a small sigh of relief. It wasn't long ago that Cavs owner, Dan Gilbert, came under scrutiny for comments he made in his now infamous comic sans post-"The Decision" letter. In it, he called LeBron James "disloyal" and "a coward," prompting the Rev. Jesse Jackson to say, of Gilbert, "He speaks as an owner of LeBron and not the owner of the Cleveland Cavaliers… His feelings of betrayal personify a slave-master mentality. He sees LeBron as a runaway slave."
Let me be clear: I am not lumping Gilbert in with Sterling. Sterling made disgusting racist statements; Gilbert made statements that, given the situation, were not entirely unconnected with the continuing racial discourse in this country. There's a clear difference.
And the power of Jackson's response was not universal. Most considered it an exaggeration of the issue (though, it should be noted that, racially-driven or not, Gilbert's reaction is still said to have a negative impact on the Cavs ability to recruit players) . Still, Jackson's critique brought up the important point that, as long as rich white men own professional sports teams made up of mostly African-American men, there is tremendous onus on those owners to understand the potential racial implications of how they speak about those players.
But, if you squint, you can see that situation breaking somewhat differently and snowballing into something much bigger. Under David Stern, Gilbert probably would have weathered whatever storm followed. Under Silver, though…? It's clear that the new Commish sees the owners having an impact on his ability to grow the NBA financially and in terms of popularity over the coming years, just like the players do. Gilbert's word choice was… ill-advised, maybe, but not the type of vitriol Sterling had no problem rattling off, it seems, to anyone who would listen.
Owning your own team may still be a rich man's game, but it's possible that we're headed toward a time where the league demands that its owners be forward-thinking, progressive and … well … at least in Sterling's case, not terrible people. That means being aware what you say— especially publicly, but also privately now — and understanding that the wealthiest among us may not get to say and do everything without consequence.  That's a good thing, no? Don't agree? Feel free to live on whatever island Donald Sterling buys with his billion-plus sale of the Clippers.