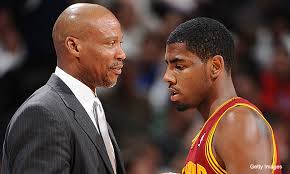 The Cavs are being talked about today because of their connections to Los Angeles.  Unfortunately, the talk is anything but positive.  Sam Amico of Fox Sports Ohio, is reporting on a video Ric Bucher put out on Bleacher Report saying that there is a chance the Lakers hire Byron Scott.  Scott might be able to pull Kyrie to Los Angeles according to Bucher.
Irving has said he would like to stay in Cleveland, "but the fact of the matter is with Scott in LA with the Lakers, that could be very appealing, and that would bring in a great building block for the Lakers moving forward," Bucher said of Irving.
I'm calling shenanigans on this situation.  I have never been under the impression that Byron and Kyrie were close enough to intertwine their career choices.
–
Grantland has a feature out about Donald Sterling penned by Charles P. Pierce.  It has a lot of very disturbing facts about different sport team owners, and the Cavs' former owner, Ted Stepien,  gets called out for his ownership stint.
Not only was Stepien's record as an owner the equal of Sterling's, but, as Cliven Bundy put it, Stepien also had a "thought" about race that he was more than happy to share. At one point, Stepien argued that the NBA should always make sure that 50 percent of its players were white, because white people preferred to watch white people play. To be fair to history, it was Stern, then the league's general counsel, who finessed the deal through which Stepien sold the Cavaliers to the Gund brothers. But that was a long time ago, and why the league hasn't been more forceful about prying the Clippers loose from Sterling is a question that newcommissioner Adam Silver thus far has been unable or unwilling to answer.
The article is a must read for people that are following the Donald Sterling situation.
–
The Sydney Morning Herald has a piece up profiling Matty D by Roy Ward.
"When we played the Bulls earlier in the season, just being on the same court Michael Jordan won three championships on and when they played the same intro music and all – that was pretty cool," Dellavedova said.
The more I learn about Matty, the more I appreciate how humble he is and how hard he works.
–
Conrad Kaczmarek of Fear the Sword has a quick rundown of the statements made by George Karl about being in the Cavs' front office.  Dan Gilbert wants experience on the team at all levels.
Several teams have "team presidents" that operate on a slightly different level than the general manager. For example, Phil Jackson was just hired by the Knicks to be their team president. If Dan Gilbert is determined to get more experience in the Cavs' front office, hiring somebody as the team president could be the way to go.
George Carl could be a wonderful asset, but as Terry Pluto mentioned on Saturday it could cause some stress in the organization.
If a team is going to hire Karl, it should be as a coach. That is what he does best, and that's his passion. As team president, there would be a sense that at some point he'd coach, which only hurts the man who is the coach.
Tags: Donald Sterling, Kyrie Irving