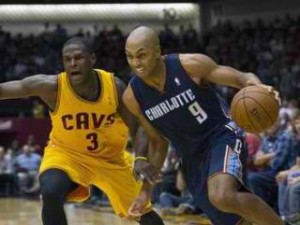 Dan Gilbert still hasn't been talking, and the media hasn't been writing any news about the Cavs, just hardcore analysis.  It's always a good idea to start your day on a positive note, so check out an article by Ryan Mourton at Fear The Sword praising some aspects of the Cavs defense.
The Cavaliers allowed a 4th best 1,969 attempts in the restricted area. How important is that number? Well, the league's three best teams in terms of defensive rating are also the leagues three best teams in terms of number of made field goals allowed in the restricted area.
Ryan points out that the Cavs are one of the worst teams in terms of stopping threes from being taken and made, but I prefer to focus on the positives to start my day.
–
After starting your day so positive, you should add to that feeling by thinking about the future.  The future is looking good for the Cavs because the draft is stacked.  Chris Manning and Trevor Magnotti of Right Down Euclid have Cavs centric rankings of all the players in this years' draft.  I don't follow college basketball, so I appreciate these rankings for bringing me up to speed.
–
Now that your day is going so great, you need to get your daily dose of politics because keeping up with politics makes you an adult.  Andrew J. Tobias of the Northeast Ohio Media Group informs the world about the pro-sin tax contributions of Cleveland's professional sport franchises.
The Browns, Cavs and Indians contributed about $333,000 each to Keep Cleveland Strong between Jan. 1 and March 15, according to a campaign finance report (PDF) filed Thursday.
–
Now that you have fulfilled your daily politics requirement, you should check out something to make you reminiscence.  Nate Silver has a piece up about NBA (and other professional sport leagues) players' win shares early and late in their careers.  It's praising Tim Duncan, which is always as fundamentally sound as the big man himself.
Duncan generated 47.8 win shares through his age 24 season. That's very good, especially considering that he stayed all four years at Wake Forest University before entering the league. But it's still just the 17th-highest figure in NBA history. He's also generated 40.2 win shares, and counting, since his age 33 season. That's the 15th-highest figure in league history.

It's having accomplished both of these things in the same career that makes Duncan so extraordinary. The harmonic mean between his early-career and late-career win share totals is 43.7. That's the third-highest figure ever in the NBA.
–
You should finish your day amazed.  This year the NBA playoffs can do that for you.  Jeff Teague, who could be called Dirk Teague, Michael Teague, or Ray Teague, but definitely not Marcus Teague, made an insane off balance three last night against the Pacers during the Atlanta win.  Kendrick Perkins sat on Mike Miller without a foul being called, and Russell Westbrook made a four point play to send the Thunder into an overtime loss against the Grizzlies.
Tags: Defense, NBAmazing, Tim Duncan